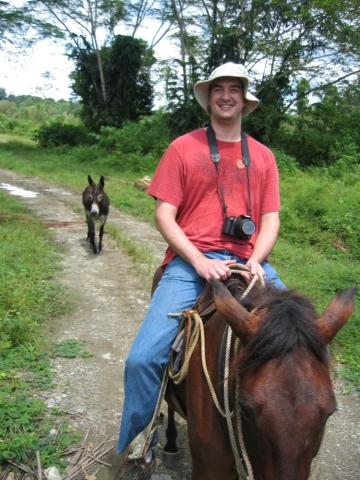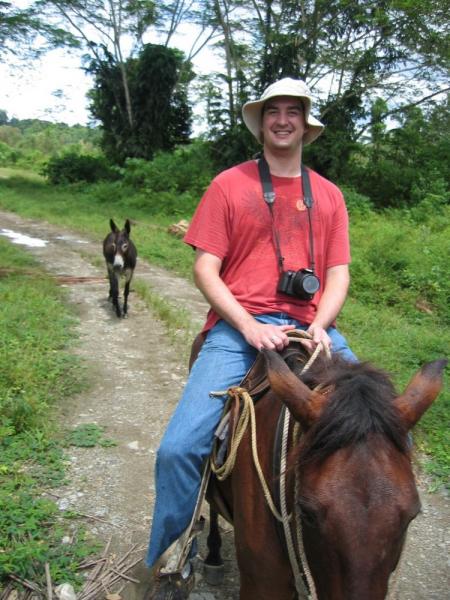 The next morning was not one for ultra exertion. A post-breakfast jaunt to meet Pedro the Wild Boar, a smelly, mud-covered, spiny, black thing with tiny eyes and then a horseback ride to the zip line course. Jeffrey was all for an activity that required nothing more than sitting in a harness and letting gravity do its work, but he was a bit more hesitant about the rappel from the canopy platform. Something about gravity being able to do too much work, I think. Once on the ground again, though, I wasn't the only one who wanted to try again.
"I think," Jeffrey said, "if we had done this before the waterfall rappel, I would have had a much easier – or if not, at least a much more relaxed – time."
We transferred to Cariblue after lunch, not via DEA helicopter, but via taxi … and then via a van … and then via a car. While Jeffrey checked us in, I sprawled out at a desk littered with flyers for tours. Jeffrey finished before I did, but patiently waited as I went through all the brochures, sorting them into piles of Ugh, Already Done, Want To Do But Won't Get Jeffrey To Do, Cool, and Possibly Ridiculously Awesome.
Lying in the hammock on the porch of our hotel room, while he unpacked his clothes, I tried to sell Jeffrey on some of the outings I had seen.
"They had ATVs. We could ride ATVs."
"Nope."
"But how great would that be? It could only be better if they were bumper ATVs."
"Nope."
"What about horseback riding on the beach?"
"I've had enough horses, thank you."
"Swimming with dolphins? I've always wanted to do that."
"Dolphins creep me out."
"Snorkeling? That's relaxing."
"Nope."
"Why not? You said you liked snorkeling."
"You can go."
"I'm not going alone. Come on. You don't want to look back on this and feel like you missed out on something."
Jeffrey put down the shirt he was folding and looked at me. "These are my days of vacation. Those last few days, those were your days of vacation. On my vacation days, I am going to sit on the beach and do nothing except, occasionally, turn over. If I am feeling adventurous, I might switch it up and go to the pool. I plan to drink. I might read. That is all. That's it. Nothing else."
I glared at him. "Will you play pool?" I had spotted a table near the hotel restaurant.
"Yes. If I can have a drink while I do it, I will play pool."
I pondered that for a bit. "Will you walk into that little town tomorrow to check it out?"
"Yes, I will do that. I want to buy some coffee for my coworkers anyway."
"What if we find tide pools on the way to the town? Will you go take a look?" I'm a big fan of poking things and seeing what they do. I do it to my sister all the time. Tide pools are usually a good place to find things to poke.
"If we find tide pools, we can spend some time there."
I was feeling lucky. "Will you swim out to that tiny island we saw just off the beach?"
Jeffrey snorted and I knew he was about to break my streak. "Nope. But you can try. Maybe, if I'm feeling nice, I'll call for help when you start drowning."
Hmm. "Fine, deal."