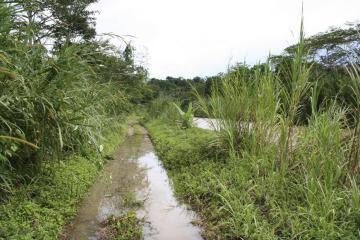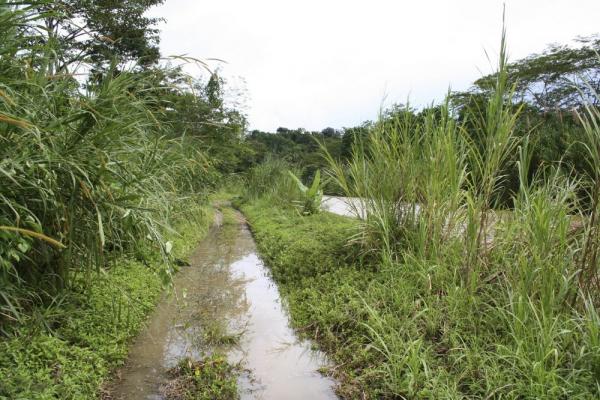 The first bathroom was tiled in beige with green decorative borders. The toilet and single sink were cream porcelain and a two-light sconce topped the frameless vanity mirror. The upper walls were spearmint, a hue acceptable for sticks of gum perhaps, but nauseating when coating anything larger. The emerald trashcan, countertop and towels all matched.
As the project manager for an interior designer, these are the sorts of things I notice.
Perhaps most remarkable about the bathroom at Hotel Le Bergerac was its size. Maybe 9 feet wide and 11 long, it wasn't much smaller than my entire New York City studio. In my bathroom at home, I nearly have to step into the tub just to create space enough to shut the door. In my first Costa Rica bathroom I could have held a dance party. I suggested this to Jeffrey. Jeffrey is a big man. Jeffrey stands six foot six. And even Jeffrey agreed that despite the décor, the bathroom would be a perfect disco dive.
I am not usually one who pays attention to bathrooms. That would be my mother. With a bladder approximately the size of a button, she is somewhat of a connoisseur of lavatories, toilets, restrooms, water closets, bathrooms, powder rooms, washrooms, outhouses, cans, johns, commodes, latrines, heads, privies, and etcetera. Mom tracks all the bathrooms she passes, just in case an emergency trip to one of them becomes necessary.
Yet, so far, the hotel bathroom had been the most notable part of my trip. Jeffrey and I had arrived in San Jose late, and by the time we got in the cab, the sky was dark. The street lights did little to illuminate the city, their glowing pools of yellow not venturing far into the murky black. I didn't blame them. Back on the plane, Jeffrey had given me a synopsis of his tour book's assessment of the capital city: "Basically," he had informed me, "Fodors says, 'If you're unlucky enough to be in San Jose, get out as quickly as you can.'"
I watched out the taxi window as we slipped past dark street after dark street. The city seemed to be stitched together of back roads and alleys.
"I understand why the tour book says to get out," I said from the back of the cab.
Jeffrey shoved my leg, mortified. "Shhh," he whispered, shooting a pointed look at the driver, who spoke decent English. "He lives here."
I shrugged.
"We need to work on your diplomatic skills."
I shrugged again.
The taxi turned down a surprisingly charming street, stopping in front of a building that reminded me of a Scottsdale mansion, complete with palm trees and adobe roofing. After an awkward moment silently debating whether or not we should tip the driver, and if so how much (we finally gave him five American dollars), we ducked into the reception and were ushered into our room, complete with its considerable bathroom.
I don't remember if I even used the bathroom when we arrived that first night. I do remember breezing through the hotel binder and then falling asleep before Jeffrey had even finished snapping photos of the bistro table and metal frame chairs nestled in the veritable jungle out the back door.