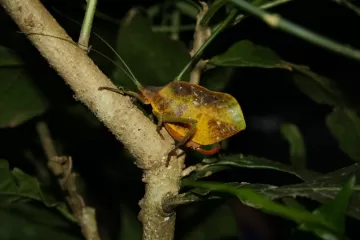 The transfer to Arenal was billed as the "ride of our lives" by William and indeed took us down some of the bumpiest roads in the country, and then onto a ferry for the last 30 minutes. It was great to see the volcano getting closer and closer and more spectacular as we crossed the lake. We could see smoke coming from the crater and even William was excited to find out what Arenal was going to show us over the next few days.
Before we had checked in to our room we spent two amazing hours on the observation deck, watching the clouds clear to reveal the volcano in all its glory. From what people were saying we timed our arrival well, it hadn't been this clear in a long time.
Huge rocks were falling at regular intervals, breaking up noisily as the fell. At the same time, colourful birds were feeding in the gardens. Sometimes we didn't know where to look next: at the volcano, down to the lake, at the birds or at the Howler Monkeys in the trees...we almost forgot we were waiting for our room.
When we did go to our room we found it was more than worth the wait. Ruth actually shed a tear or two as she (and I) felt so lucky and happy to be staying somewhere this special. The view of the volcano from our balcony was just as good, if not better than from the observation deck - Marissa had done us proud requesting what was surely the best room at AOL (25).
It was time to find out what else there was to see in the AOL grounds so we walked the forest trail down to the waterfall - a spectacular view awaited us there, sunlight illuminating the water in another magical setting.
Dinner was a very satisfying buffet while we watched rocks glowing bright orange as they thundered down, before clouds covered the volcano for much of the night.