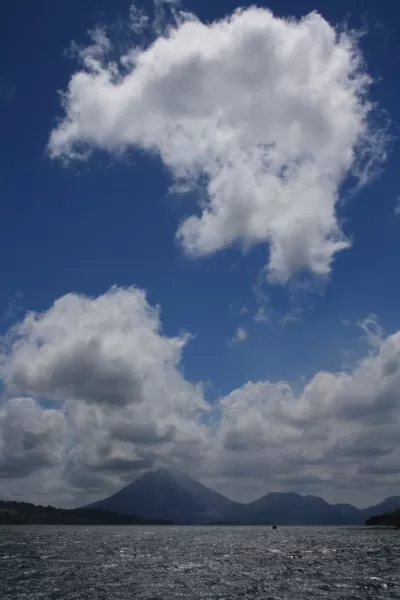 Before we even arrived in the Corcovado national park we had enjoyed a dramatic morning. Minutes after our speedboat had left the hotel we saw a dolphin chasing a fish - both jumping out of the water. One man was so impressed he jumped in to get a closer look (despite the guide's request for him to stay in the boat).
Then the approach to the beach was an impressive piece of navigation...OK, it was quite scary! We weaved our way in through the breaking waves to finally reach the beach for a wet landing and the start of our hike.
As soon as we entered the forest we saw a group of Squirrel monkeys, closely followed by the three other species of monkey found in Costa Rica: Spider, Howler and Capuchin. Next was one of the highlights of the day - a Sloth in a tree, its happy-looking face in clear view.
To top that would be a challenge for any guide, but Xavier had plenty of tricks up his sleeve and he soon spotted a Tapir for us - a very strange animal, apparently related to a rhino and a horse.
For good measure he also showed us Crocodiles and a Cayman doing an unfeasibly good impression of dead leaves in a river (with just its eyes above the water).
Less scary but just as impressive in their own ways were a bright yellow and black Zebra grasshopper and a Trogon (of the much celebrated Quetzel bird family).
All this, along with the dramatic coastal and forest scenery made for an unbeatable experience, every bit as special as we had hoped it might be.
The boat journey back to the hotel was again a lot of fun. As we pulled in to the hotel's jetty we saw a crocodile sunning itself on the opposite riverbank!
Walking up to our room we saw a 1m long Boa Constrictor - this sort of discovery no longer seemed out of place as we half-expected to see such things on a regular basis.
Unfortunately we had forgotten our room key so I was the dutiful husband and went back down the 100+ steps to get it. The steepest climb of the day!
There was just enough time to relax in the hammock before heading down to dinner.