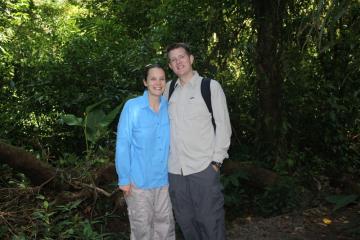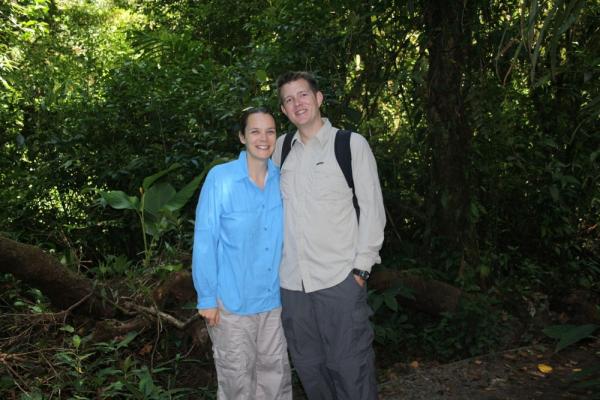 Up early for a paddle on the Penas Blancas river. A great way to explore the area in silence and at a gentle pace. As well as the many birds, we "Jesus Christ" lizards, Otters, Bats, a 3.5m long Crocodile (!!!) and a Sloth hanging lazily in a tree.
On arrival back at the hotel we were treated to a crazy five minutes. Two Toucans (and many other birds)were in the garden, Howler Monkeys (one holding a very cute baby) were swinging through the trees, and in perfectly clear sunshine the volcano was loudily spitting out bigger and bigger rocks, we really didn't know where to look and I asked William "How are we ever going to top this?" He just smiled, enjoying the show.
That night we went for very relaxing drinks and dinner at Ecotemales hot springs. The series of landscaped pools are in a romantic garden/forest setting, with bars serving tasty cocktails and ice-cold beer. If we weren't 100% relaxed before, we were now!
We must have been relaxed as we fell into a deep sleep so early that by 2am we woke up and saw the volcano putting on its best show yet! Under a clear, star-filled sky we saw rock after orange-glowing rock tumbling down the volcano, sometimes making a sound like thunder. I didn't notice the hours pass and before I even thought about going back to bed the sun was rising - it was 6am. I went back to bed for a token 30 minutes before breakfast but if I am honest I spent half of that time looking at the photos I had just taken.