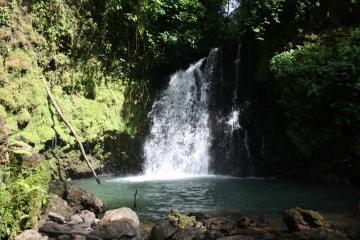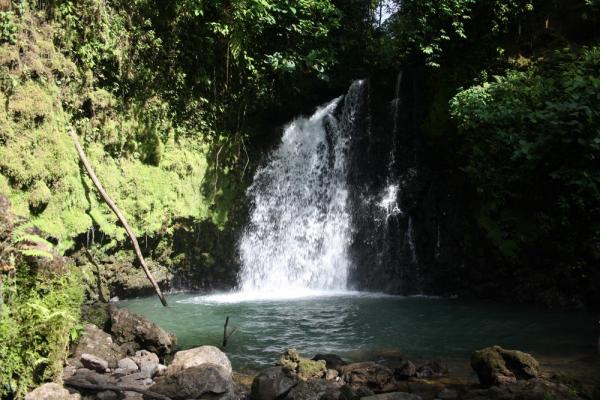 A "free day" to do as little or as much as we liked. After thoughts of taking it easy we read that there was a walk to a famous beach, 2 hours along the coast, so we decided to do that.
Luckily the hotel gave us a packed lunch as we had inadvertantly bitten off more than we could chew.
After 30 minutes we saw several pairs of Scarlet Macaws and stopped for almost an hour to watch them preen and feed in the trees.
We moved on and it soon started to thunder and rain. We had become used to all-day sunshine every day so we had not brought wet weather clothes. We sheltered for a while but then continued our walk, it was far from cold and time was moving on.
Admittedly we did take a wrong turn to make the walk harder than it should have been, and a Rottweiler had adopted us as its owners for most of the way, but the 'two hours' walk duration started to seem unrealistic even allowing for that. We eventually reached a river but could see no way across and with only a few hours of light remaining decided to turn around and head back.
Light was begining to fade, as were we, but some scuba divers we met came to our rescue with a big bottle of water - we had underestimated our needs and had long since run out. Still with our new-found Rottweiller friend we carried on with a renewed spring in our step for the last few kilometers. Including our little detour the walk was probably 18km or more, but felt like half as much again due to the heat, humidity and sometimes difficult terrain. We agreed it was more than worth the effort just to see the Macaws - if only we had returned to our hammock after seeing them instead of subjecting ourselves to the endurance test of our lives!