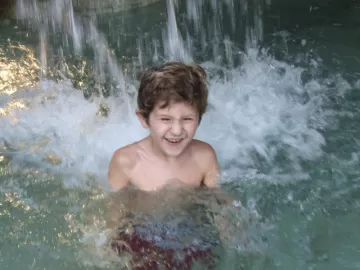 Back to DC. We had an unforgettable adventure.
All-in-all, I'd rate this a very successful trip. Between some luck (being right on the canopy bridge at the moment a sloth was climbing down from his perch in the tree tops -- and they often only come down once a week!) and the skill of our various guides (again, our eagled-eyed river safari guide and our brave and well-practiced night hike guide), we were fortunate on a relatively short trip to see many creatures that some travelers have missed despite exploring for longer periods of time.
I found the timing, locations, and variety of activities to be well-suited for family travel. While it was just my eight-year old son and me, I had no difficulties throughout the trip. There was some time spent in transit a few of the days, but never so long that my son got overly bored or antsy -- he was usually looking at the scenery or reading up on the creatures we expected to find on our next stop.
The educational portions of the trip were also well-suited for all ages. On each hike, every member of the group learned something. And the education often overlapped with adventure! Having a mix of boats, buses, rafts, and hikes definitely kept things interesting, and allowed us to explore different types of terrain.
Of course, choices had to be made. Due to our limited amount of time, we chose this particular itinerary as being the best introduction to Costa Rica for my son, even though we knew he would necessarily miss out on some of Costa Rica's other pleasures, such as the Central Pacific and Nicoya beaches and the Monteverde cloud forest. Based on all that we did and saw, I think we made the right choice, and now we've left ourselves more to do and see when we return to this gorgeous country.