Day 9 – Located further north on the coast near the town of Quepos, Manuel Antonio National Park is our next destination. Boasting golden beaches and many short hiking trails, the park is renowned for its teeming wildlife. Unfortunately the heavily traveled road from Dominical to Quepos is not paved! The ruts, rocks, potholes, and dust stirred up by big trucks for nearly 50 kilometers are a challenge to our driver, who takes nearly two hours to reach Hotel Playa Espadilla, our home for the next three days. The accommodations, just two blocks from the ocean and park entrance, are clean with welcome air conditioning, TV, and plenty of hot water. A crystal clear pool with a swim-up bar and an open air restaurant look promising

Checking into our rooms, we are stopped by a loud crashing noise coming from the trees above. Suddenly an 18 inch iguana drops to the ground from a lower branch, looks startled, and then flees into the jungle brush. Three white faced monkeys appear, one swings to another branch. Crash! Another lizard drops! The monkeys and the iguanas are engaged in a battle, dropping leaves on the ground as they scramble for position. We are warned by the staff not to leave anything unattended like a purse, backpack, or camera bag. The monkeys are known to snatch a bag, carry it off to a tree top and examine it for food while the poor tourist cries below, wailing when the bag is finally dropped several feet.

Exploring the area on foot, we determine that there are several reasonably priced restaurants nearby and settle on Marlins overlooking the main road across from Playa Espadilla beach. The dinner entrée of whole fried red snapper and fries is delicious with accompanying pico de gallo, guacamole, and coconut flan for dessert.
Want to Go?
country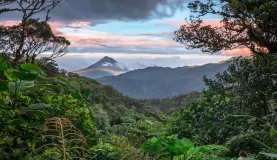 8 Day Tour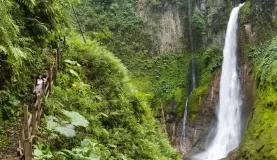 9 Day Tour