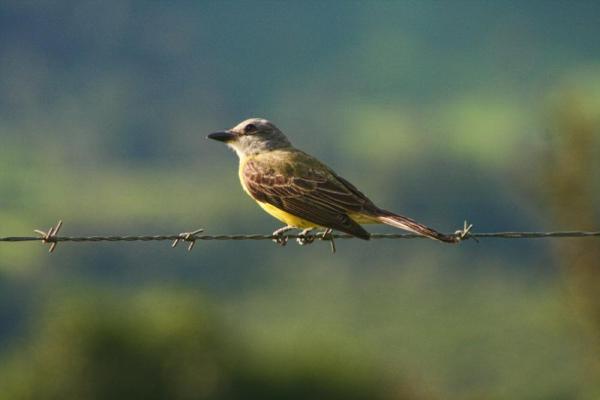 Today we had a free morning so after breakfast we decided to go to a small farm that is owned by the Arenal Manoa. They use the milk, eggs, fruit, and vegetables that they get from the farm in their restaurant. We thought it would be a self-guided tour because it was free, but to our surprise we had a guide from a local company named Pablo (he would also be our guide for our hike through the forest in the afternoon). We went on a twenty minute walk through a small forest where we saw blue jean dart frogs, more birds, and we learned about specific plants from our guide. He was quite knowledgeable.
Upon arrival at the farm, we stopped at their fruit and vegetable garden which had pineapples, mangos, squash, and many other delicious items growing. The highlight of the farm was the cow barn. Bryan and I were both able to try milking a cow. The teet was very rubbery and soft feeling, and our guide made it look so easy. We were both able to get a little milk out after a little coaxing, but we definitely were not professional cow milkers.
After the farm, we were able to relax a bit until our hike in Arenal National Forest. We ate lunch at the hotel restaurant bar. We had more delicious rice and beans, coke with real sugar!!!!, chifrijo, and a tasty chicken sandwich of which we appreciated because we had seen the hotel chickens earlier in the day.
Late in the afternoon, we met at the front office to head on our final trek in Costa Rica. Pablo greeted us, and we were pleased to see him again! Our first stop was at a lookout point that had one of the best views of Arenal. Pablo explained to us about the development and growth of the volcano, and also how the town "La Fortuna" got its name. Apparently, there used to be two towns one on the west side (the current lava flow side) and one on the east side, and when the last eruption happened in 1968, the western town was destroyed while the eastern side remained unscathed so the residents changed the town name to "La Fortuna" (the fortunate one).
We started our hike, and immediately we heard howler monkeys in the distance. At first we saw more Tucans and beautiful plants, and it didn't look hopeful that we would see these howler monkeys we had heard, but then we spotted one! And then there was another! And soon we had seen about 5 howler monkeys in one area of our walk. Later in our walk, there was a vine that was cut from the ground and our guide let us swing out over it like Tarzan and Jane. The vine was very strong and it had a very rough texture. It was one of those things you only wish you could do, you never really expect that you could actually swing on a vine in the rainforest someday.
After our hike, we went to a lava flow viewing point and sat for about 40 minutes as the sun came down. We were able to see a little stream of lava after about 20 minutes of sitting and waiting. We saw a few hot rocks come down after that, but then we needed to be off so we had plenty of time to spend in the Ecotermales Hot Springs. The hot springs were very relaxing and a great way to end an eventful week.
Back at our hotel, we were dropped of at the front desk, and we decided to walk back to our room. The moon was full lighting up our path and catching the backs of the clouds in the sky. The stars were amazingly crisp and bright twinkling in the sky.
We spent the night on volcano watch to see if we would be able to see some lava flow. Volcano watch was slow and we were so relaxed that we ended up giving up on volcano watch early, but at 4am we awoke to a large boom, and there was quite the stream of lava coming down our side. It surely was quite a lot on the western side!