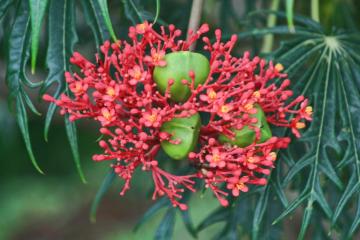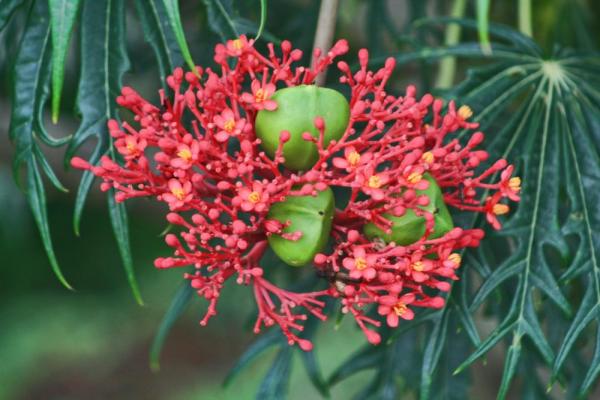 7:30am: We are leaving for our first tour in Costa Rica!!!! We are prepared for rain with our ponchos in hopes of keeping the rain away!
Just as a little side note! The fruit and juice here is amazing. For breakfast we had a small fruit plate and the pineapple is the most juicy and flavorful pineapple you will ever taste in your life as well as the mango, watermelon, papaya, and strawberries.
In this area of Costa Rica blue hydrangeas seem to grow everywhere whether domestically or wild. Our main wedding flower was the blue hydrangea so we both determined that this was the perfect honeymoon destination.
After picking up everyone on our tour for the day (out of which we were the only two who needed the guide to speak English), we were on our way to multiple destinations around the San Jose area. The first stop was a small coffee shop right off the side of a coffee plantation. Rows and rows of coffee plants lined the side of the hill with orange, lime, plantain, and banana trees popping up throughout. We tasted the Peaberry coffee made at the Doka Estate coffee plantation that we would be visiting later, and we both decided it was a coffee that was different from any other coffee we had ever tried. We walked around the coffee shop and viewed the coffee plantation from a small balcony!
Then we headed to the Poas volcano crater. A small pool of acidic water filled the crater as smoke steamed into the already cloudy sky. It was difficult to differentiate between fog, steam, and clouds, but when a gust of wind breezed by, the teal pool was revealed against the rusty brown rocky walls. After 30 minutes or so of viewing the volcano, we went on a quick hike through the forest that led back to the parking lot. There were gorgeous trees, small and large plants, and birds galore! It was slightly treacherous due to the wet weather, but it was paved for the majority so that made it easy.
Back on the bus, we headed to Doka Estate. We stopped at a small market called Fresas del Volcan where we bought some snacks and the most marvelous strawberries ever. You could taste them simply by smelling them. That was how fresh they were!
At Doka Estate, we learned the process it takes to produce QUALITY coffee not QUANTITY. The roasting room was our favorite because that is where you could really smell coffee the second you walked by. And who could resist the smell of coffee? There were great overlooks to see the landscape of the plantation. Many flowers, birds, and butterflies called the plantation home as well.
Back on the road which was windy and narrow, we headed to Grecia and Sarchi. We appreciated the skill of our bus driver! His ability to make narrow turns and stop as other cars hurtled around the corners coming down the hill impressed us a lot!
We went to a unique church in Grecia that is covered in metal and has a Belgium Gothic Design. It is not the most impressive Catholic church we have ever seen, but the fact that it is made of metal made it worth seeing. In Sarchi, we shopped at a souvenir market, and we saw the WORLD's LARGEST OX CART!
We made it back to our hotel, and we thanked our guide for speaking Spanish and English on all occasions, and we thanked our driver for his attentiveness and skill!
It was a simple day, but we learned a lot about Costa Rican culture and economy.