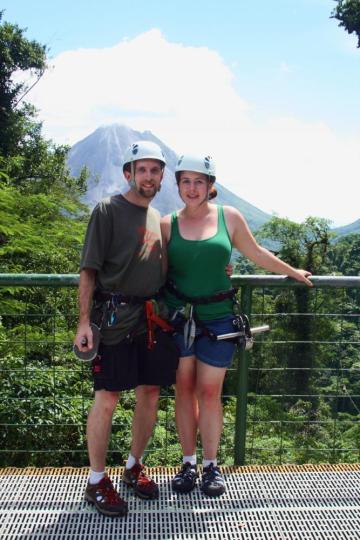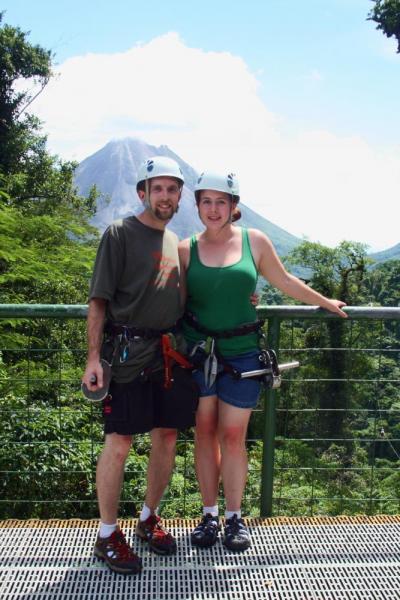 Oh the pain! Muscles aching and the most exciting and endurance ridden part of the river is ahead of us! Luckily, we had the morning to relax and explore a little more of the lodge.
After breakfast, we went on a short hike to a small, gorgeous waterfall. We saw yellow, green, orange, and blue butterflies. We had to be sure to watch for snakes as we walked! It was a beautiful, sunny morning. The pathway was narrow and a bit slippery, but as we turned the final corner there was the waterfall coming down a rocky cliff with the sun glistening over the mist it was creating. We would see more waterfalls in passing on our rafting adventure later in the day, but this one was a treasure because it was like a small hide-away for us to find. We swam for a while and crawled behind the waterfall into a small nook and jumped through. After some picture taking, we had to go back to the lodge to wait for more rafts from the company to arrive because the rafting ahead of us would be too dangerous to do as one boat. When I was told this, I pretty much mentally prepared myself to fall overboard on this leg of the journey. (To assure readers: No one actually fell overboard on this day...we had some close calls, and most of us almost went, but were able to save ourselves or each other)
Back at the lodge, we walked across a hanging bridge to the other side of the river. There was another larger waterfall on that side of the bridge. We saw an amazing colorful grasshopper. It was checkered blue, yellow, and black with a green head and thin red legs. The most amazing thing about all of our hikes is how visually stimulating the rainforest is. From the miniscule flower or leaf cutter ant on the ground to the grandiose trees and multitudes of birds above, there is never a dull moment! We still had time until the rafts arrived so we relaxed in hammocks next to the river always on the lookout for yellow rafts!
The yellow rafts arrived and we ran down the rocky slope to the river to jump in our raft. As a team, we paddled much better than the day before. Bryan and I took the middle of the boat, and we put the two more experienced and strong rafters at the front in order to set a better pace. We were slightly unprepared for the first Class 4 rapid we hit. We didn't quite paddle as a group, and we hit the wave hard. I flew into the person in front of me while he flew slightly forward. We almost lost two people, but we were able to get it under control and continue on. The next two Class 4's went smoothly. They bounced us around a bit, but we all dug in hard and made it through like the fierce rafters we were! On the final Class 4 rapid (unbeknownst to me) our guide asked me "Jessica, would you like to do something crazy?" I wearily replied "Okay!" after he assured me it was safe. I sat at the front of the raft, held onto the ropes, and went face first into rapids as they blasted up my nose and over my face. Apparently, there was a moment when I completely disappeared under a wave! It was extremely awesome!!
Day 2 of rafting was by far the most exciting, and also had the most awe inspiring scenery. Every loop of the river brought us to more amazing views of the rainforest. After rafting crazy rapids, and standing up on the raft as a group while going down a smaller rapid we entered a canyon that the river cut through. The river was calm, and we jumped out of the raft and floated along looking up at the high cliffs on either side of us. Our final rapid of the day was called "Graduation" and it was the easiest of them all, but we could appreciate that at that time. Our muscles were sore and our butts were numb, but each one of us surely took away some unique memories of our 2 day adventure together.
We had lunch and then headed to Arenal Manoa which was approximately a two hour van ride away. We arrived there at night, and the staff was very hospitable. They took us in golf carts to our rooms. This hotel was very isolated as well, but it was much more like a gated community than a jungle retreat. We were both pleasantly surprised at the luxuriousness of the resort. The room was large and beautiful, and we could lay on our bed and have a perfect view of the Arenal volcano. Our first night we even heard a small thunderous eruption!!! One of many for the 3 nights we would be staying here. Yo amo a Costa Rica! Y tu?