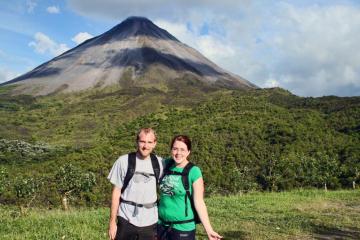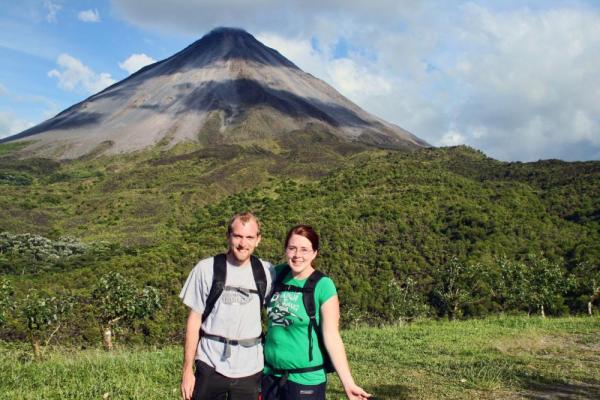 Today we awoke (literally, the second we opened our eyes) to a picturesque view. Our bed faces directly to Arenal. The sky was crystal clear backing the brown and green volcano wonderfully. Arenal erupted once at breakfast, and then we were off to zipline with Sky Adventures.
We got our gear which was much more padded and professional looking than what we had worn two days earlier which made us laugh. We rode a skytram up to the main platform and saw the view of what we would be zipping through! The lines were arranged so that one way you would be going towards Arenal and others you were facing Lake Arenal. The whole time you were surrounded by Arenal Forest. At the top viewing platform, you were given the option to turn around. The view was to amazing to turn around and go back, and it was too good of an experience to pass up. The pulleys had handles, and we were informed that we wouldn't have to brake because their zipline design made it so they could stop you. The platforms were also very secured to the ground and not just hanging on a tree. There were a total of 8 lines-3 short ones and 5 long ones. It was amazing just to lean back, let the harness hold you and let yourself go careening at 30-40mph over the tree tops with amazing views all around you. On our last line, Arenal erupted and a small plume of smoke arose into the sky while we were on the platform getting ready to go. We saw more Tucans, birds, hawks, vultures, and a Coati.
When we were finished, the driver dropped us off in La Fortuna so we could get some lunch and do a little souvenir shopping. Most people in the areas of high tourism in Costa Rica speak English, but being able to go into a normal town was amazing. It still definitely was geared towards tourism, but I was able to barter in Spanish for a beautiful sarong, and we got a delicious lunch at a local cantina that was suggested be a local. Even though I'm not the most fluent Spanish speaker, it is still wonderful to try because the citizens of the country your in appreciate it when you try to be part of their life rather than just coming in and taking what you like of their life and leaving. Bryan and I will always have a part of Costa Rica to take with us throughout our life together. We didn't just experience the touristy aspects of Costa Rica; we appreciated everything that we saw and learned to love this tiny little country in Central America.