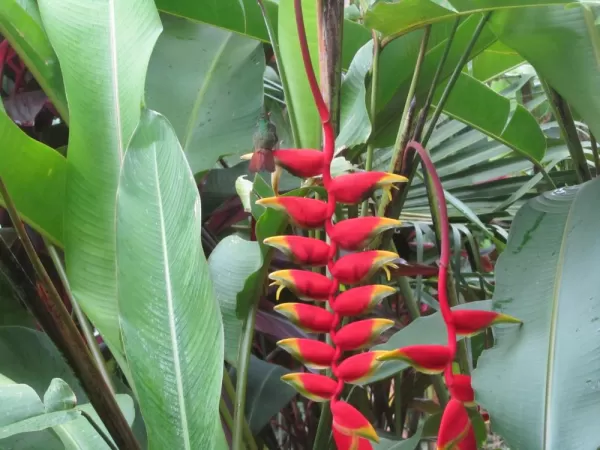 We had an action packed trip to celebrate my friend Linda's 60th Birthday! The accommodations were fantastic, Selva Bananito Lodge was an eco lodge located deep in the Rainforest with many hikes into the Rainforest and an opportunity to see many birds, frogs and butterflies. The guides, Jacqueline and Justo were knowledgeable and very accommodating. We went horseback riding in the hills and also zip-lining. We had so many other exciting outdoor experiences.
Highlights were: Pacuare River rafting-the best guide ever-Roberto guided us safely through Class 3-4 rapids with no mishaps and gorgeous scenery, waterfalls, birds and fresh fruit and lunch on the river. Snorkeling was near Cahuita National Park with guides that were excellent. Many colorful fish and a walk viewing many sloths afterwards. An added trip to the BriBri indiginous village was a highlight. So interesting meeting and talking with a Shaman and we also met a 111 yr. old man who sang and played the drum for us. This experience at the BRIBRI village also encompassed a tour of a cocao plantation and eating lunch at a local families home. Lots of local cuisine and fresh fruit. Yummy! Very worthwhile and memorable.
When we were at Puerto Viejo we stayed at Shawandha Lodge which had excellent bungalows decorated with lots of mosaics. The beach was close by with crashing waves and lots of sandy beach for walking in the warm water. Each morning and evening we heard a very eerie and loud howler monkey.
The town of Puerto Viejo was full of young people and a definite Jamaican influence. A great place to shop and eat. We returned to San Jose and the LeBergerac Hotel and extended our stay for 2 extra days. The city is interesting with easy walking to parks, the National Museum (very interesting), The Jade Museum and Central Market Place which sold anything you could think of. Many local wares and food products. The nice thing about the hotel there were many excursions available with Hotel pickup.One such excursion was to Arenal Volcano and Baldi Hot Springs Resort. Unfortunately we didn't get to see the volcano because of the weather, but sitting in the hot pools was very relaxing. All in all it was a memorable trip and the accommodations were top notch.