Choosing the perfect Danube River cruise involves a thoughtful evaluation of various elements that can significantly shape your experience, ensuring a gratifying and memorable journey. From selecting the right riverboat that suits your preferences to planning a well-crafted itinerary, here is an all-encompassing guide that will assist you in navigating this exciting process.
Picking the Ideal Riverboat
When it comes to narrowing down your options among the diverse riverboats available along the Danube River, several key factors can play a pivotal role in your decision-making process:
Capacity: The majority of riverboats cruising the Danube River comfortably host around 160 passengers. However, you'll find options ranging from smaller vessels accommodating as few as 100 passengers to larger ones catering to approximately 200 travelers. It's worth noting that larger boats often boast additional amenities and expansive common areas.
Onboard Facilities: Your personal preferences for onboard amenities can steer you towards your best-suited riverboat. If you prioritize features like a pool, dance floor, or exercise room, favor the larger riverboats. Conversely, if you cherish an intimate ambiance, the smaller boats might align better with your preferences.
Itinerary Consideration: A crucial factor influencing your choice of riverboat is the specific itinerary it follows. Each riverboat is designed to navigate certain routes along the Danube, covering distinct destinations. Identifying the cruise route that piques your interest will significantly streamline your selection process when choosing the appropriate riverboat.
Selecting Your Ideal Cabin
Crafting an enjoyable Danube River cruise experience extends to the careful selection of your cabin, keeping your personal preferences in mind:
Cabin Location: To ensure a peaceful stay, opt for cabins that are situated away from bustling areas like lounges, restaurants, bars, elevators, and staircases. To minimize noise disruption, avoid cabins positioned directly above the engine room.
Upgrade Options: For travelers seeking a more luxurious experience, considering an upgrade to suites is a viable option. It's essential to be aware that such upgrades often come with an associated premium cost.
Embracing the Onboard Experience
The riverboat experience along the Danube River is characterized by distinctive qualities that set it apart from ocean-going cruise ships:
Unique Design: Riverboats sport a notable elongated and low-profile design, frequently spanning over 100 meters in length. This architecture features two to three decks to facilitate passage under low bridges.
Cozy Cabins: While not as spacious as the cabins on larger ocean liners, riverboat cabins ensure comfort and luxury. Most riverboats provide luxury or first-class accommodations that cater to your comfort needs.
Amenities on Board: Riverboats come equipped with various amenities, including lounges, open-air sundecks, dining areas, and some even boast pools and hot tubs for added relaxation.
Daily Exploration: A typical day on a Danube River cruise involves immersive experiences like exploring charming ports, visiting quaint villages and majestic castles, cycling through picturesque landscapes, indulging in wine tasting, and savoring the breathtaking beauty of the Danube's scenery.
Evening Delights: Evenings bring a wealth of entertainment options, such as concerts, waltzes, and cultural engagements both on the riverboat itself and in major cities like Vienna.
Considering Cruise Duration
A typical Danube River cruise spans around 8 days, presenting a balanced and enriching experience. For those seeking an extended journey, longer cruises spanning 11-15 days delve deeper into the heart of the Danube, encompassing Germany, Austria, Hungary, and Slovakia. Shorter itineraries focus on immersing travelers in one or two specific countries along the river's path.
Crafting Your Itinerary and Exploring Destinations
The Danube River weaves through captivating regions such as Germany, Austria, Slovakia, Hungary, Serbia, Romania, and Bulgaria, offering a diverse array of destinations to explore. The standard cruise encompasses iconic locales like Budapest, Bratislava, Vienna, and beyond. Extended cruises may even link with the
Main
or
Rhine Rivers
, extending your voyage to Amsterdam and other remarkable destinations.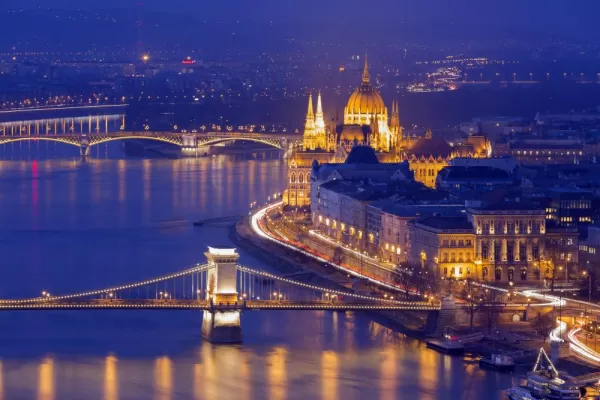 Exploring the Danube's Enchanting Destinations
A Danube River cruise unveils a tapestry of captivating cities and cultural gems along its serene waters. Itineraries include different sites and cities, depending on the number of days you decide to visit. Make sure your itinerary includes Here's a curated list of must-see stops that promise to enrich your journey:
Danube River Cruise Activities and Experiences
Wine tasting in the Wachau Valley.
Cycling through scenic landscapes.
Museum visits in Vienna.
Strolling through historic streets.
Exploring ancient churches and castles.
Reveling in local cuisine.
When is the best time to go on a Danube River Cruise?
Selecting the optimal time for your Danube River cruise is a crucial decision that can significantly influence the quality of your voyage. While each season has its own allure, let's delve into the advantages of different periods, providing you with a comprehensive understanding to help you plan your unforgettable journey.
Fall Splendor: September to November
Undoubtedly, the fall season emerges as the preferred time for a Danube River cruise. Spanning from September to November, this period showcases a harmonious blend of temperate weather, reduced tourist traffic, and optimal river conditions. As the summer heat gradually subsides, the air takes on a crisp yet comfortable feel, offering a pleasant climate for exploring the captivating riverside towns and cities.
One of the prime attractions of a fall cruise is the serene ambiance that prevails along the Danube. The crowds that frequently dominate during the peak summer months have thinned, allowing you to relish a more intimate and immersive experience. The tranquil atmosphere sets the stage for meaningful encounters with locals and the opportunity to truly absorb the cultural riches that line the riverbanks.
Moreover, the river levels remain relatively stable during the fall, ensuring a smooth sailing experience as you traverse the majestic Danube. Unlike spring, when rising water levels can be a concern, or summer, when the heat and demand for cruises rise, fall provides a harmonious balance of favorable weather and navigational ease.
A Glimpse of Festivity: December's Christmas Markets
For those seeking a unique and enchanting experience,
December
holds a special allure along the Danube. The festive charm of the Christmas season takes center stage, transforming the riverside into a winter wonderland adorned with twinkling lights, ornate decorations, and the sweet melodies of carolers.
Cruising the Danube in December grants you the opportunity to immerse yourself in the magic of Europe's most cherished
Christmas markets
. These bustling markets evoke a sense of nostalgia, offering an array of handcrafted gifts, seasonal treats, and heartwarming traditions. From Vienna's Christkindlmarkt to
Nuremberg's
Christkindlesmarkt, each market presents a unique blend of local flavors and customs.
Considerations for Other Seasons
While fall and December stand out as optimal periods, it's important to consider the attributes of other seasons as well:
Spring (March to May): Spring ushers in the revival of nature along the Danube. However, it also brings a higher chance of rain and potentially fluctuating river levels. If you're drawn to blooming landscapes and mild temperatures, spring might still be an appealing choice, but be prepared for the possibility of wet weather.
Summer (June to August): The summer months promise warmth and extended daylight hours, making it conducive for exploration. However, keep in mind that summer can usher in higher temperatures and increased tourist crowds. If you enjoy vibrant festivals and an energetic atmosphere, summer could be a suitable option for your journey.