The
Danube River
is a charming destination to visit at almost any time of the year, though most travel experts agree the that best times to take a Danube cruise are
Spring (April and May) and Fall (September and October)
. Apart from the frigid months of January and February when most cruise lines don't operate, the Danube is a great year-round destination.
At a glance:

Spring
cruises experience more rain and cooler temperatures coming out of winter but offer a good alternative for the shoulder season.
Summer
is peak season, with high temperatures, long days, and heavy tourist traffic.
Fall
cruises can be ideal, with the heat of summer behind and the chill of winter yet to come, though there are occasionally chillier mornings and nights.
A
winter
cruise of the Danube showcases the famous Christmas Markets, but be warned that temperatures during November and December can get pretty cold.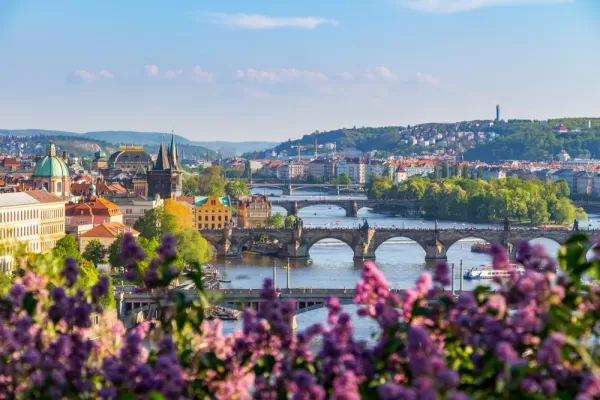 Spring Danube River Cruises
Traveling the Danube River in spring can be a great way to see the European countryside blooming back to life after winter. Warmer temperatures, especially in May, foreshadow summer without the extreme heat. And there is very little traffic at any of the visitor sites since most of the travel to Europe, especially the Danube, happens later in the year. Make sure to bring a rain jacket, though, because you might encounter daily showers and there may be high water levels that could affect your itinerary.
Summer Danube River Cruises
This is the most popular time to visit the Danube River, and temperatures are at their highest, often cresting 100 degrees Fahrenheit. If you don't mind the heat (or if you really enjoy it) this can be a great time to travel. Just be prepared for crowded cities and attractions, potentially lower water levels, and buses that can feel a bit too air-conditioned (nothing a good sweater won't fix).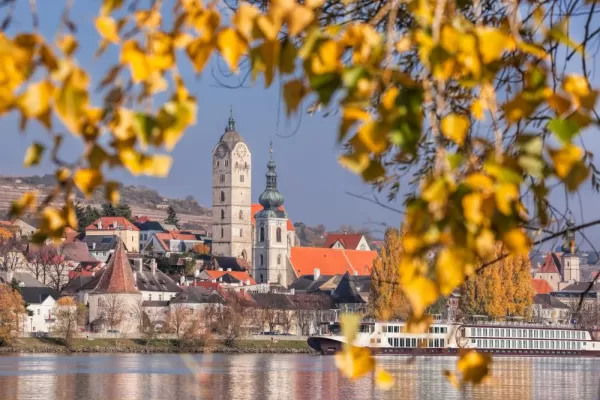 Fall Danube River Cruises
In our opinion, autumn is the best time to cruise the Danube River. As a shoulder season month, travelers compete with significantly fewer tourists at each site and have more space to actually enjoy each attraction. Plus, the hot temperatures of the summer months have mostly given way to brisk fall temperatures. Perhaps the best reason to visit in fall is the harvest foliage that you will see in stunning hues of orange, red, and yellow.
Christmas Market cruises on the Danube
All throughout central
Europe
, the
Christmas Markets
bring the Old Town plazas to fascinating life in colorful traditional displays that showcase the customs and traditions that have survived for centuries. Visitors during this time enjoy delectable treats prepared by the same recipes that have been passed down for generations; genuine handmade crafts can also be found at the Christmas markets and make for great souvenirs. And of course, festivals and celebrations as Christmas gets closer are always a favorite. As long as you are prepared for colder temperatures, your Christmas Market cruise of the Danube will be an unforgettable adventure!
Water Levels
Unfortunately, one major factor that is entirely unpredictable is the water levels at the time of your cruise. Since you'll likely have to book your cruise a year in advance and the water levels on any given week depending on the weather in the weeks and months prior, water levels can either be too high or too low. If they are too low, certain parts of the river may not be navigable for the riverboats; conversely, if they are too high, the riverboats might not be able to cross under the bridges.
As a general rule, spring rains and snow melt mean higher water levels in March, April, and May, and dry summers could forebode low water levels in late July and August. When water levels do impact your original itinerary, cruise companies are prepared for this and offer you options to either stay at a local hotel or stay on the boat and take a luxury coach to the destinations you aren't able to cruise on the boat.