Have questions? We're here.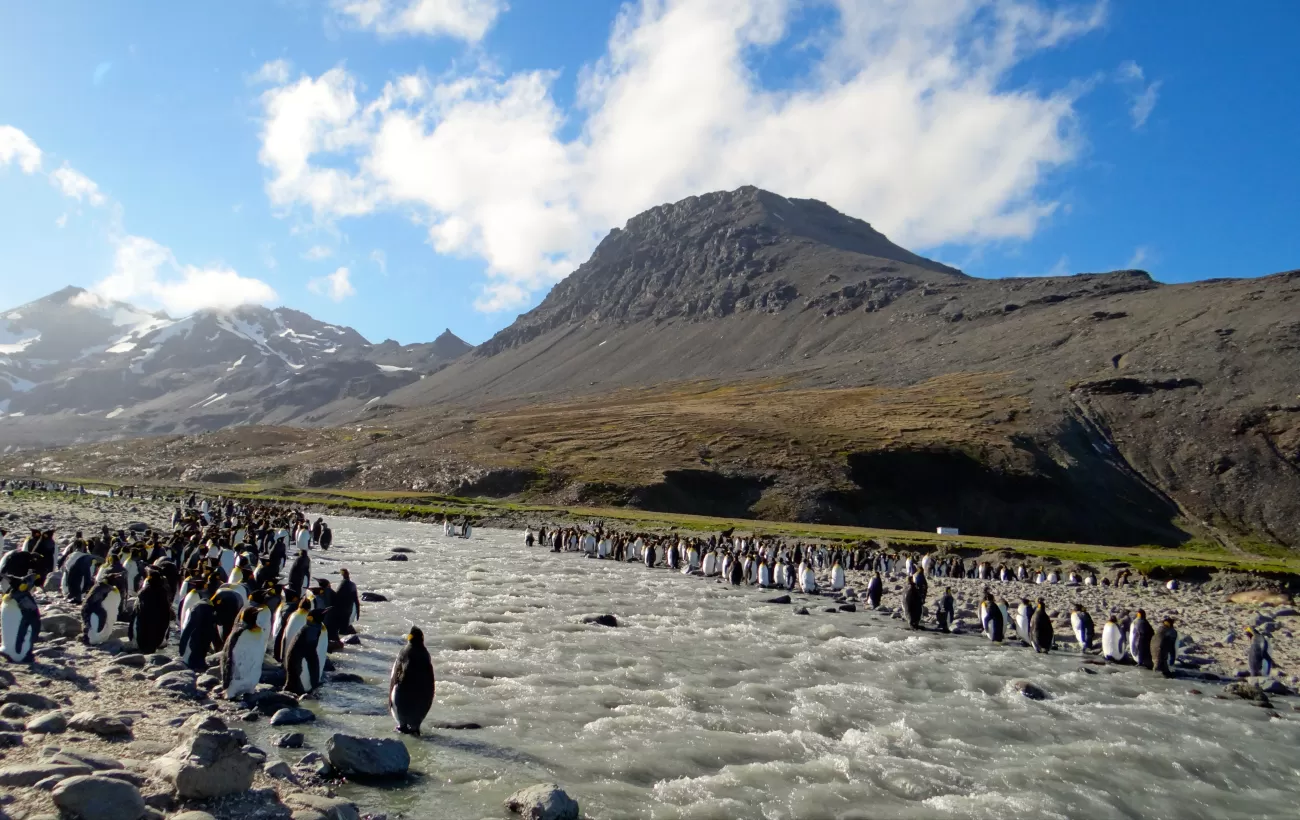 Falklands (Malvinas) & South Georgia
Punta Arenas roundtrip - Example 17 Day Cruise aboard Magellan Explorer
Get inspired by the possibilities.
Build your ideal trip.
A journey like no other awaits as you embark on your ship in Port Stanley for this 17-day cruise aboard the Magellan Explorer. Explore the Falkland islands, making stops at Saunders Island, Carcass Island, New Island, Weddell Island, and Bleaker Island before sailing southeast toward South Georgia. The region is known for its prolific birdlife, you will see multiple penguin, albatross, and petrel species as well as varied marine life that call these sub-Antarctic waters home. Learn the history of the early expeditions to the region and visit Ernest Shackleton's grave. You will bring home indelible memories, and tales of your journey will arouse the curiosity and admiration of your friends and family.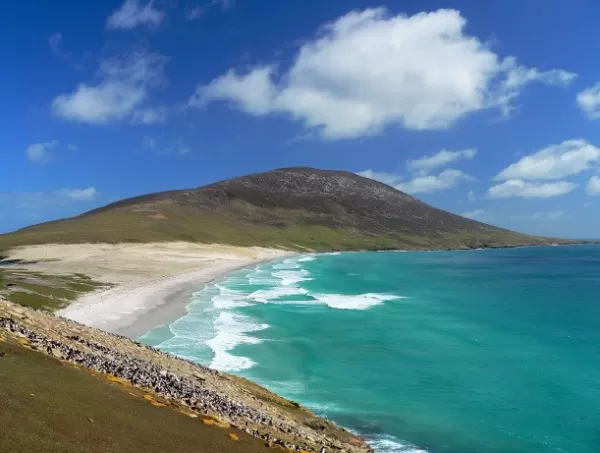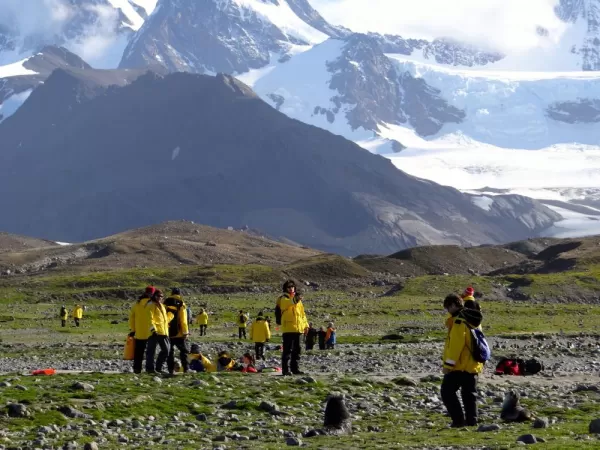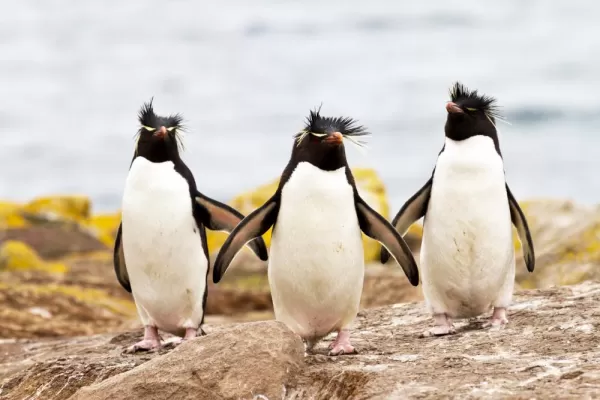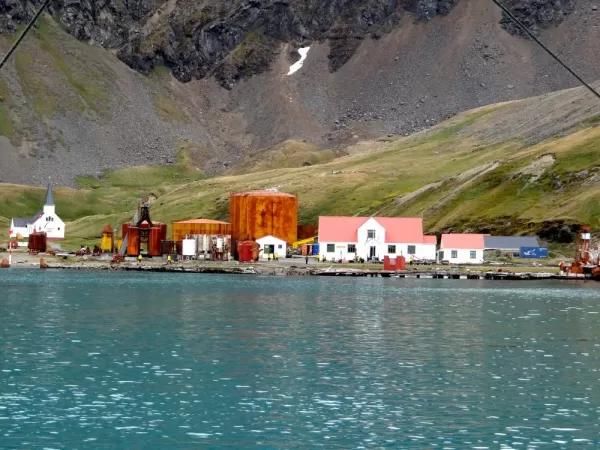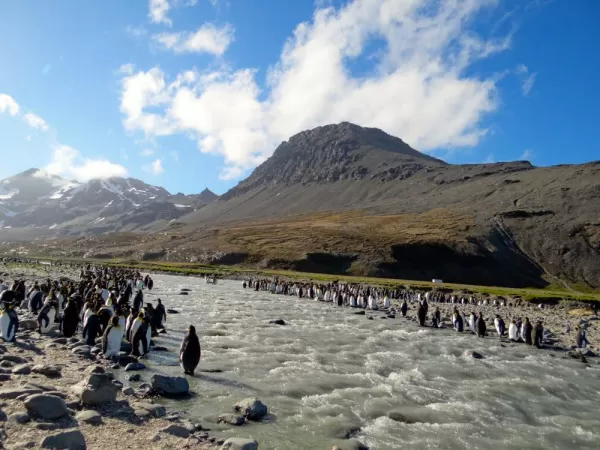 Explore Saunders Island and admire its unique wildlife
Visit the West Falklands known for the massive penguin colonies and albatross sightings
Discover Bleaker Island, identified by BirdLife International as an Important Bird Area
See king penguins at Fortuna Bay
Bleaker Island
Cooper Bay
East Falkland Island
Elsehul Bay
Prion Island
Saunders Island
Full Itinerary
Expand All
Day 1: Punta Arenas | Embark
From 9:00 hrs., make your way to Explorers House in Punta Arenas and enjoy the facilities. At 16:00 hrs., a group transfer will take you to the port for embarkation. As we sail along the Strait of Magellan, our Expedition Team will introduce the history of this fabled sea route.
Day 2: At Sea
1 Breakfast, 1 Lunch, 1 Dinner
Enjoy the ship's hospitality as we make our way to the Falklands (Malvinas). Our engaging series of lectures and presentations begin.
Day 3: Saunders Island | Carcass Island
1 Breakfast, 1 Lunch, 1 Dinner
This morning, visit Saunders Island, where you can enjoy the long white-sand beach. The main attractions here are the rockhopper penguins, nesting black-browed albatross, and the sub-Antarctic gentoo penguins. In the afternoon, visit Carcass Island. There is an option for an easy hike to the settlement, bird watching, and a typical Falklands tea experience.
Day 4: Port Stanley | Disembark
1 Breakfast, 1 Lunch, 1 Dinner
Join our expedition team on guided walking tours of Port Stanley or Gipsy Cove. Or explore on your own and absorb the atmosphere, grabbing lunch at the local pub, visiting the maritime museum, the church, hunting for souvenirs, or walking down Ross Road, paying tribute at the war memorials at the waterfront.
Day 5-6: At Sea
2 Breakfasts, 2 Lunches, 2 Dinners
Sail toward South Georgia, attend engaging programs of lectures and presentations. In the company of expert guides, watch for wildlife from the lounge or from the outside decks. You may spot magnificent seabirds, such as albatrosses and petrels, as well as different species of whales
Day 7: Elsehul Bay
1 Breakfast, 1 Lunch, 1 Dinner
Depending on sea conditions, plan to arrive in South Georgia sometime this afternoon. Upon receiving approval from the South Georgia Government, go for an evening Zodiac cruise at Elsehul Bay.
Day 8: Grytviken, Fortuna Bay
1 Breakfast, 1 Lunch, 1 Dinner
The first landing is at Grytviken. Clear Customs and then visit the historical site, with the museum and Ernest Shackleton's grave. In the afternoon, land at Fortuna Bay and Stromness to see king penguins. Here you will learn more about Shackleton and his expedition. There is also an optional 2-3 hour "Shackleton walk".
Day 9: Gold Harbour | Cooper Bay
1 Breakfast, 1 Lunch, 1 Dinner
In the morning land at Gold Harbour. This is a spectacular location with king penguins, elephant seals, and hanging glaciers. There are also sooty albatross here. In the afternoon, visit Cooper Bay to see macaroni penguins during a Zodiac cruise.
Day 10: St Andrews Bay, Ocean Harbour
1 Breakfast, 1 Lunch, 1 Dinner
Your morning excursion will take you to St Andrews Bay where you will see the largest king penguin colony and elephant seal bulls. In the afternoon, take a Zodiac cruise and land at Ocean Harbour. The highlights here are a shipwreck and abandoned remnants of the whaling industry
Day 11: Prion Island, Salisbury Plain
1 Breakfast, 1 Lunch, 1 Dinner
In the morning, visit Prion Island to see the nesting wandering albatross. In the afternoon, head to Salisbury Plain for more king penguins and stunning landscapes.
Day 12-14: At Sea
3 Breakfasts, 3 Lunches, 3 Dinners
As the ship makes its way back to the Falkland Islands (Islas Malvinas) the program of lectures and presentations continues onboard.
Day 15: Bleaker Island
1 Breakfast, 1 Lunch, 1 Dinner
Evening landing at Bleaker Island, a natural reserve with a famous bird area featuring a large variety of birds.
Day 16: At Sea
1 Breakfast, 1 Lunch, 1 Dinner
As the ship
Day 17: Punta Arenas | Disembark
Upon arrival at Punta Arenas, we disembark and take a group transfer to the town center, where the expedition will end. Explorers House remains available to you for the day.
Dates & Prices

Select a Date
Triple Suite
480 ft2 – 44 m2 -Suite with two bedrooms, balcony, and sitting area

Select a Date
Porthole Cabin
Porthole Cabins 200 ft2 – 18 m² -Cabin with sitting area and porthole

Select a Date
Veranda Cabin
210 ft2 – 19 m2 -Cabin with sitting area and balcony

Select a Date
Deluxe Veranda Cabin
240 ft2 – 22 m2 -Cabin with sitting area and balcony

Select a Date
Penthouse Suite
360 ft2 – 33 m2 -Suite with sitting room, balcony, and bedroom area

480 ft2 – 44 m2 -Two-room suite with sitting room, balcony, and bedroom

Select a Date
Single Veranda Cabin
210 ft2 – 19 m2 - Cabin with sitting area and balcony
Notes

-Rates are quoted in U.S. dollars and represent costs per person, double occupancy. Cabin sharing, where solo travelers are matched with a cabin mate of the same gender is available in Porthole and Veranda Cabins.
-Cabins are available for single occupancy at 1.85x the double occupancy rate for Porthole and Veranda Cabins types. Deluxe Veranda, Penthouse Suite, and Grand Suite cabins are 2x the double occupancy rate.
-Children ages 12 and up are permitted onboard accompanied by an adult.
16 Breakfasts, 15 Lunches, 16 Dinners
16 Nights Accommodations
Accommodations as listed
Ground transportation as listed
Activities as listed
Meals as listed
Access to a 24-7 Emergency line while traveling
Wine, beer, juice, and soft drinks served with lunch and dinner on board ship
Coffee, tea, chocolate, cappuccino, water and snacks on board ship throughout the expedition
IAATO passenger fee
Loan of Waterproof Boots for Landings
Comprehensive Pre- and Post-voyage Information Materials

Lectures and entertainment onboard.

Daily buffet breakfast and lunch on board the ship offering a wide choice of dishes.
Dinner served daily on board the ship offering a choice between one of three main courses.
All guided shore excursions.
Special access to Explorers House for guests in Punta Arenas.
Gratuities
Travel Insurance
Personal Expenses
Flight costs (please request a quote)
Additional excursions during free time
Fuel and transportation surcharges (when applicable)
Passport and Applicable Visa Expenses
Beverages purchased at the bar
Parkas are not provided on your cruise. Please bring your own windproof, waterproof, insulated parka with you. You will want to make sure it is roomy enough to fit warm layers underneath. Click here for information about parka rental.
Inquire
I could not be happier with my Adventure Life experience, from beginning to end. I travel a lot, and I think your company and personnel do an outstanding job. I truly appreciate your professionalism, attentiveness, and flexibility. I wouldn't hesitate to recommend your company and would be happy to serve as a reference.
Constance Block
Falkland Islands Travel Guide
Favorite Falkland Islands All Trips