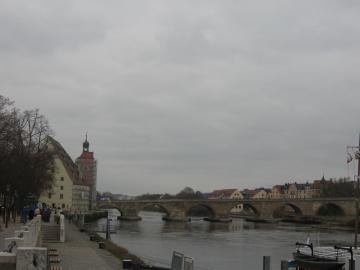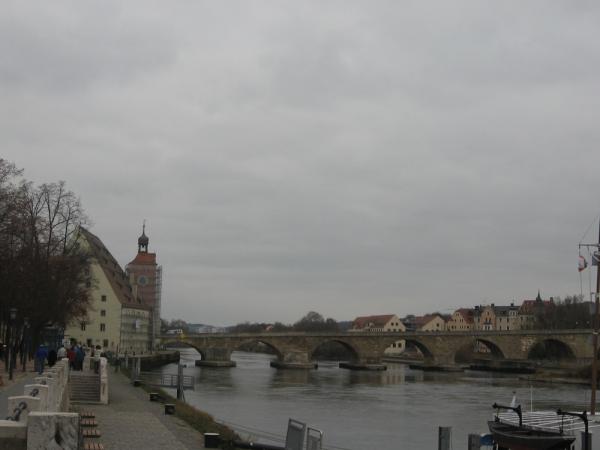 Today we had a long drive from Fussen to Pasau via Munich. Munich is not a good city for cars. Streets are erratic, parking is limited and streets are narrow. After ~ 45 minutes, we finally found a spot to park outside the city center. We took the easy subway system into town and found some lunch at the Kaufhaus.
After some minor car trouble, we arrived in Passau and boarded the Amacello. This is a brand new vessel with some outstanding technology (and a few glitches). Each room has a TV/ computer with dozens of movie options (2 Euros each), TV, music, free internet, and access to a camera that takes constant video from the back of the ship showing its position. You can set up a wake up call, read about ship amenities, and watch a map tracking the ship's progress down the river. Overall, its a great system, though the remote doesn't always work consistently and internet access is spotty and slow.
Rooms are comfortable with either two twin beds or one king bed. The single bed arrangement feels larger and it preferable if you are undecided. The room also had a desk, two chairs, nightstands, a generous wall of closets and shelves, and an amazing shower with three different nozzles and exceptional water pressure. Extra blankets, slippers, bathrobes, a hair dryer, soap, shampoo, and lotion are all provided. Tap water is potable in the rooms and they also have free bottled water. Rooms also have safes and telephones (1 Euro per minute to anywhere).
Meals are 5 star with a choice of three appetizers, soups, entrees, and dessert. Special requests are honored and they offered to make special dishes for the kids as long as they had notice earlier in the day. The food is amazing and wine is included with dinner. Service is also top notch. They probably asked me at least seven times during dinner if I wanted more wine, even though I said no every time. They also brought around a few extra entrees so guests could try the things that they hadn't ordered. Meals are open seating at a single time. However, they also offered early and late riser pastries, coffee and cake in the afternoon and a late night snack in addition to three filling meals. It was impossible to go hungry.
Part of each day was spent traveling along along the river. This was fascinating as most rooms have French balcony doors where you can literally reach out and touch the shore at times. There's also a fitness center, lounge, beauty salon, games' room, and hot tub to keep travelers entertained while enroute. Newspapers from the US, Australia, Canada, and the UK were also available each day. The reception is open 24 hours to provide additional assistance and they all spoke perfect english.
There's also an elevator onboard. Laundry services are available at an extra cost. Smoking is allowed only outside on the sundeck.