The dry season, which runs from
May to September
, is the best time to visit
Indonesia's
most popular islands for
hiking, cycling, and diving.
If it's your first trip to Indonesia, you will probably want to visit
Bali
,
Komodo National Park
, and
Lombok
. The dry season on these islands is from
April to October
– although the peak of the tourist season is July and August when it can get pretty crowded. The high season in Maluku and Papua starts in October, with their best weather conditions lasting until May.
If you prefer a less humid climate, then head for the mountains of
Sumatra
, Java, or Sulawesi where temperatures are more moderate year-round. It rains more frequently from November to February but can still be good for trekking through Sumatra's Gunung Leuser National Park or climbing Central Java's Mt Merapi.
Weather in Indonesia
Indonesia's
location near the equator makes it a consistent year-round destination. Small variations in rainfall and temperature create two slightly different times of the year, but all in all the best times to visit are "whenever your schedule allows." In general, it is hot (between 80-85 F) all year and humid, particularly in the wet season. Variations in temperature may occur with altitude changes as well.
As it is in the tropics, you will see rainfall year-round. A period of heavier rainfall lasts from October to March, with December to February receiving more than the others months. Flooding can make road travel difficult at times during this season. The months of June to August offer a slight cooling in temperature and less humid air, making it a more popular time for visitors.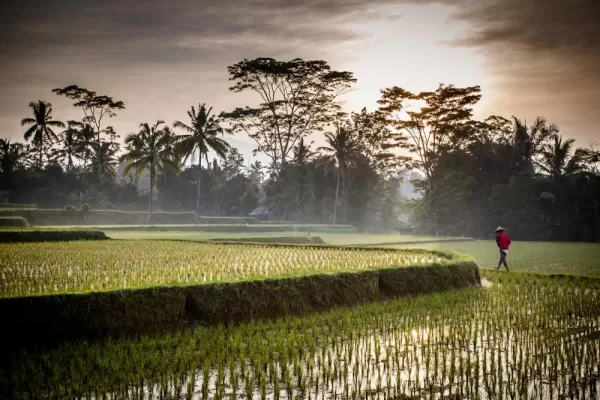 July-August (High Season)
Dive destinations Maluku and Papua experience rainy weather throughout the months of July and August. Because the weather is ideal for relaxing on the beach, tourist numbers are on the rise. Up to a 50% increase in room rates is possible. While Independence Day and the outstanding canoe races in South Sumatra (both in August) may bring more people and higher prices, the pleasant weather makes this an appealing time to visit the country despite these inconveniences.
May-June & September (Shoulder Season)
Java, Bali, and Lombok experience their ideal weather during the shoulder seasons when it is dry but not so humid. The crowds are not as heavy as they are in July and August, despite the fact that this is the low season. Both Maluku and Papua are still swamped. When it comes to orang-utan sightings, September in Kalimantan (the Indonesian section of Borneo) is ideal (the apes are harder to find during the rainy months). Similarly, less rain and moderate daily temperatures make it an ideal time to see orang-utans in northern Sumatra, where sightings are more likely.
October-April (Low Season)
Low season brings rains to Java, Bali, and Lombok. Because tourist crowds are thinner you'll find good deals on accommodation and you can travel with little advance booking (except at Christmas and New Year, where tourist numbers shoot up for a couple of weeks). The exception is Maluku and Papua, which have their dry season from October-April; meaning it's prime time for diving.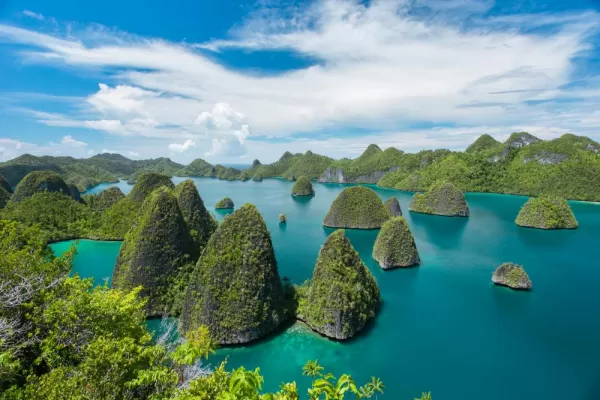 Best Time to Go to Bali
The more popular tourist destination of
Bali
receives a greater influx of tourist crowds during common school holiday breaks and is significantly less crowded in shoulder seasons. Shoulder season sees afternoon showers that tend to be short and typically don't interrupt the days and fewer tourist crowds. Indonesia also celebrates certain religious holidays, such as Ramadan lasting most of June, which causes more services to close their doors. In early June the Bali Arts Festival and Kite Fair is in full swing. July holds the Negara Bull Races and the nation's Independence Day is on August 17th.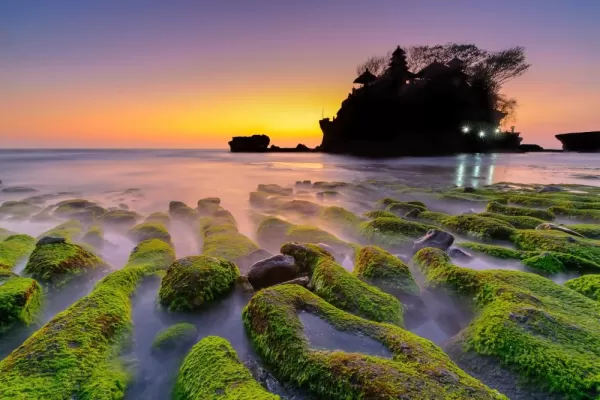 Best Time to Travel to Java
The ideal time to visit Java is from May to September when the weather is hot, dry, and sunny. These months are also suitable for climbing Bromo or Ijen. From November to March, East Java receives less rain than West Java. Days are marked by frequent, strong rainstorms that last a few hours. Temperatures are warm throughout the year, averaging 28-30°C, while higher highland places like Mt Bromo are cooler at night.
Contact one of Adventure-Life Indonesia specialists
for expert advice on the best time to travel to Indonesia.