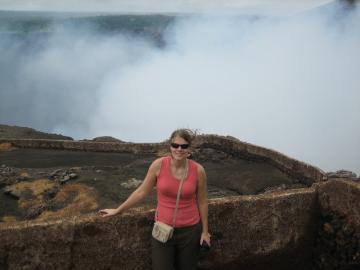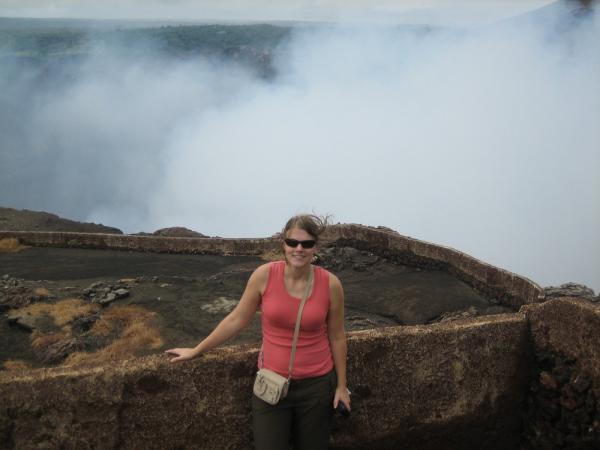 In the morning we all head to nearby hotel Villa Paraiso for breakfast. It was very nicely located, overlooking the lake. As I sat down for gallo pinto, eggs, fruit and café con leche, we quickly find that we were vying for our food with the birds (cockatiel looking birds) and a few dogs – all of which seem to be emboldened in their quest for food from likely being fed by other guests before us. We then continue on to see the nearby petroglyphs, accessible after a brief walk past farmlands to the locations where they were originally found. We also see pigs and horses grazing along the two sides of our pathway. I see too my first saddle made from wood blocks and large palm leaves. After this we continue through to Altagracia – the other "large" town on the island. We stop to seethe Catholic Church here and the large stone sculptures in the front courtyard before continuing on to San Jorge for the ferry.
As we are driving I reflect on what is Nicaragua. I discussed this with a gentleman from Spain and our local guide, Robinson, who spoke much better English than I was anticipating.
Why would anyone want to come visit Nicaragua? The hotels while a good attempt at comfort, have yet to meet the same standards of quality of service as say the ones in Costa Rica. International travelers have come to expect a certain level of comfort and pampering when traveling – even those who claim to love adventure and new experiences don't often want to sacrifice common amenities to have it. Yet I think, where else in the world do you find a road on a rainforest and volcanic island shared by fancy tourist buses, large tractors, SUVs, public buses, horse and rider, and cattle being herded by a small boy with a stick? The life that takes place here is so raw and uncensored. You can come experience a people downtrodden by war and years of oppression and poverty, and yet find something so beautiful in their struggle to survive as a people with their own identity and culture. You may see the garbage thrown all over, or the small shanty homes as sings of no pride or not caring about their country – and then see an old woman sweeping out the dirt floor of her small casita and think "what amazing pride of ownership, that she would sweep even the dirt itself". You will hear a young man who has learned to speak English return to guide people on his island sharing the treasures that he so greatly appreciate with any who would like to see it. As tourists still are not that common, you receive blank stares from many locals and at first think you are receiving angry glances. But then with one genuine smile from me – their faces light up with a smile in return. While hostility towards tourists is not really evident, I can understand why these people would be leery of gringos. The Americans played such a large part in their very recent history of civil war, that their artwork and even their money often depicts battle scenes in which a US flag is raised for the army killing the locals. And yet, while many still remember the civil struggles, there is an eagerness to interact if we just demonstrate a smile, eye contact, and a willingness to find out their name. So simple – what it takes to heal a relationship or perspective of a people previously unknown to us. A truly hidden gem, I would recommend to any and all willing to forfeit their rights to clean sidewalks or cable TV to come experience this little country filled with natural wonders from the white faced monkey to the Maximiliar Orchid to the small dirty girl sitting on a rock and smiling at you. So much beauty previously unseen – has yet to be noticed and recognized for what it is –a truly special country, hidden, yet waiting to be discovered.