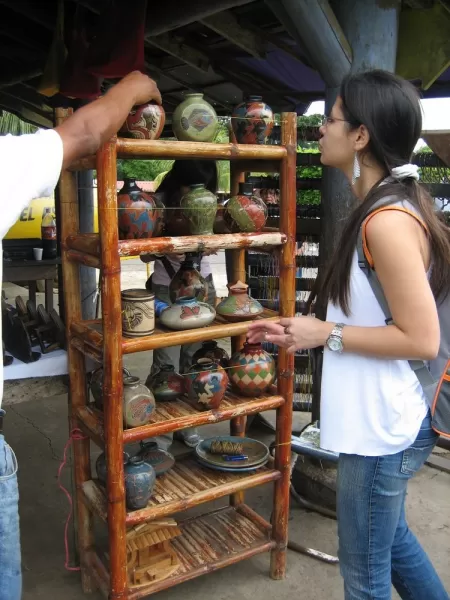 The next morning we wake a gain and head back towards the South, with San Juan del Sur the final destination. En route though, we decide to stop in San Juan del Oriente (or Los Pueblos Blancos near Masaya). Here we walk amidst some of the local homes and neighborhoods to see how the hammocks and ceramics are made. It is amazing with the hammocks as the whole little neighborhood is involved in the process. One person spins the thread, another then weaves the body of the hammock, another creates the wood pieces to hold them up, and still another makes the decorative fringe on the side, and then one storefront is used to sell to the general public (like me, here I paid $15 for a seat hammock) or possibly exported as orders come.
Next we walk to a potter's home - where in back I am able to see the process from start to finish. The gal throws the pot (with material found and mized out of their local soil that they collect). Using a mechanical wheel, she uses one foot to spin the wheel while she throws it at a sort of stand up desk she uses. Next, it is etched, painted, shined, then baked, and the process takes 22 days for 1 piece from start to finish!
Next we go on to San Juan del Sur. Here we have lunch at a restaurant overlooking the ocean. Our waiter is 14 years old and very courteous for his surprisingly young age. We walk around the little beach town for a while. Here you'll find little shops, surf stores, and discos, not to mention beautiful bay views. We then go to inspect some hotels, as well as visit Marsellas Beach, which is untouched and seemingly undeveloped. In a cove of its own, it is just welcoming anyone for a private stroll through the sand as well as a nice swim. Next we visit another hotel high on a cliff with breathtaking views overlooking Marsellas beach and the Pacific ocean. In this area, just one beach North one will find Maderas beach, with surfing and boogie boarding opportunities. To the South, one will find a wildlife refuge with turtles coming on shore to next in late summer through Fall. Sometimes on e can find the beach with thousands on it! This evening, again we head for the 2 hour drive back to Managua.