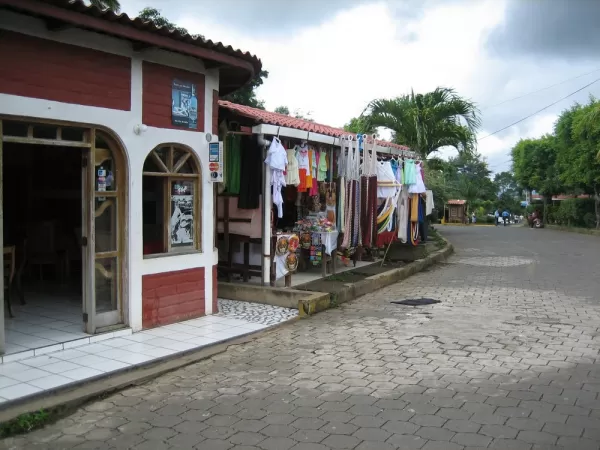 Early this morning we head off from my hotel in Managua to the old colonial city of Leon. The drive takes about an hour and a half, and first we stop to visit the remnants of uncovered ruins of Old Leon. Originally built to be by the lake waters, the city was intentionally abandoned and moved 85 years after its founding to avoid potential eruption destruction by Momotombo Volcano nearby. Now, you can explore the old cathedral site, Governor's house, and then the resting place of Cordoba and Davila, enemies buried side by side.
One can see as you walk lumps in the vegetation hinting at the presence of other ruins yet uncovered, as well as see glimpses of the 500 year old bricks peaking out through the grass.
We next continue on to a lookout of a volcano called el Tigre. We climbed up a steep hill for about 10 minutes, where from there we proceeded down to a beautiful fresh water lagoon at the base of the volcano. The views are spectacular, and as it is Sunday, we are met by many locals swimming and playing in the blue lake. After a brief visit (and a quick swim for one of the gentlemen in our group) we continue on to Leon City where we have lunch at a local restaurant located kitty corner to Catedral La Asuncion. This is the one cathedral that opens its rooftop to the public - allowing one to take in the views of the chain of 12 volcanoes consecutively on a clear day. Here too are the tombs of Ruben Dario, famed literary giant of Nicaragua, as well as other great men for the nation of Nicaragua. Also you can see on display here the Black Christ - taken over from the original cathedral in the move from Old Leon.
We go to inspect a few hotels in the area too - and then go to see the art museum. Though not all original works, it has an impressive display of European and local art, as well as the building housing it being an old presidential palace of sorts and still has some of the original woods boasted in its architecture. We do not have enough time this day to do much more. We wander the colonial streets for a bit, and I purchased sliced up mango from a local vendor for 5 cordobas, or about 25 cents. We return to Managua this evening.