Have questions? We're here.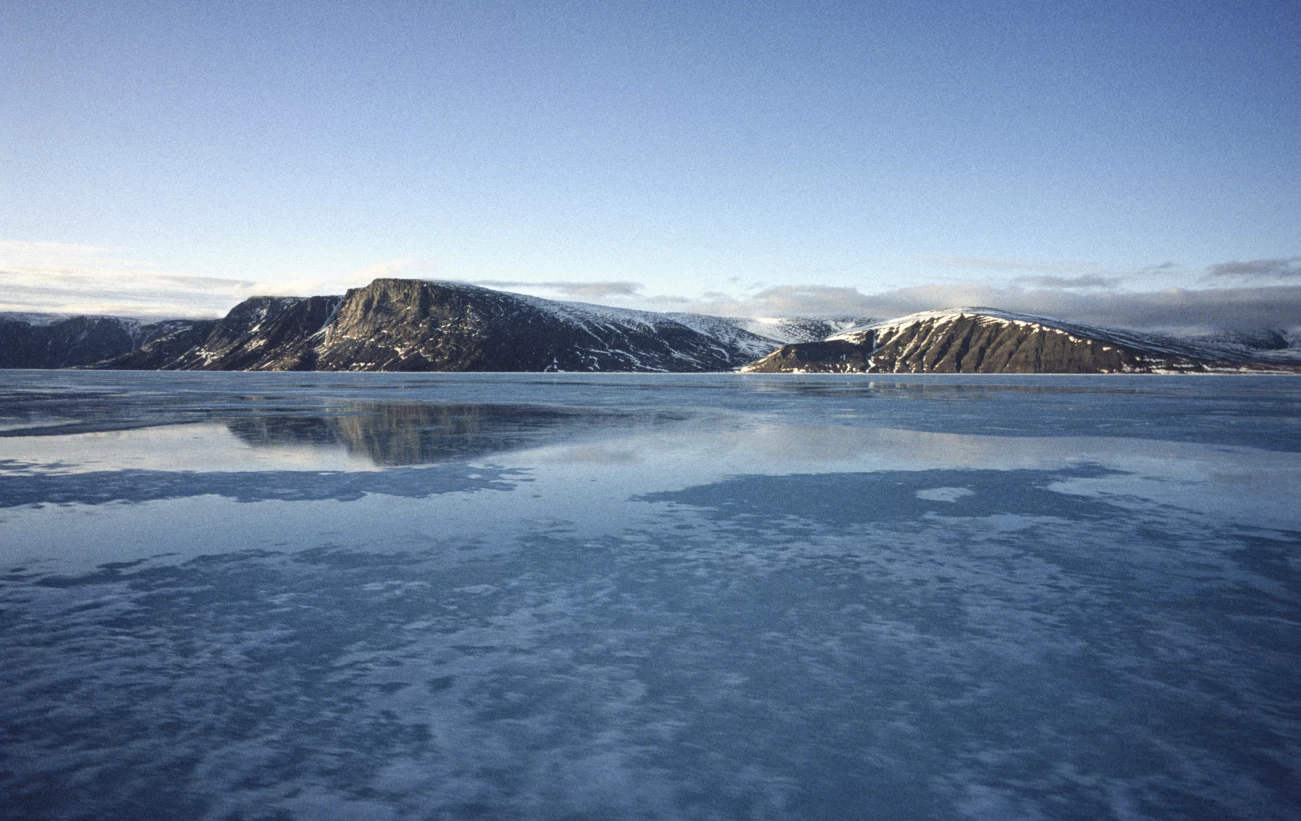 The Northwest Passage: from Greenland to the Bering Sea
Example 25 Day Cruise aboard L'Austral
Get inspired by the possibilities.
Build your ideal trip.
Sailing aboard the luxurious L'Austral, follow in the footsteps of the most legendary polar explorers while you experience Zodiac excursions and visits to iceberg-laden shores, remote Inuit villages, historic islands, and spectacular geological wonderlands. Enjoy a captivating enrichment program led by the real-life explorers that make up A&K's Expedition team, including an Arctic historian, Inuit cultural expert, geologist, and dedicated photo coach. Observe the stunning wildlife and stark landscapes of this remote destination, and learn about the history of the Indigenous people and European explorers of the region.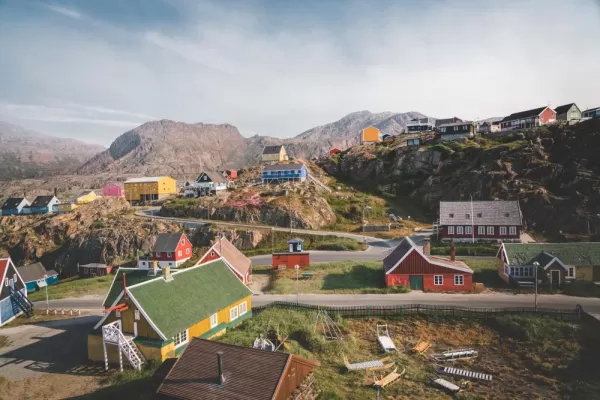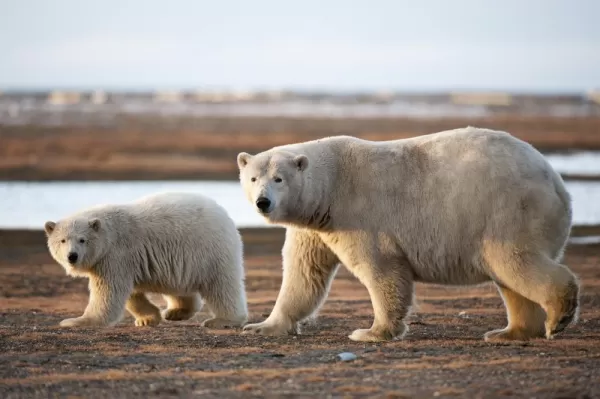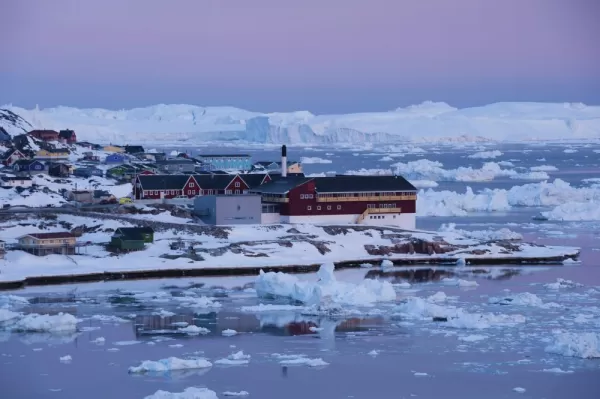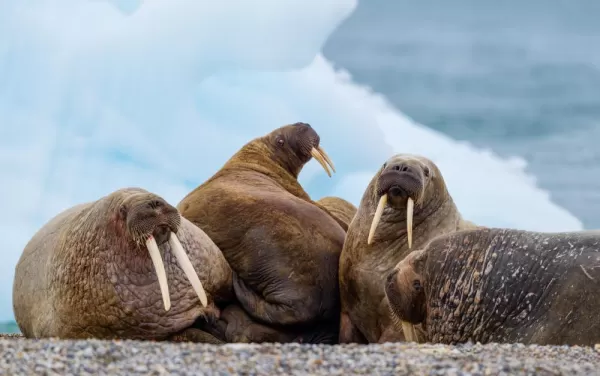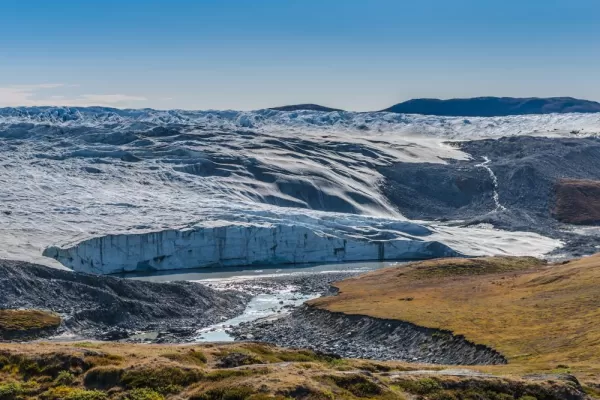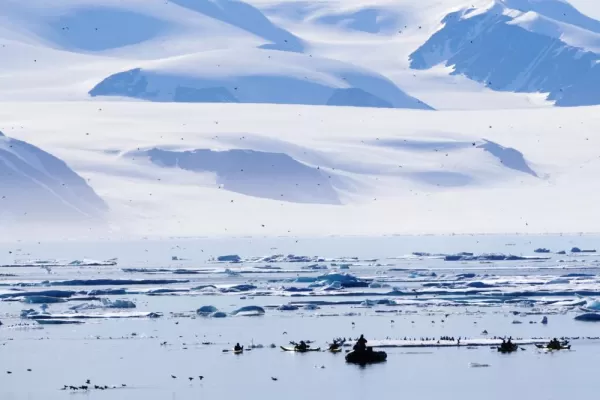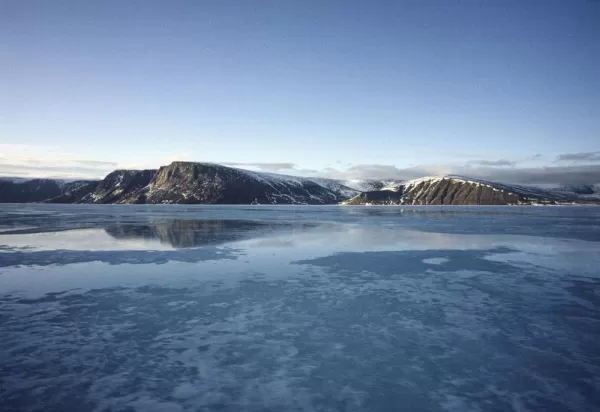 Explore the dramatic landscapes of the west coast of Greenland
Marvel at wonders from the Ilulissat Icefjord, a UNESCO World Heritage Site
Delve into the remote Yukon Territory at Herschel Island
Visit the Franklin Bay's "Smoking Hills"
Full Itinerary
Expand All
Day 1: Arrive New York city
Arrive in New York City and transfer to your hotel. Later, gather for a welcome dinner, where you meet your fellow guests and members of your Expedition Team.
Day 2: Kangerlussuaq | Embark
1 Breakfast, 1 Lunch, 1 Dinner
Transfer to the airport for an early morning charter flight to Western Greenland, arriving at Kangerlussuaq at the edge of the Greenland Ice Sheet. Later, board your luxury expedition cruiser and enjoy the thrill of setting off for sea. This evening, join fellow guests and your Expedition Team for a welcome reception.
Day 3-9: Western Greenland | Amundsen's Beginning
7 Breakfasts, 7 Lunches, 7 Dinners
In 1906, Roald Amundsen became the first polar explorer to successfully cross the entire Northwest Passage. Begin as he did, venturing along Greenland's stunning West Coast and north into Baffin Bay for the next five days. Your Captain and Expedition Team determine the day's best excursions, which may include the following areas:

Sisimiut: North of the Arctic Circle, Sisimiut is the northernmost city in Greenland able to maintain a year-round, ice-free port as well as sufficient snow for dogsledding in winter and spring. Visit the local museum and enjoy an Inuit sea kayak demonstration.

Disko Bay & Ilulissat: Cruise into the wide inlet of Disko Bay, first explored by Erik the Red in 985. Discover the Ilulissat Icefjord, a UNESCO World Heritage Site at the mouth of one of the fastest and most active glaciers in the world, Sermeq Kujalleq. Take a walking tour of Ilulissat, visit its history museum, and meet with villagers to learn about local life. Conditions permitting, board a local vessel for an iceberg cruise of Disko Bay.

Uummannaq Fjords: North of Ilulissat, this geological wonder teems with marine life. Visit Karrat Fjord to see the iceberg-clad bay and the remains of ancient huts, built by Thule hunters (Inuit ancestors) more than 500 years ago.

Kullorsuaq: Translated as "Big Thumb," Kullorsuaq remains one of the most traditional hunting, fishing and trading villages in Greenland.
Day 10-17: Nunavut | Vast Canadian Arctic Archipelago
8 Breakfasts, 8 Lunches, 8 Dinners
Cruise into the Canadian Arctic Archipelago of Nunavut and enter the heart of the Northwest Passage. As your luxury expedition cruiser winds through legendary channels and inlets, A&K's enrichment specialists continue to spark captivating discussions that enhance your discovery. Your crew and Expedition Team determine your itinerary, which is dependent on weather, sea, ice and wildlife conditions. Exciting excursions may include:

Pond Inlet: "Place of Mittima's Grave," Pond Inlet is the gateway to the Northwest Passage and a rich archaeological site. After clearing customs formalities, embark on a shore excursion to an area once inhabited by the ancient Thule. Visit the Nattinnak Visitor's Center or Toonoonik Sahoonik Co-op, where you may shop for handcrafted goods.

Lancaster Sound: Situated between Devon Island and Baffin Island, this body of water is home to an abundance of Arctic cod and seasonal populations of Beluga and bowhead whales, black guillemots, Arctic terns and other wildlife.

Beechey Island: Historic moments in Arctic exploration define this island. Beechey is best known for providing a safe haven to British explorer Sir John Franklin in 1845, who took shelter for two years before his ill-fated attempt to conquer the Northwest Passage. See the grave markers for three of his men and visit the Franklin's cenotaph.

Fort Ross: Abandoned in 1948, this former trading post was founded in 1937 as a place for trappers to barter Arctic fox pelts in exchange for necessities. Explore its remaining structures and perhaps take a Zodiac excursion to CoBay, as your naturalists share stories about its residents.

Gjoa Haven: During his attempt on to cross the passage on 'Gjoa', Roald Amundsen took respite in this natural harbor as he waited for ice conditions to improve. For two years, he lived with the Netsilik Inuits and learned survival skills that later proved invaluable on his South Pole expedition.

Victoria Island: Cruise the south coast of Victoria and through Queen Maud Gulf, Dease Strait and Coronation Gulf. Expedition stops may include bird sanctuary Jenny Lind Island and Johansen Bay.
Day 18-20: Northwest Territories | Remote Frontier
3 Breakfasts, 3 Lunches, 3 Dinners
Enter Canada's Northwest Territories and continue through the heart of the Northwest Passage, where you may experience exciting excursion opportunities that include:
Ulukhaktok: Visit with the local Inuit of Holman Village, experiencing drum dances, and tastings of fresh char and bannock rings (fried dough) prepared over an open fire. Tour the town art center and discover Ulukhaktok's beautiful printmaking tradition, carvings and hats made of coveted musk ox wool.
Banks Island: This fourth largest island in the Canadian Archipelago, Banks is home to deep Inuit history and a population of about 60,000 muskoxen.
Franklin Bay: Discover the "Smoking Hills," cliffs of bituminous shale that endlessly combust and burn. This geological phenomenon has likely been occurring for millennia and is a rare sight to see.
Day 21: Herschel Island | The Yukon Territory
1 Breakfast, 1 Lunch, 1 Dinner
On expedition in 1826, Captain Franklin was the first European to lay eyes on this unique island at the northernmost point of the Yukon Territory. Herschel supports numerous wildlife and is one of the only places on earth where you may see a grizzly bear, black bear and polar bear. Evidence of the island's whaling culture and Thule ancestors remains along its coastline, now greatly affected by sea erosion and climate change.
Day 22-24: Beaufort Sea | Waters of the White Whale
3 Breakfasts, 3 Lunches, 3 Dinners
Typically dense with ice floes and fog, the Beaufort Sea opens up a 60-mile-wide coastal pass from August to September. As your expedition ship cruises into the U.S. and clears at Point Barrow, Alaska (U.S. Customs clearance only), continue participating in lectures led by your Expedition Team. Relax on your private balcony or join fellow guests on deck where, with some luck, you may spy beluga whales, which travel in numbers here, and the northern lights in autumn.
Day 25: Nome, Alaska | Disembark
Arrive and disembark in Nome, Alaska, among the wildest reaches of mainland America. Try your hand at gold panning, experience a dogsled demonstration, and see the Bering Sea Land Bridge National Monument. Later, transfer to the airport for your chartered flight to Anchorage, and then continue on with your homebound flight.
Dates & Prices

Select a Date
Category 1 Classic Stateroom
Cabin: 200 sq. ft. (18 sq. m.) Balcony: 43 sq. ft. (4 sq. m.)

Select a Date
Category 2 Deluxe Stateroom
Cabin: 200 sq. ft. (18 sq. m.) Balcony: 43 sq. ft. (4 sq. m.)

Select a Date
Category 3 Premier Stateroom
Cabin: 200 sq. ft. (18 sq. m.) Balcony: 43 sq. ft. (4 sq. m.)

Select a Date
Category 4 Superior Stateroom
Cabin: 200 sq. ft. (18 sq. m.) Balcony: 43 sq. ft. (4 sq. m.)

Select a Date
Category 5 Prestige Suite
Cabin: 290 sq. ft. (27 sq. m.) Balcony: 54 sq. ft. (5 sq. m.)

Select a Date
Category 6 Premier Two-Room Suite
Cabin: 388 sq. ft. (36 sq. m.) Balcony: 86 sq. ft. (8 sq. m.)

Select a Date
Category 7 Prestige Two-Room Suite
Cabin: 388 sq. ft. (36 sq. m.) Balcony: 86 sq. ft. (8 sq. m.)

Select a Date
Category 8 Owner's Suite
Cabin: 484 sq. ft. (45 sq. m.) Balcony: 97 sq. ft. (9 sq. m.)
Notes
Rates are quoted in U.S. dollars and represent costs per person, double occupancy.
24 Breakfasts, 24 Lunches, 24 Dinners
24 Nights Accommodations
Accommodations as listed
Ground transportation as listed
Activities as listed
Meals as listed
Access to a 24-7 Emergency line while traveling
Traveller's Valet® Laundry Service
Pre- and/or Post-Cruise Stays at Stylish, Ideally Located Hotels and A&K-Led Excursions
Airport meet and greet and transfers
Zodiac Excursions Led by Expert Naturalist Driver-Guides
All Gratuities, Port Charges and Taxes
Complimentary Wi-Fi on Board and in Hotels
Private Balcony with Every Onboard Accommodation and Butler Service with Every Suite
Maximum Personnel-to-Guest Ratio of 1 to 1.3
Culinary Program Featuring French-Inspired Cuisine, Including House Drinks, Afternoon Tea and Pastries
Complimentary Expedition Parka, Backpack and Water Bottle, and Use of Waterproof Pants, Boots and Trekking Poles
Enrichment program, lectures and presentations
Onboard Service from an English-Speaking Staff, Including an Accredited Physician
An Exclusively Chartered, All-Inclusive Voyage Led by A&K's Expedition Team
24/7 A&K On-Call Support
Gratuities
Travel Insurance
Personal Expenses
Flight costs (please request a quote)
Additional excursions during free time
Fuel and transportation surcharges (when applicable)
Luggage Handling
Beverages other than the ones mentioned in inclusions
Visa expenses and/or immigration reciprocity taxes if applicable
Inquire
Beyond expectations! Then again we weren't sure what to expect. Lovely stay at the lodge, met other like-minded travelers (many had their trips planned by Adventure Life) and the owner was a gracious hostess. It felt like you were one happy family, visiting with a favorite aunt.
Nancy Sin
Northwest Passage Travel Guide
Favorite Northwest Passage All Trips