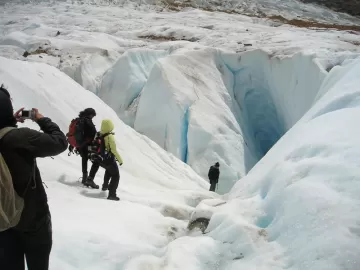 LA 4438 - El Calafate (FTE) to Buenos Aires-Aeroparque Jorge Newbury (AEP)
AA 996 - Buenos Aires-Ezieza Internationan Airport (EZE) to Dallas-Fort Worth (DFW)
Up on Sunday morning to finish packing and redistributing stuff into my checked backpack verses the carry-on daypack. Taxi arrived around 10:45 AM to take me to the airport for my 12:25 PM flight. The airport at El Calafte is pretty much brand spanking new (opened in 2004, I think). Before that people had to fly in/out of Rio Gallegos and bus/drive into El Calafate. This is obviously part of the reason for El Calafate's explosive growth. Even now, under 4 years later, it is obvious that the airport is quickly reaching the limits of the number of passengers and flights it can successfully manage.
Checked in, paid my airport departure tax ($18 Argentine Pesos for a domestic flight) We took off a bit late, but not by too much, and the flight was smooth into Buenos Aires. Flight crossed over Argentina, passed over Peninsula Valdes and then followed the Atlantic coast of Argentina for a while before heading inland for Buenos Aires. Landed and collected my backpack from baggage claim, and made my way to buy a bus ticket. Buenos Aires has two main airports: Jorge Newbury handles principally domestic flights within Argentina, and Ezieza (Ministro Pistarini) is the main international airport (also serving some domestic flights for Aerolineas Argentinas). A bus service runs between the two airports with a stop in central Buenos Aires for $35 Argentine Pesos (about $10 USD). I thought briefly about stopping in downtown, but I was tired, didn't have any information about the city itself and probably would have only been able to spend an hour or so in town anyway before heading to Ezieza. So I purchased my ticket and climbed on the bus for the 60-90 minute trip. On a late Sunday afternoon, the trip was on the shorter end of the stated spectrum.
Arriving at Ezieza, the airlines had not yet begun checking in passengers for the evening flights to the US. So I grabbed some food, working on spending the remaining pesos in my wallet. Finally check-in started and I went to get in line. A bit of an odd check-in procedure as American Airlines lined everyone up by flight. Earlier flights were allocated more check-in agents than the later flights so my my flight to Dallas (being the 3rd of 4 flights to depart in the evening) was quite slow with only one agent intially allocated. But I finally got checked in, went to pay my International Airport departure tax ($18 USD). Then headed to the concourse. At security, there was a line to initially check whether you had paid the departure tax, before finally going through the security check point.
Immediately through security I was confronted by several scantilly clad young women who wished to spray me with various colognes or perfumes. Ahh, the vagaries of Duty Free. Unfortunately I have a connection once I get back to the US and the no liquid rule is much too much a hassle to deal with even if I wanted to purchase anything. Found an internet cafe to get online and let everyone know where I was and that I was indeed heading home (and again spend some of those last pesos in my pocket). Slowly but surely the last 2+ hours passed and it was time to board the flight and prepare for my departure from South America.
Another smooth flight although this one seemed so much longer than the flight south (it actually was longer by about 1000 miles and two hours, but it felt even longer). I didn't sleep nearly as well this time so that didn't help matters any. But eventually we arrived with the dawn at Dallas-Fort Worth.