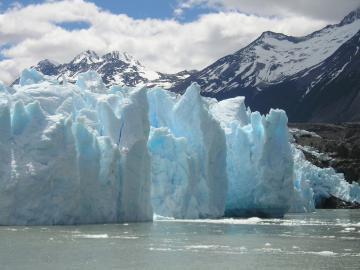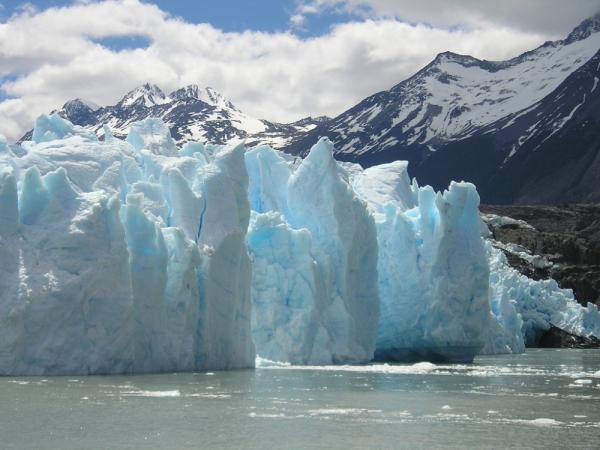 The pick-up for the ride north to Puerto Natales arrived shortly before noon at Oro Fueguino. Met Scott and Theresa, Elisa, and Alexis in the common room of the hotel who would also be heading to Torres del Paine. The Cascada Expediciones van picked us up for the ride north, but we had to stop back at the airport to pick up some additional travellers. A late flight gave me some additional time to get to know my fellow travelers a bit better and a long ride up to Puerto Natales gave additional time for conversation as well. We guessed and it was later confirmed that there were two trekking groups among all of us travelers (but more about that later).
On the drive up to Puerto Natales we got to see the "boring" side of Patagonia. Most of the eastern side of Patagonia is a flat to rolling steppe (pampa) that is quite dry and scrubby (the Andes act as a rain shield). Although today the light sprinkles that were falling in Punta Arenas continued as we travelled north. The land is principally used for raising sheep and cattle on large estancias (ranches). As we finally approached Puerto Natales again the hills returned. Seno Ultima Esperanza (Last Hope Sound) began to tease us with views and real mountains across the Sound began to flicker with the clouds on the horizon. Finally arriving in Puerto Natales, I got the first sense of my true arrival in the Patagonia that had enticed me over the years. Mountains and clouds and water and sun and snow danced around the horizon. The ever present wind always reminded you that the forces of nature were around even if you tried to close your eyes and experience some solitude.
A quick "lunch" in Puerto Natales around 4:00 PM was followed by a warm-up hike outside town. We started at a small homestead and worked our way up a large hill/small mountain. As we climbed, the getting to know your fellow travelers phase continued as people gravitated amongst each other finding common interests and activities through discussion. The "trail" as it was led continually upward and a gaucho rode up to open up some fences and allow us to continue on our way. Eventually (a 500m climb later) we came around to the exposed ledge near the summit of Cerro Dorotea. As one rounded this exposed corner a 30mph wind pushed one back away from ledge (thankfully in that direction), but it was still somewhat awkward manuevering on this exposed area. That said Dorotea provided some amazing views of Puerto Natales, Seno Ultima Esperanza, and the mountains surrounding this area.
After enough exposure on the face of Dorotea, we turned around to head back to Puerto Natales and "dinner". In true South American fashion we would be eating a late dinner as we would not finish our hike until shortly before 9:00 PM. It was still taking a good deal of getting used to the fact that 9:00 PM meant more than enough light to finish up the evening's and trip's first short trek.
At dinner we met some additional travellers who had spent a few extra days in Puerto Natales. After eating we were broken into the trekking groups which included the names I mentioned above along with Bill, Joann, and Ken and Norma. As well we would have Mauricio and Carola as guides to showcase areas of the park.
In summary for the Torres del Paine portion of the trip, I was travelling with Cascada Expediciones through the park. Cascada provided some logistics and some additional features of the trip that was truly intriguing. Our group was nine strong plus two Cascada guides, a pretty good number, and a very eclectic group with which to traverse the park. After some brief logistical updates such as the time we were leaving for Torres del Paine in the morning it was time to get some sleep. Being that dinner "started" around 9:30 this was quite late and we had the early start in the morning. So until the next entry...