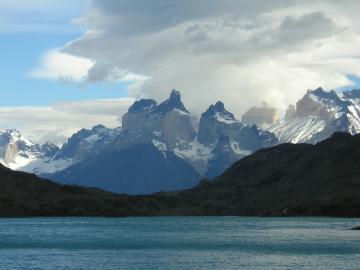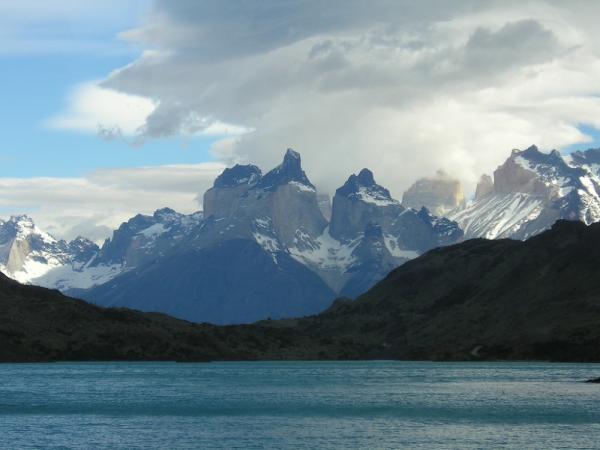 The flight to Santiago headed south from Miami over Cuba, through the Caribbean, then across Panama. The flight stayed over the Pacific Ocean for the most part, skirting Columbia, Ecuador, and Peru, before arriving in Chile.
Served a decent dinner on LAN, along with complimentary wine (nothing fancy but didn't have to pay for it like one would on a US airline). After dinner I slept fitfully like I tend to on an airplane. I can fall asleep, but rarely can stay asleep for a long period of time. As we approached Santiago, flying between the main range of the Andes and the lower Coastal Range, I had a prime view to watch the sun rise over the High mountains of the Andes. It was simply an incredible sight and the photo does not do the view nearly the justice it deserves.
Getting through Santiago meant lines, lots of lines.
Pay the Reciprocity fee, Immigrations, Customs (after collecting baggage), re-check in at the national terminal of the airport, and then re-clear security. Nothing out of the ordinary really, but always a frustrating part of the travel experience. By the time all those lines were done however, I had a relatively short wait for my flight onwards to Punta Arenas.
AA 7738 (LA 997), Departs SCL 9:45 AM, Arrives PUQ 1:00 PM (Scheduled)
The flight in to Punta Arenas was full (flight continued on to Ushuaia, Argentina with a bunch of Antarctic cruise passengers) and I was unable to talk myself into an "A" seat (left side window) for potential views of the Southern Patagonian Ice Fields. So I wasn't disappointed when clouds obscured any view that might have been had from that side of the plane. However those clouds and the strong winds made for one hell of a roller coaster ride for the final hour into Punta Arenas. It's been a long while since I was on a flight that bounced quite so much (a prop job from Dallas to Texarkana five or so years ago in and around some spring thunderstorms). Talking to an older Aussie in the middle seat next to me that was heading for said cruise mentioned above that was taking a long journey to South America.
The flight swung out over the Strait of Magellan before turning around to come in and land at Punta Arenas airport. With the winds still buffeting the plane and the white caps on the water it was a safe but very rough landing. We deplaned, I collected my bags and got a taxi into town and my evening's accomodation. It was still early afternoon, but all the penguin tours had departed for the day so that would not be happening on this trip (I wasn't expecting it to work out, but had held off some small measure of hope).
And unfortunately since it was a Sunday, most of the museums in town were closed as well. So it was going to be a quiet day on my first afternoon and evening in Chile.
My hostal was located directly below the observation point of the city itself and provided expansive views of Punta Arenas, the Strait of Magellan, and Tierra del Fuego all the way across the strait. From there I headed down into town to wander through the main plaza (stopped and looked at the statue of that Magellan fellow... his name will keep coming up down here in South America). Eventually made it down to the "beach" although it's probably rare that anyone swims there. The wind was really howling now and on a few occassions nearly knocked me over.
I later found out that the winds were even worse the day before (Sat) and that Punta Arenas had brought out the ropes on the downtown streets for the day on Sat. Apparently the winds get so bad at times that the city strings ropes along the main streets for assistance walking through town.
I learned two other things meandering through town (although neither was much of a surprise). One - the city is very quiet on Sunday. Two - dinner is typically served late in South America. Most restauraunts are closed in the late afternoon until 7:00 or 8:00 PM. I ended up going back to room to nap for a bit before heading back down for dinner. Eating at 7:30 the restaurant was still pretty dead and did not start getting crowded until I was leaving shortly after 9:00. The last oddity of the evening was getting accustomed to the fact that it was spring and I was pretty far south. Walking back to my room at 9:30 PM it was still just moving into dusk. Back home two days earlier it had been dark for 4 hours by this time of the evening.
On Monday morning I had some time to kill before getting picked up to head for Puerto Natales, so I wandered back into town briefly after breakfast. The winds were less fierce today and it was spritzing rain off and on. But the city streets were much more lively today. People walking into work, street markets in full force, gave a much more lively and favorable view of this city at the southern edge of the South American Continent.