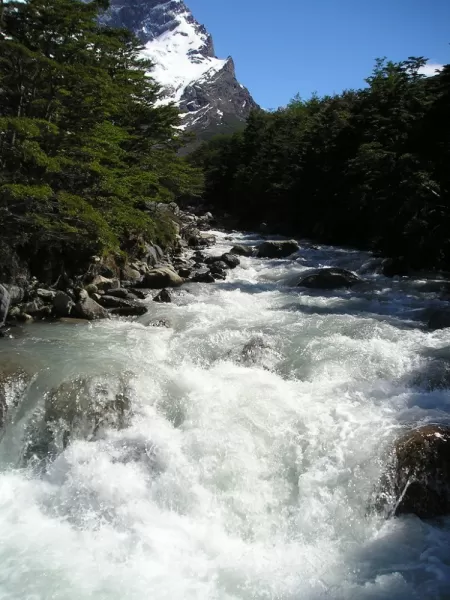 Happy Thanksgiving!!
After two long days, it was somewhat of a relief that today encompassed only a short hike from Refugio Los Cuernos to Eco Camp (out past Hosteria and Refugio Las Torres). All in all we only about 10 km to hike today and all morning and afternoon to accomplish it. After yesterday's 22-24 km or so, this should be a piece of cake. So we slept in for a bit, hitting the late breakfast down in the dining area of the refugio and picking up our sack lunches for the day. Today's walk continued along the shore of Lago Nordenskjold underneath the ever present granite spires of Los Cuernos. Cuerno Este was dominant today as we continued east along the northern shore of the lake.
The terrain was still the typical up and down that we had experienced each of two previous days. The biggest difference was that the further east we went today, the terrain, as we approached the Patagonian steppe at the edge of the Paine Massif, became more scrubby and dry with fewer trees than along Lago Grey or in Valle Frances. Over about 2 hours we made about half the day's journey, although we made one significant stop to wait to see if any condors would make an appearance out over the lake. None did and we continued on until lunch time. Lunch time was at another overlook of Lago Nordenskjold, where we sat back and soaked in the quiet solitude on this section of the trail.
Over the course of the hike we had several small river crossings to navigate. There were no bridges over these rivers/streams like the Rio Frances yesterday, so it was rock hopping to get across (with the help of some guide wires over at least one of the rivers). Water levels were pretty low, but it was somewhat challenging to find the best places to cross. Everyone managed the crossings successfully though. Eventually we found ourselves along the shores of a small, unnamed lagoon (or at least I didn't get or don't remember the name). I think they weren't ready for us at EcoCamp quite yet, because Mauricio had us pause to rest for a while. It was another clear, sunny, warm day so no one was too opposed to lying down in the grass and just enjoying the calm surroundings (see, it was a pretty lazy day). Most everyone took off the hiking boots and wandered barefoot or in socks through the grass, and we all compared feet to see who had the most and largest blisters (Theresa won in this regard) and eventually we were all comparing the odd shape of each other's feet and toes.
After a while we finally moved on towards EcoCamp. As we approached Hosteria Las Torres, we had to cross the Rio Ascensio, which is where the trail to the Towers that we would take tomorrow truly began. We looked north up the river valley, but the towers were lost from view at that location. After the river crossing the last bit of hiking was along the road that leads in to the Hosteria and other lodging facilities for the park. We made our way and had one final climb up the hill to where EcoCamp had been set up for the season.
At EcoCamp we gathered our belongings and were led to our tents which would be our homes for the next three nights. Simple yet splendid accomodations of dome tents constructed on platforms with beds were in each lodging tent. Two community tents were used for dining, lounging, drinking, and enjoying each other's company. Shortly after we arrived the other group that we had driven up to Puerto Natales with arrived as well from Lago Grey on their westward journey. Everyone said hello and compared notes from the journeys that we had taken over the last three days (although we had also seen most everyone the day before as we crossed paths at Valle Frances). After cleaning up a bit we had some snacks and drinks before what would be for us Americans our Thanksgiving Dinner in South America (my first Thanksgiving out of the country and away from my family). Unfortunately we didn't get to have turkey, but what can you expect. It was still a great meal with all the new friends that I had made over the last 4 days. A nearly full moon looms in the night sky. We sat around in the community tent for a while enjoying some wine and/or tea and watching the amazing sunsets that Torres del Paine offered.
As night settled in we moved back to our lodging tent for the evening. The beds were amazing with fleece sheets, a down comforter, and additional blankets so that I was completely warm and comfortable even as the overnight temperatures dipped into the low to mid 30s. Sleep came quickly.
Tomorrow was Las Torres, the pinnacle of a trip to Torres del Paine.