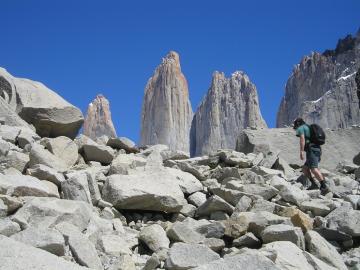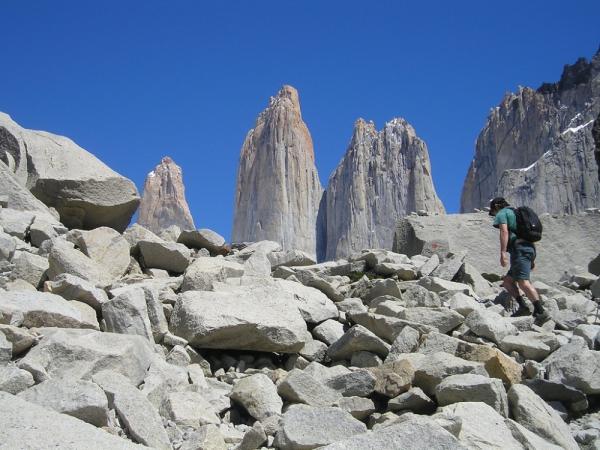 An early, early morning alarm (5:50 AM) as I had to finish packing my pack (some last minute laundry had been hanging in the tent to dry), grab some breakfast, and be ready to depart at 6:45 AM for Cerro Castillo. There was myself and 3 people from the other group that were heading for El Calafate so I wouldn't be transferring entirely alone. After dropping us off, the van continued on to Puerto Natales and Punta Arenas to take some additional people to their next/final destinations as well.
The bus left Puerto Natales at 7:00 AM and arrived at Cerro Castillo a little after 8:00 AM. Cerro Castillo is also border control for the Chilean side of the border so everyone exited the bus and went through the standard formalities. After getting stamped out I waited until the end to board the bus figuring that everyone else had selected seats before me and I and my cohorts from EcoCamp would get whatever was left. We finished up processing and the bus headed out across the frontier. The physical border was out somewhere in the middle of nowhere and we went about 15K (10 miles) before we reached the Argentinian border control and repeated the process all over again to enter the country. Neither crossing was a problem other than the time-consuming nature of clearing the whole bus of 70 some odd people.
The bus headed out again. We had about four more hours of driving after finally getting into Argentina. Once you get away from the mountains which we did on this drive, there is very little to see in Patagonia. Mostly wide open flat scrubland filled with estancia after estancia (ranches) where cattle and sheep are herded. Bewitched was showing as our in-drive movie. An interesting thing about this bus and the traffic between Puerto Natales and El Calafate: I can't be 100% sure, but it would not have surprised me if there were no Chileans or Argentinians on this bus. Everyone I noticed crossing the border carried a foreign (non-Chile or Argentina) passport. Lots of various European countries (I saw Germany, Italy, Switzerland, Great Britain), and Taiwan were the ones I noticed off the top of my head.
I napped for the most part after last nights drinking enjoying the respite from all the hiking of the past several days. Early afternoon, we caught sight of Lago Argentino and then 45 minutes later we arrived at the bus terminal in El Calafate. My comrades from Eco Camp were headed up directly to El Chalten while I would not head up until tomorrow afternoon. So I transferred to my lodging for the evening and then headed out into El Calafate. El Calafate as a town was bursting at the seams. Roads and utilities seemed to branch off in any direction. Construction was going on everywhere. Apparently the population of the town has gone from 5000 to 16000 since the mid '90s (and this does not count the tourist influx). Stopped at an internet cafe and uploaded a few pictures of the trip and caught up on some news from the world. Grabbed dinner at a restaurant and talked with some other travelers (that wasn't hard, everybody was a traveler here it seemed). Very few Americans down at this end of the world though that I could tell. I had nothing on my agenda for the evening so decided to head back to my lodging where I took some time to write some of the words that you are reading in these entries and to do some reading. As the sun set over Lago Argentino and the Andes to my west, I said adios and headed to bed.