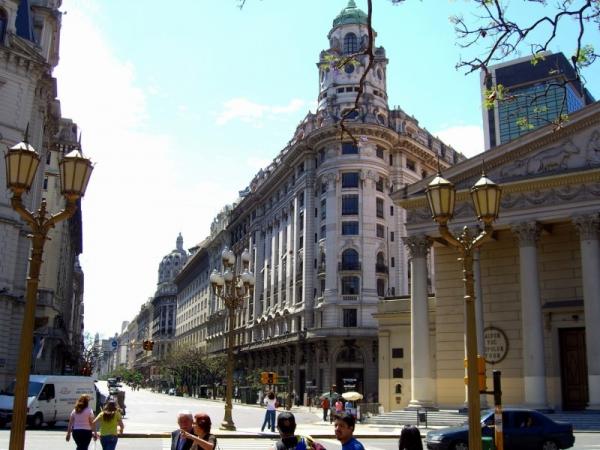 Expect the Unexpected
December 16 - 30
January 1, 2006
Happy New Year! We're in Ushuaia, the most southern city in the world, at the tip of Tierra del Fuego, Argentina for those of you who love an atlas or globe as much as we do. It's New Years Day and in spite of earlier advice from the tourist information office, everything is closed except a few restaurants and Internet cafes. This is a beautiful location - the town of about 60,000 hangs between the glacier draped Andes and the Beagle Strait. Today the weather is sunny, no drizzling, no sunny, no… It changes by the moment, but it is 15 degrees Celsius (about 50 degrees Fahrenheit, I think.) But, let me tell you about how we got here…
We left Phoenix on December 16th, so I guess that means we've been traveling for about 2 weeks. In my "Travel My Way, Travel Your Way Class" I frequently remind people to "expect the unexpected" and that much of the fun of travel can be "dealing with the unexpected". Easy for me to say. When we checked in for our flight out of Phoenix we were told we had two reservations, so the agent cancelled one of them, gave us our boarding passes and we naively boarded our flight to Dallas-Ft. Worth. When we attempted to board our flight there, we were told our reservation had been cancelled. OOPS! After a few anxious moments, we learned it was no problem. They rebooked us and put us in business class - a pleasant way to spend the long flight to Sao Paulo, Brazil. We ate good food, quaffed fine wine and Champaign, enjoyed personal DVD sets and even got a few hours sleep. Arrived late in Sao Paulo and made our connection to Buenos Aires with seconds to spare. The long wait at the luggage carousel resulted in no bags, so we filed the usual lost luggage claim and went to our hotel thinking, "Please let them come. I really don't want to re-wardrobe for the city, Antarctica and a trek while here." The good news is that our luggage arrived a few hours later; the bad news is that the shopping is so good in Buenos Aires that re-wardrobing would have been a pleasure.
Impressions of Buenos Aires (BA) -
• Beautiful wide, tree lined streets (a cross between Paris and Madrid)
• Delicious food - much of it Argentinean beef
• Shopping, shopping, shopping - beautiful leather, stylish clothing, jewelry, etc.
• People are reserved, not overly friendly
• Very inexpensive
• Almost everyone speaks great English
We took a city tour, enjoyed a nap, wandered around the neighborhood and had a great dinner. The next day we walked for miles enjoying a local market, beautiful parks, and fabulous window-shopping. Our last day in BA we tried to book a side trip to Iguaçu Falls for when we return in January, but that's high season and we were foiled by all the Argentineans who had already booked the trip. All the hotels are full. Ah, just enough time for a Tango lesson before dinner! Off we went for 1.5 hours of confused feet. They started by teaching us to walk - eyes forward, lead with your chest, don't trip. Oh, sure. When we shared our photos, we enjoyed the short video of me dancing with the instructor as we made our own instructional video so we can practice when we get home. What were my feet doing???
Back to the hotel to pack up for our trip to Antarctica the next day. Drats! Someone had gone through our bags and taken our thumb drive with .5G memory and recharging cords for our PDA's - a minor theft and only a small inconvenience, but one more of those "expect the unexpected" events. Why did they leave the money, credit cards, camera, and only take those items?
Next morning we caught an early taxi to the airport for our flight to Ushuaia to meet the ship to Antarctica. Upon arrival we learned that we were re-scheduled for a flight 2 hours later. We had 4.5 hours to make the connection so no problem. Then the flight was late - 2.5 hours late. So much for the 4.5 hours! HMMM… What if it is further delayed? Suppose we miss our boat? There's certainly no way we'll be able to catch up with it once it sails. Momentary anxiety, followed by a crash course on how to use Argentinean pay phones, and I was able to reach our "in country" travel representative who said she would call the ship's agent in Ushuaia to let them know we might be late. Our flight finally arrived 4 hours late, we caught a taxi and were on the ship with 30 minutes to spare.
We had a glorious 11-day cruise to Antarctica. Since I've already droned on far too long, I'll try to be brief. If anyone is really interested in the details, I'd be happy to share the day-by-day log (animals sighted, landing sights, weather, longitude and latitude, etc.) with illustrations that the ship's crew put together for us. From Ushuaia we sailed down the Beagle Channel to the Drake Passage. That's the Drake Passage with its wild storms and wicked seas you've seen in so many movies of ships going around Cape Horn. Fortunately weather and good fortune were with us and we experienced the "Drake Lake" rather than the "Drake Shake" going both directions.
The Polar Star is an icebreaker that carries about 100 passengers. It's not luxurious, but comfortable, has an excellent crew, a fair kitchen and delightful, well-traveled passengers. We spent our days at sea enjoying lectures from experts, reading, whale watching, and napping. We crashed through pack ice to go farther south than any other ship was able to go this early in the Antarctic summer, but we still didn't reach the Antarctic Circle. On each of the 5 days on the Antarctic Peninsula and nearby islands we had 2 zodiac landings affording the opportunity to get up close and personal with Penguins, seals and Antarctic birds. In addition to wild life we experienced research stations, historic whaling sights and a volcanic caldera (Deception Island, which last erupted in the 1960's). The difficulty of occasionally walking through hip deep snow and the smell of penguin guano hardly diminished our fun.
We were sad to leave the Antarctic for our 2-day trip back across the Drake Passage, but enjoyed every minute of it. Upon arrival in Ushuaia we reluctantly said good-bye to our new friends, promised to keep in touch, and made our way to our hotel.
We've done some window shopping, enjoyed catching up on E-mail, taken a nice hike in Tierra del Fuego National Park (sneaking across the border to Chili without the required visa), celebrated New Year's Eve and missed the museums due to holiday closures. Rand and I had both picked up a cold so have taken it pretty easy while here. We're trying to get over it so we can enjoy the 5 days of trekking we're scheduled for in Patagonia. We board a plane later his afternoon for El Calafate in the heart of Patagonia. Right now I'm off to see if I can find a store that's open so I can buy a tee shirt!
Antarctica - Upon Further Reflection
December 20 – 31
January 6, 2006
After sending off my last travelogue, I realized I'd given Antarctica short shrift. When I'm too close to an event it's hard to see the big picture; the information and experiences aren't processed yet. Writing starts the integration process. If I were smart, I'd write my travelogue then let it sit for a couple days before editing and sending it. Unfortunately time constraints while traveling rarely allow such luxury – resulting in sometimes mediocre writing. Upon more reflection here's a bit more about Antarctica...
Our visit corresponded with the Southern hemisphere's summer solstice so we enjoyed balmy weather (typically 4 -15 degrees centigrade) and midnight sun. Though the sun disappeared for a few hours each night, we did not have darkness for the 10 days we were at sea. Only the regularity of meals and the structure of Zodiac landings kept our circadian rhythms from going nuts. The one disappointment was that we had almost constant overcast so few of our pictures show the intense colors of the ocean, animals and blue of the glaciers and icebergs.
The Antarctic Convergence, which is the point part-way across the Drake Passage where the Antarctic Sea (1.7 degrees C) meets the southern Atlantic and Pacific Oceans. Within a very short distance the ocean temperature changes several degrees and with that comes different aquatic life. Krill, which are 2-inch long shrimp-like crustacean, exist in the Antarctic Sea and are the primary food source for whales, seals and birds. The krill tend to concentrate in huge swarms and where they are the whales are plentiful.
One evening during dinner we must have gotten into such a swarm of krill and the Captain announced there were humpback whales ahead of us. Having seen whales many times before, Rand and I took our time going up to the bridge for a look. We were astonished to see 30-50 hump back whales within a few hundred yards - rolling, waving their fins, and showing their splendid tails as they feasted and played. It was incredible. Though we got a few pictures, we couldn't capture their magnificence. We wished our photographic skills were better.
At other times the sea brought us pods of Orcas, Fin and Gray Whales, seals on ice flows and even a solitary Emperor Penguin on a lonely iceberg. Emperors do not breed or nest on the Antarctic Peninsula. At this time of year they have left their young to fend for themselves and have undertaken their lone journey to feed, so the only opportunity we had of seeing one was to sight a single specimen. We were truely lucky.
Our Zodiac landings started fairly far south and moved north as time went on. This itinerary gave us the opportunity to see large rookeries with hundreds of several different types of penguins and allowed us to observe the hatching of Gentoo Penguins in rapid sequence, as they appeared in different landing spots. On our first sightings, the Gentoo were sitting on their eggs. The males and females share this task and the social interactions between mating pairs during the egg exchange were a delight to watch. We were told to get no closer than 5 M from them, which was plenty close for observation. We sat and watched for quite some time. As one mate was relieved from nest duty, it would pass within a couple feet of us on its way to the ocean to feed. They seemed completely undisturbed by our presence. The next day we marveled as a baby Gentoo hatched from its egg just a few feet from us. On subsequent days we saw more chicks and each day they were larger. Finally they lost their baby down and began to look more like their parents. Our journey from south to north resulted in condensing several weeks of Gentoo chick development into 5 short days.
Most days we saw solitary crab eater and leopard seals resting on shore or on floating ice cakes. Like the penguins they were undisturbed by us. On one of our last days we were confronted by the sight and smell of piles of young male elephant seals on the beach. They were alive. The smell was natural BO. These ugly beasts bellowed and snapped at one another as they vied for position in the pile. It appeared that the center of the pile was the prime spot. Once the pile had rearranged and most of the snapping and bellowing had ceased, there would be a chorus of belches, farts and new malodorous smells. Way too much testosterone for my taste!
As we left the Antarctic Peninsula, we stopped at Deception Island, one of the South Shetland Islands. Deception Island is an open caldera of an active volcano. The caldera opens to the sea at Devil's Throat, a portal large and deep enough for our ship to enter. The Polar Star set anchor and we took the Zodiacs to the shore, which steamed where the ocean water met the hot earth below. Fortunately the hot area was contained so we were able to explore the remains of a deserted whaling station. Meanwhile the Zodiac drivers took shovels to the volcanic sands at the water's edge and created a natural hot tub. A few intrepid, younger members of our group pealed down to their swimsuits and stepped into the 125 degree F water. It was too hot to sit in but they got warm enough to plunge into the Antarctic Sea to cool off. I'd worn my bathing suit on the possibility that I'd find the courage (insanity?) to partake. But with the wisdom of age, I decided not to create Stewed Terri and headed off for sprightly walk up the beach.
Again, after time to cogitate a bit, I realize that my earlier accounting of the theft in our Buenos Aires hotel might give the impression that Argentina is unsafe or the people dishonest. On the contrary, that experience has been counterbalanced by other experiences including the immediate return of the digital camera which fell out of Randall's pocket while in the ship's library and a bus driver who delivered my hiking poles to the hotel after I left them behind in Ushuaia.
The Rest of the Trip
January 1 - 16
January 28, 2006
The last travelogue ended in Ushuaia, Argentina after our trip to Antarctica. We flew from Ushuaia in Tierra del Fuego to beautiful southern Patagonia. As we drove from the airport into El Calafate we thought we were in Montana with high, dry, rolling hills and badlands to the east and the snow-capped peaks to the west. The mountains are like Glacier Park on steroids or the Grand Tetons X 10. They rise unexpectedly out of the high plains like the Rockies in Colorado where the great plains meet the Colorado Divide. The town is a tourist center for hikers and mountain climbers. It is small, quaint and has just the right number of good restaurants and shops to be interesting. We had a free day in our schedule so joined a Gaucho (Argentinean cowboy) for a 6 hour ride.
That evening we meet the seven others we would be joining for a 5-day trek. They were young - each at least 20 years younger than us! We hopped in a van and made the 120-mile, 4-hour drive on miserable, gravel roads to Chalten, an even smaller town near Mt. Fitz Roy and the mountains we were planning to hike. We settled into a small Inn and the best bed I'd felt in a month of traveling. The next day we hiked in the wind and rain. What was supposed to be a 5-hour hike turned into 8. That night we returned to the Inn and concluded the hiking was going to be more strenuous than advertised, we really didn't like most of the others in the group and sleeping in tents the following 2 nights wouldn't help the colds we'd gotten while in Antarctica. We were reminded how fortunate we've been to be able to often travel with our own group of friends. Reluctantly we decided not to do the 3-day hiking/camping part of the trek. The next day when the others headed down the trail, we went back to El Calfate to "hole up" in a nice hotel for 3 days. We enjoyed reading and taking it easy. We had time to get our laundry done and have Randall's luggage fixed. We even found Moet Chandon Champaign for $7.00/bottle and enjoyed it one evening in our room, congratulating ourselves for not being in a tent.
We reunited with the remainder of our trekking group for a crampon walk on Perito Moreno Glacier on the last scheduled day of the tour. Climbing on the ice was great fun. We were surprised to come over a hill and discover a small wooden table with boxes of bon bons, glasses of glacier ice and a bottle of Scotch to be shared by all! More our style than the 10+ hour days and sore feet that the others had experienced on the portion of the trek we missed.
After the nice rest in Patagonia we were ready for more adventure. We flew to Buenos Aires and connected to La Bamba Estancia (Argentinean dude ranch) in the pampas near San Antonio de Areco. Patricia, our hostess, greeted us with the traditional kiss on each cheek and made us feel right at home. The buildings dated from the 1830's, rooms were rustic but large and comfortable, food plentiful and excellent, other guests well traveled, international and delightful. We enjoyed 2 days horseback riding on sturdy criollo horses, relaxing on the veranda and a delightful private tour of the town with Magdalena. She offered to tailor the visit to our interests so I told her I was interested in buying a pair of gaucho stirrups. She made a mission of educating us on the subject. We started at the gaucho museum where we learned the history of gauchos and about the many different styles of stirrups. Then she took us to silversmiths and museums where we saw sterling silver stirrups that we could buy for tens of thousands of dollars. I explained that I wasn't a collector, but only wanted them to hang on the wall, so she took us to a local store where I found just what I wanted for a few dollars. Magdalena is a master at weaving the culture and history of her country into each tour she gives. The 5 hours we spent with her were one of the highlights of our trip.
Back to Buenos Aires for a couple days before flying to Rio - by now we felt "right at home" in BA. We'd enjoyed window shopping the great fashions, beautiful leather and low prices while there before, but hadn't been able to buy anything because of domestic airline weight restrictions. I was ready to do some power shopping. Try as I might, I only bought a couple belts and a knit shirt. Enough of that, so the next day we took a fast ferry across the Rio de la Plata River to Colonia, Uruguay for the day. The old center of Colonia is a world heritage site. We enjoyed historic buildings from the Spanish and Portuguese colonial eras, cobblestone streets, and ancient houses of ill repute (no longer in service),
Rio de Janeiro, our last stop, is one of the most beautiful cities in the world. The combination of majestic mountains, miles of beaches and beautiful skyscrapers put it in the class with Vancouver, BC, Hong Kong and Capetown, South Africa. Rio has a reputation for crime, including theft and personal violence. Our first evening in town the hotel staff suggested we not leave the hotel. We looked out on the street, which was well lit, and decided to walk the 2 blocks to the beach. We past a couple seedy strip joints then found an outdoor restaurant across the street from the beach. While we ate our sandwiches we began to notice many beautiful and scantily clad women enjoying the same establishment. We figured these are the beautiful women of Copacabana beach! Then we noticed a number of men hanging around and eventually sharing their tables and buying the women drinks. Then we noticed the older woman who was carefully watching all. Yup - they were beautiful, they were on Copacabana beach, and they were working girls! The people watching that night was "world class"! Because of Rio's reputation for crime we took extra care, carrying little cash or credit cards, but never had any difficulties. Another travel myth squelched!
We enjoyed a city tour to the famous landmarks – Sugar Loaf and Christ the Redeemer. Walked the beaches - beautiful, wide and miles long. All of the women wore bikinis; most of them shouldn't. Putting our feet in the water quickly clarified why only children were in the water – its cold!
This is the city of Carnival, the Samba, and we wanted to experience it. We'd learned there are 20+ Samba clubs/schools in Rio located in the favelas (barrios). These are huge community halls where the local people go to dance, drink, and socialize every Saturday night. The big event every year occurs when each samba school selects a Samba (music and song), costumes, floats, dancers, etc. and competes in the annual Carnival. We were a couple weeks before Carnival, wanted to go to a Samba School to see the practice, and were lucky enough to find a young man who took us to one. We arrived about 11:00 PM. It was chaotic! Outside the building ,crowds of people gathered around street vendors selling food and drinks. Inside the music blasted a driving beat, everyone sang along, scantily dressed girls and sloppy dressed boys gyrated. As the evening progressed the music got louder, the people drunker and the crowds thicker. We'd agreed to leave about 2:00 AM, "before the crowds got too big and wild". It took us a full 10 minutes to work our way though the crowd to the exit, only about 50 feet away. Randall had to lead through the crowd and I just hung onto his belt as we pushed and shoved our way to the door. When we got there, I was horrified to see that the only way out was 3 turnstiles, each large enough for one person at a time. Had there been a panic, thousands of people would have been crushed! Our guide explained that it's 10 times as crazy during Carnival and it's non-stop for 3 days. We got back to the hotel, exhausted, glad to have had the experience, and convinced that I don't have the temperament for Carnival.
We think the best thing we did in Rio was to take a favela tour. Favelas are communities within the city where poor people built homes to be close to their work. Originally the land was public, but according to Brazilian law once a place is occupied for 5 years the owner can gain title to the land. There are over 700 favelas in Rio and many are in the mountains with great views. The homes are built by the occupants, thus unconventional construction. They are multistory, built around tiny streets and alleys, and have water, electricity schools and other services. I was reminded of the townships in South Africa, but these are more orderly and have better infrastructure. If you saw the documentary "City of God", you saw the crime and corruption that existed in these developments in the '60's. Today the favelas are orderly and safe due to the drug lords and gangs that control them. The inhabitants are given protection from crime and theft in exchange for "looking the other way". The gangs keep order so that the police do not have reason to come into the community. We were delighted to have this experience.
After 32 days, 5 countries and 2 continents we were more than ready to climb on an airplane for Phoenix. We've been home for about a week and a half and are enjoying getting back into a routine. Right now we feel like we'll never want to travel again, but New York City (March), Canada (summer), Copper Canyon (October), Galapagos (next spring??) and who knows what else are definite possibilities.
Terri