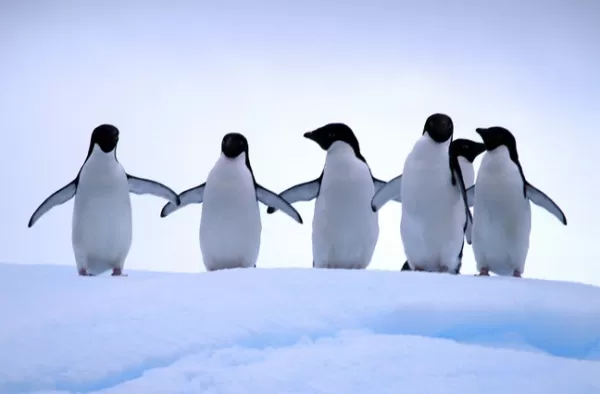 The seventh continent.
Probably the two most sought after goals for people who travel are 1. To visit 100 countries and therefore become members of the Century Club, definitely an exclusive group, and 2. To travel to all seven continents. Well, I finally hit my seventh continent this past year.
Left Los Angeles with my first stop at DFW in Dallas. Got on my flight to Buenos Aires, but after taxing out to take off, had to taxi back for a security check on a passenger. One hour chopped off my connecting time.
Nice flight to Buenos Aires, but the radar is out at the airport. We finally land, but another hour lost on my connection time. Finally get through customs and rush over to my domestic flight – I think I'm going to miss it. Fortunately the flight to Ushuaia is late so everything turns out OK. I'm now in what is considered the southern most city in the world. How cool.
I spend the next two days in Ushuaia resting up from my flights and enjoying the local culture, especially the cappuccinos and crepes with dulce de leche sauce (a caramel sauce which I couldn't seem to get enough of).
It's now time to board my boat. I find it sitting at the dock next to two giant cruise ships, the kind that hold you and 3,000 of your best friends. Not for me. My first thoughts upon seeing my boat – I'm going where in that??? OK, I gotta be nuts. But once I board, meet the crew and my fellow passengers, check out my cabin and the facilities on the boat, including the sauna, I begin to enjoy myself and settle into a nice routine.
The trip across the drake is more like "Drake Lake",and not anything like the stories I've heard about.
Land fall at last (actually it's only been two days since we left Ushuaia). I'm now at my seventh continent – a major travel milestone to check off my bucket list. Antarctica is a beautiful country, blue skies, glaciers everywhere, seals, penguins, birds, whales, life everywhere.
One of our stops is Deception Island, which is rumored to have hot springs just off the shore which they say warms the water enough to swim in – Not during my trip. The water must have been around 3 degrees C but I made myself a promise that I would go swimming in Antarctic – if swimming is what you call I did. Walk into the water, freeze, walk a little farther thinking it will get better (huh?) and finally say, the heck with it and dive in. It's cold! Underwater for a minute, a couple of strokes, and that's swimming in Antarctica. It was actually warmer out of the water than in it. Now it's time to head back to the boat for a nice long sauna to warm up my frozen body. All in all, a great day.
The next several days are spent visiting different places around the Antarctic Peninsula. Lots of zodiac trips, icebergs (check your white balance on your camera is you can, or shoot RAW) and of course the adorable penguins.
Two other memorable parts of the trip – crossing the Antarctic Circle 66°34′S 0°0′E. Wow. One of the great parallels on world maps. We had a party on board as we crossed the circle – a few people even showed up in shorts and Hawaiian shirts. Definitely a nice addition to my travel goals.
Another memorable part of the trip (I think) was our stop at Vernadsky Station, the Ukrainian research station on the Antarctic Peninsula. We met some of the scientists, got a nice tour of their facility, and they even make their own vodka there using glacier ice for water. While speaking with one of the scientists (Igor – I mean what else?) I mentioned that I had Ukrainian ancestors – we immediately became best buds. Five vodka shots later I think I found my way back to our zodiac. Fun!
We finally headed back to Ushuaia after a thoroughly enjoyable and fascinating trip. The trip back was uneventful, no major seas, a great trip back across the Drake.
Many people asked why I did this trip and why I chose the boat I did. I wanted a Russian boat with a Russian trip (the year before I took the Trans-Siberian Railway across Russia, a trip of over 10,000 km and loved every minute of it), I wanted a small boat (we had 48 passengers), and I wanted to cross the Antarctic Circle. Done, done, and done.
Next stop, Chile and EcoCamp - an amazing place to stay (one of my favorites). More to come in my next blog.
In closing, I'd just like to thank everyone at Adventure Life for creating a trip of a lifetime. Now all they need to do is get me to 100 countries and I'll take them all out to dinner. Thank you.
PS. Right now I'm on another trip with them – I'm writing this while sitting on a lovely boat (Sun Boat 3) cruising the Nile. Thank you Mary, Jen, Lynessa, and the great staff at AL.
Sometimes I can be such a tourist!
Stephen