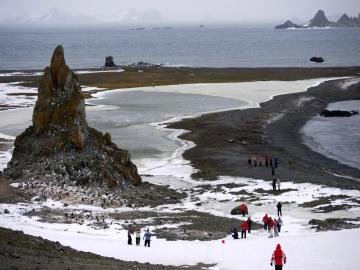 We got up at 5 am to be in the airport in time to catch our flight to Ushuaia. The flight south took about four hours and was unremarkable, until the landing. The airport, as well as Ushuaia itself, are surrounded by mountains. The only way for the plane to approach the airport is to follow the Beagle channel between mountain ranges. Through the plane windows we saw beautiful glaciers and mountain lakes. The mountains were so close, that sometimes it seemed like the plane was going to touch the white peaks by its wings.
The first surprise in Ushuaia met us in airport. Our entire luggage was checked for fresh fruits, because it is forbidden to bring them here from the continent. An officer tried to take out our apple, but allowed us to eat it before a line. Fortunately we already finished all our oranges and bananas in plane.
The taxi brought us to the hotel, Candelas de Ushuaia, at the cross of Luna and Tolkeyen Street. Looking back, I can say, that it was definitely the best place we stayed for the entire time of the journey! Absolutely amazing, clean, two-story house, with kitchen, barbecue area and anything else you needed. Francisco who runs it is an amazing guy, willing to help every time. We dropped off our luggage and went to town.
Ushuaia is placed along Beagle Channel - the strait between the Atlantic and Pacific oceans. Long ago it was a rich port on the main world's trade way, but its business was killed by the Panama Canal. Nevertheless, Ushuaia is filling well now as a tourism center. Main attractions here are wildlife on the islands and national park. The Port of Ushuaia is only in a few days sailing from Antarctica, and numerous Antarctica cruises start from here.
The city motto is ''the world's end'' (Fin del Mundo). You can read it anywhere. In most shops you can buy postcards with very different pictures, but the same words. They can also put a stamp with the same words on a card, in your passport, or any other place you would choose. You can buy post stamps and send cards anywhere directly from the shop for only two dollars each. We certainly did it and sent a lot of cards to our friends in different countries.
P.S. After two months I need to make one note. The price to send the cards seems to me now a little bit high, because it maybe did not include delivering of the card, but only the post stamp and drop in the mailbox. I think this is the reason no one has received our cards till now.
P.P.S. Today (March 28th) the first postcards have come! That service is not very fast, but it works!