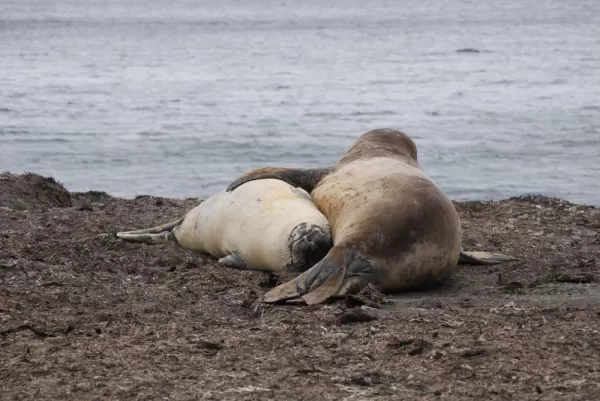 I said yesterday that the sea was rough in the morning. I was not right. It was calm compared to the real gall that began at noon when we left Cape Horn. We went south across the Drake Passage. The currents of two oceans meeting here and there's always a strong wind blowing.
The height of the waves had grown, and their forms changed. Now they looked like water pyramids, moving in different directions. The wind became much stronger and all around became grey: The grey sky, grey water, and grey foam on it. Adding to the picture were black and grey birds tirelessly turning over the water.
Our ship was rolled and pitched simultaneously. Loose objects were flying around in the cabins. Our only wish was to lay down. But I understood, that if I lay, I would never get up. So I stood on a open deck with my camera and tried to shoot the birds.
Many of the birds followed our ship. There were at least two gigantic south petrels, several different albatrosses, cape petrels and others. All of them had joined us in Ushuaia and they had been sleeping this night on our fifth deck, between the zodiac boats stored there. Now they were flying very fast, in unpredictable directions because of a strong wind. The deck I was standing on was also moving and it was difficult to catch a bird in the viewfinder, and definitely not enough time for focusing and taking a good picture. But I was happy to concentrated on this business, and not the seasickness.
Our doctor told us yesterday about seasickness. He said that the best medicine against it is to wash your hands often and to have only light meals. From our experience, I can add that it is much better not to sit inside, but to watch the waves. My wife was not feeling well before she began to do this. She said that she was feeling good looking at the waves, joining yourself with them and dissolving there. From my experience, I can also advise to chew ginger. Fortunately we had a good piece of a ginger root.
All the salons became empty. In the library, I met only our doctor. He was sad and green. Even dinner in the restaurant could only collect about one third of people. Knives and glasses of wine were flying everywhere, and the announcer asked everyone to hold onto the tables, not to neighbors.
This afternoon the weather became calmer. The water regained its natural green and blue colors, and the sun was even seen a few times through the clouds. We attended two very interesting lectures about Antarctica and a briefing about our schedule for tomorrow. There we learned two exciting pieces of information. We should approach our first Antarctic island tomorrow in the early morning instead of the afternoon, as it was planned before. And we were invited to a wedding, which would take place in Antarctica tomorrow.