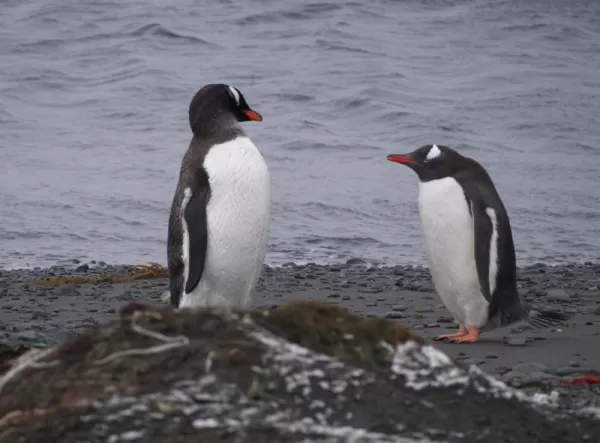 Today was a very long day. We were woken up by an unusual loud noise at 5am. It was an ice blocks gnashing onto the ship's hull. Our ship was passing through a field of ice floes. I put my jacket on and rushed from the cabin. The starboard door was closed, and I tried to open it. But my force was not enough. One big and strong man with a huge photo camera tried to help me. All was in vain! After a few minutes we understood that we were trying to overcome the wind resistance and it was impossible. I crossed a corridor and opened a port side door. On the deck was a thick layer of mixed snow, ice and water. The guardrail was also covered by ice and icicles were hanging from the top. The horizon was closed by a snowstorm, but I could see land through it. We had come to Antarctica! I thought it would be impossible to land today under such conditions. Fortunately the captain had made another decision.
We passed between Livingston and Greenwich islands of the South Shetland group, and dropped anchor near the south side of the last one. After breakfast everybody was called together for a special meeting about our first Antarctic landing. The main rules here are easy. You may not leave anything there as well as take from there, must keep yourself five meters away from any wildlife and don't step on the grass, because it is also a rarity here. Upon leaving the ship, we washed our shoes in a special bath to kill all microbes and other contaminants.
The ceremony of the Antarctic landing includes not only shoe-washing. A crew with several members goes to land with the first boat to explore the cost and mark tracks. After, when we land too, they watch us and help us if we needed it. They also bring with them several ''emergency boxes'', and take them back to the ship only after every last tourist is back on board. Fortunately, there was no cause during our landing to see what is inside of the emergency boxes.
Our zodiac moored at a narrow spit in Yankee harbor, and I made my first step on the land of Antarctica. It was pebbly and covered by snow. The wind was extremely strong, and it was difficult to stay on your feet. The captain had said before that its speed was 60 knots, or about 100 km per hour. There was also a snowstorm, and snow flew in a horizontal direction at high speed. Our sunglasses here were very useful. They protected our eyes not against the sun, but blowing snow and ice. A few meters from our zodiac we saw a colony of about a dozen of skuas. Some of them tried to fly up, but the wind was so strong that they couldn't make it. There we found also a lot of penguins: chinstraps, also called Antarctic penguins. They paid no attention to the nasty weather and were busy with their own lives.
While we had a rest after a first Antarctic landing, our ship changed her position and approached Aitcho Island. After lunch we had a second landing in its beautiful beach. The weather was much better: no wind, no snow. It was a picturesque island, not just pebbles but rocks, earth and even grass. It was much more populated. In addition to chinstrap penguins and skuas, here were gentoos penguins, gulls, and other birds. It was very interesting to watch them, especially the penguins who were awfully funny! But the penguins were not the main attraction here. Most of the people gathered around two sleeping families of sea elephants. They are not the same as their relatives the sea lions. The lions are endlessly moving where as elephants were absolutely motionless.
We returned onboard. Our ship lifted anchor and moved on to another harbor. Our next stop was a wedding ceremony in Antarctic ice.
Here I should add some explanation. One American couple, as it seems to me, from Denver, had decided to get married during our cruise. They had persuaded our captain to make a marriage ceremony. I am sure it was improvisation, because Natasha and I saw preparations for it. We had been sitting in a salon and speaking with one American lady, when a crew member asked her to write a script of ceremony and what the captain should say. This was an hour after our landing on Aitcho Island and she wrote it on a paper napkin.
The wedding ceremony was performed in the late afternoon, on a shore of Greenwich Island, not far away from the Chilean Antarctic base. All the guests and groom landed first. The weather was good for Antarctica and the temperature was near zero Celsius. All of us were dressed in warm jackets and special trousers. Only the happy young man waited for his love in a nice shirt and tie, but with a flower in his shirt pocket.
At last a boat with the captain and bride arrived. The Captain was in his full uniform, but the girl shocked us by her white low-neck dress with open shoulders and a bunch of white flowers on her breast. The ceremony took not more than fifteen minutes. After that they signed all the papers and drank tequila, which is a good change from champagne in Antarctica.
After that we had a nice dinner - not an ordinary one either. It was our last dinner aboard the Ocean Nova and a wedding dinner at the same time. Our restaurant team showed us all that they could do, including their best cakes and songs. Everyone was celebrating together!
We congratulated the newly married couple, left the party and came to the open deck. The evening was incredibly beautiful and our ship was resting in a nice, calm harbor. The sky was nearly clear, and a red Antarctic sun came out of the clouds to take a look at us. We stood on deck a very long time and watched the Antarctic sunset. The colors around us varied as time went on. The glaciers around our harbor were blue, white, yellow and became red at last. Everything became red - clouds, rocks and water. We were dressed in red jackets and our faces were red also. This long unforgettable red evening was our first evening in Antarctica and the last one. It may have been the best one during our journey. We were alone - the only two in boundless Antarctica.