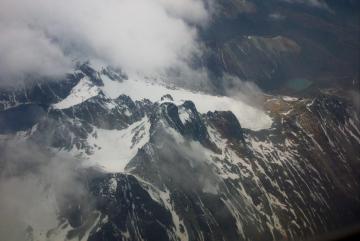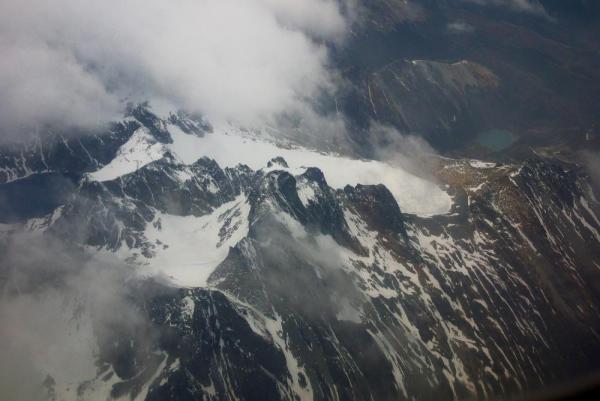 On our last full day in Bariloche we wanted a final look at the city from above and used the cable road, named the ''teleferico'', to go up to the top. So as not to lose our way, we memorized this word by heart. I had known that we needed to use bus number 50 to go there and we caught it! We bought from the driver''dos biletos a teleferico'' and paid him six pesos. We enjoyed the landscape from the bus windows on the drive there.
The bus was almost empty. Gradually, the houses out the window were replaced by woods and the mountains became much closer. I began to doubt where we were going. I had asked the driver about ''teleferico''. He waved by hand behind his head to show that it was already well behind us. We stepped off the bus and found ourselves in a quiet place. We were near a small lake and only a few houses were standing there. The water in the lake was transparent. The weather was nice, but once again we didn't have our swimming suits.
After fifteen minutes the bus had came back - same bus with the same driver. We entered and told him again - ''teleferico''. He had the gall to take from us six peso again!
This time we were on the alert, attentively looked out the window. I asked the driver about teleferico each five minutes. We were not missing it this time! The driver stopped the bus and loudly said ''teleferico''. Thank you very much.
We bought one way cable road tickets in order to enjoy the nice view and walk down on foot. It was not our first hike in the mountains. We discovered it was not a trail but a regular dusty dirt road. After some time we found a small trail down and left the road. The trail passed was winding and passed through the bushes. After a few hundred meters it became sheer vertical drop and discovered that it was not a trail but a dry stream bed. It was too late to go back so we continued our way down. As I remember, it was a very difficult descent and I heard many interesting words come out of Natasha mouth. At last we reached the bottom and found ourselves on a city street not very far away from our hotel. We understood pure happiness then!