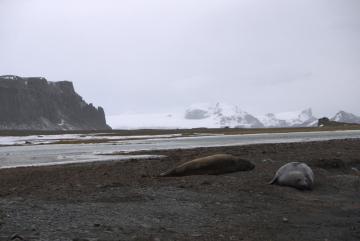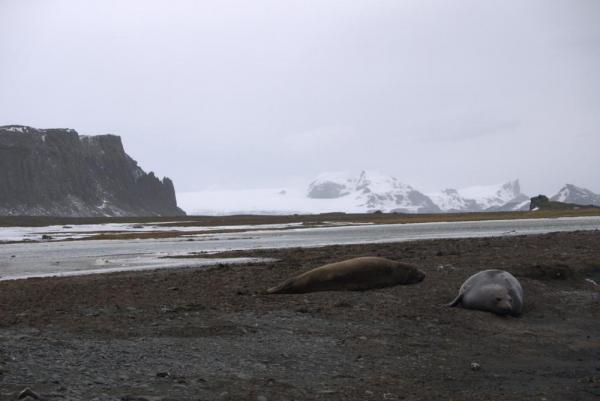 We awoke at 5 am this morning and went up to the open deck. The sea was rough and wind was very strong. We saw land nearby, but barely because of the mist. During the night we had entered the Atlantic, and were now approaching the Hermite Islands. After an hour, our ship came into a narrow strait between Decet and Freycient Islands. We were in 25 km from Cape Horn. The Captain promised us yesterday a landing at Cape Horn if the weather was good enough. But in my opinion the weather was not good at all. I was worrying about it when the announcer called us for a 'Mandatory Zodiac Briefing'. At that moment we had already stopped and dropped anchor. We were in the harbor of Horn Island. The famous lighthouse was seen a mile from us.
This was our first experience in disembarkation with the zodiacs. The stairway moved up and down for a good meter because of the waves. The zodiacs did the same, but in the opposite direction. One moment it placed a meter below my feet, and few seconds later it was already at my breast. It was a little bit difficult to catch the right moment and step into the zodiac. But three crew members were helping us, and no one was lost.
Our zodiac moored along the black stones of the beach near the bottom of the long wooden stairs. After hiking a bit, we appeared at the flat top of a hill. There were only two objects here. To the left of us there was a lighthouse, and on the right - an albatross, a monument to ships, which were lost here. No trees, no bushes - only grass, surf sound and birds. And infinite ocean surface around.
Strange feelings are arising here inside you. It is unexplainable by words. There are few places all over the world with a strong mystical aura, perceived by anyone. Each of these places has it's own aura, and your feelings are vary in these different places. But anyone understands the power of the place very clearly. I am sure we already had visited at least one such place. It was in Himalayas, at Gange source. And now I felt such power again.
We examined a monument, visited a lighthouse and had bought some souvenirs in a shop. The seller told to us, that the world's edge - Fin del Mundo - is here. It was our third Fin del Mundo in the last 24 hours. I think this one was the true edge. Only an ocean and Antarctica waited us ahead.