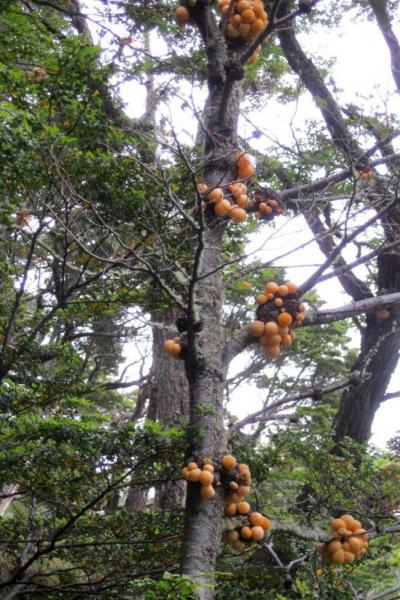 After the delicious and generous breakfast buffet (eggs, meat, waffles, wide assortment of baked goods, fruit, milke, juices, etc.) we had an earlier pickup by Canal Fun for a 3/4 hr ride (including pick up of other participants) along national route #3 (runs the entire length of Argentina, including a hop on a ferry to Tierra del Fuego) to the site of the first ranch established in the area - Haberton Farm. This tour didn't visit the farm premises; instead we suited up in rain pants and life vests to board an inflatable zodiac boat and paddle down an inlet and into the Beagle Channel (tough paddling on this windy day - this is truly an active tour!). We saw wild horses along the way and, in the channel, some sea lions and cormorants. After the 2.hrs of paddling, we switched to a motorized covered boat to head to Martillo Island - the only penguin rookery in the Beagle Channel and a rare chance to see two species of penguins - the more common Magellanic penguins and the more comical Gentoo. The penguin rookery is a Must See if you are in Ushuaia area.
Another short boat ride followed to Gable Island for a picnic lunch (similar to yesterday's) and a hike around the island noting the flora and fauna.
This evening we ate at a little tea house half way of the mountainside behind Ushuaia - La Cabana. It was very cute with lots souvenir shopping and fancy tea cakes. We had a lovely margherita pizza and also shared a salmon sandwich. Here is where our daughter bought her trip souvenir - a stretched canvas print of downtown Ushuaia in a colorful primitive style.