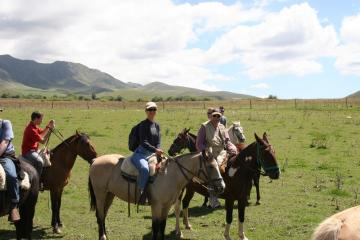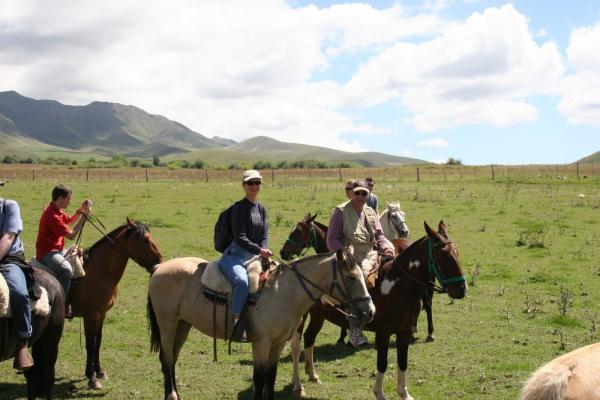 We made it to the Provence of Mendoza on Sunday (2 hrs via jet from BA) our flights were somewhat in question as it seems that the airlines frequently go on strike however it left on time. We were met by our guide and driver and had a tour of the city-- our guide(s) were wonderful and spoke excellent English. Mendoza the town isn't as impressive as the greenery considering we are in a desert. The first settlers were 3 Indian tribes who worked out the irrigation system still in use today (the Spanish didn't kill them off until they learned how it worked!) The most beautiful part is a park that is 1250 acres big with zoos aquarium, rose garden, rowing club, etc and everyone was jogging and exercising and tai chi'ing on Sunday. It reminded us of the Golden Gate Park in San Francisco.
Stayed at Club Tapiz which use to be a winery and is now a beautiful lodge with spa facilities, pool, etc. Has a 5 star restaurant (Argentinean stars!) and the food is quite good. But mind you, this is the land of meat and papas (spuds)! Jean is pretty much eating the same every day (since there is no variety)--high fiber cereal and fruit for brecky; salad at lunch; grilled veges & occ. fish for dinner). Stan is in heaven with meat, meat and mas meat.
Just an overview-- Mendoza is Argentina's Napa/Sonoma valleys. They have many "bodegas" or wine cellars. There are very old ones and new, modern, state-of-the-art ones which are bought by foreigners with $$$ because the land is CHEAP, beautiful and fertile. The new ones are really impressive. It costs about $80k for 50 acres! (Just think how far the Euro goes!) If we were younger it would be very tempting to get into the game down here. We have met several winery owners from Napa visiting to scope out the purchasing possibilities--one boutique winery in Napa (Suhr la Tel) is interested and the owner's past life was as a commercial real estate developer in SF. His wife owned an antique shop in SF and we have met several antique hunters from the states because they are cheap and plentiful here. There are downsides--depending on the number of hectares you own, the government gives you a specific allotment of water for irrigation. Also in this area are the most beautiful mountains--short, medium and tall (20K + ft w/ snow on them in summer). Really spectacular scenery.