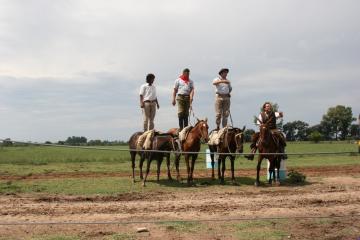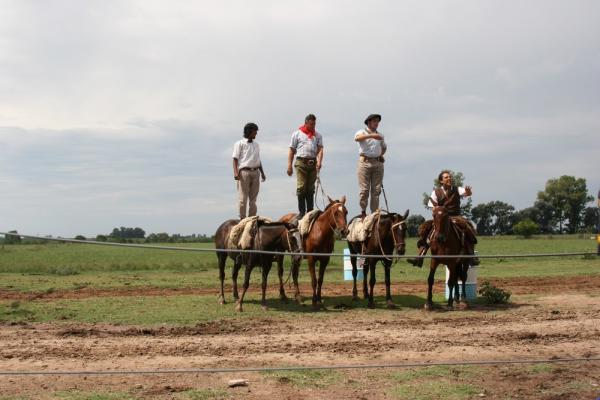 This is a country of demonstrations, This morning we saw 2. We thought they were using guns at first but the loud "pops" turned out to be fireworks. The tourist bus drivers were pissed off that they had such low wages. It seems that the govt does not have good control on inflation even to the point the it raided and emptied the Social Security funds of the retirees. Next we saw some street Tango--pretty cool! And old man and a hot young babe were dancing very sensually and risqué.
Saw some slums, the immigrant areas (Italians, Spanish, Jews, Pollacks, Germans) and the huge soccer stadium. Saw Evita's stuff and San Martin (liberator of Argentina). Visited the rich and famous areas as well!
Had a fabulous Torrontes (Argentinean white grape) last night with dinner at a local eatery. So flowery and delectable like honeysuckle but not sweet. If the winos in the US every catch on to this grape they will make mucho. Ah, life is good!!!
Took the hydrofoil from BA to Colonia to spend the day here. It crosses the river Platt (the second widest river in South America) that is very shallow, brown and muddy. The locals say it is not polluted but who knows as this region of the world is not known for its environmental sensitivity. The hydrofoil ride took about one hour as Colonia is about 80 miles across the river. The sky was dark and it looks like rain, but we are troopers and a little rain actually feels good.
This is a very old town but has become a weekend retreat for locals from BA and Montevideo. The old part of town is just that, "old" and we cannot believe the number of dogs that are wandering around the town. We had a very pleasant walk around the town and then found a nice little restaurant to have lunch
This was a good thing as the sky opened up and we had a massive thunder – lightning rainstorm for a couple of hours. It was a small restaurant with excellent food and they let us and a couple of other tables hang out during the rain. We finally caught a break in the rain and walked back to the ferry dock. This was an interesting side trip but $120 a pop was not worth the money!