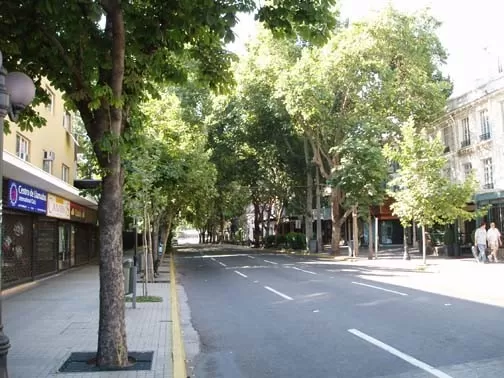 I didn't sleep all that well, perhaps because of the adrenaline from the day's activities. I finally fell into REM sleep by wake-up time. When Craig tried to wake me up at 6:40, he thought I was dead. Cristian had already left the room to get things together so Craig was calling out my name trying to wake me up. After a few tries he finally got out of his sleeping bag and came over to my bed. He started shaking me by the foot, and that incorporated into my dream and I still didn't wake up. He got a little nervous and shook me more vigorously, which caused me to finally wake up. It was pretty funny and he insists he has never had such a hard time waking me up before. Finally on my feet, we got our things ready for the next couple of days. Today we would be hiking to another much smaller refugio where we would spend the night. It is only accessible by foot or by horse. So there was no way that our extra luggage could be driven there. We got everything that we would need for the next few days out of our big packs and split them between our day packs and two little duffle bags that Cristian provided. We put a towel and some toiletries in the duffle bag and it was full. Cristian then collected the duffle bags and gave them to a porter, who would carry them along with some other equipment to our next refugio. That way it would cut down on the number of things we would need to carry with us on today's hike. This always makes us uncomfortable but at least the small bags they carried for us didn't amount to anything. We met up with Cristian in a little common tent area where all the guides were preparing the food supplies, and we put our lunches together. After that, we headed into the bustling cafeteria to get our buffet-style breakfast of eggs, cereal, coffee, toast, and orange drink.
We left the lodge at 8:10 and began the hike across what the itinerary called "undulating terrain". The description was highly appropriate as the land seemed to rise and fall across dozens of small rifts in the earth's surface. We started along the shores of Lake Pehoé, and soon the Cuernos del Paine came into view. Shortly after leaving we reached the edge of Skottsberg Lake. There was a light mist falling from the sky and the bushes along the trail were rather wet, so after a while we put on our raincoats to prevent our hiking clothes from getting too damp. Of course, this quickly led to the body getting too warm and they would soon be removed again. There were stunning views all along this hike, and along the lakes. The surrounding landscape had been ravaged by the effects of glaciers and there were always beautiful features to look at. We stopped numerous times to try to take in our surroundings but we had lots of distance to cover and we shouldn't move too slowly. The trail was in great condition with lots of small wooden walkways created along the path where the trail gets muddy. Not only is this a nice feature for the hiker but it also protects the plants in the area. Hikers will keep widening the trail around wet patches, eventually ruining larger areas with foot traffic. About an hour into the hike, Paine Grande was visible ahead of us towering over everything.
At around 10:30 we crossed the French River on a large suspension bridge and arrived at the Italian Camp. Since we would be coming back along this same stretch of trails we left some of our heavier items at the ranger station there. Having a small snack to eat we began the hike up a difficult stretch of glacial moraine toward "The Viewpoint" at the beginning of the French Valley. Soon after beginning the ascent we filled our water bottles and, as always, the water was cold, fresh, and tasted fantastic. The trail wasn't bad but it was much steeper and all rocks. Sometimes we were climbing from large rock to the next large rock, and sometimes it was much smaller stones, almost like scree, which made the ankles get tired rather quickly. We had to keep stopping along this stretch and unfortunately we were quickly losing time. I think that I couldn't help but think about all the ground we were covering and how it would all need to be done again before getting back to the Italian camp. From there our home for the night was still an additional two hours or so. After having a much more positive attitude yesterday while hiking, I think I was a little more concerned about the distance we were covering. This sidetrip really seemed to drain a lot of my energy. Although the weather wasn't bad, it was rather windy and cool. At one point we had a terrific glacial runoff waterfall, or waterslide really, along the edge of the trail. We stopped there for a short while and talked to a few other hikers that had stopped there too. After taking a photo for them we continued onwards up toward the hanging French Valley.
Eventually reaching the viewpoint, we had a gorgeous view of the Cuernos del Paine and Lakes Nordenskjold, Pehoé, and Toro. We ate our lunches here. It was quite windy but the views were stunning. All around us were glaciers hanging out of mountain peaks. There were lakes down below, rivers cascading down the valley walls, and trees all gnarled and twisted by the wind. It was quite a sight to behold. Cristian decided that at our pace (well, my pace, actually) we wouldn't continue up to the British Camp, as it would make our arrival time at the refugio very late. He said that you really need to hike a long distance to get a better view and it didn't seem as though the weather was going to cooperate anyway. It could be a lot of hiking with no additional views, and if the cloudy weather didn't clear it might not be worth the extra time and energy. So we decided to use this fantastic viewpoint as our turn-around point and hiked back down the moraine to Italian Camp.
The hike down that same stretch went pretty fast and suddenly it seemed as though we hadn't gone as far as we had thought. It was a fantastic climb and the views were well worth the effort though. Unless we were staying closer to this area, it probably didn't make sense to travel further up the valley. Staying at the Italian Camp, or maybe even the British Camp in the valley, would have made more exploration in this area easier. An extra day of hiking might have been a nice addition with a stop in the Valley allowing us to explore further. Eventually back at the Italian Camp, we decided to use the restrooms there before heading out again. It's funny to see such nice "outhouses" here. They have full porcelain toilets and a full sink on the outside of the building. We were both amazed at how nice all of the facilities have been on this trip. When we first arrived, Craig was next in line for the men's room while there were a few people in front of me at the women's room. Craig patiently waited for probably 10 minutes for someone in the men's toilet. A line of women came and went and still he waited. Eventually all the women were gone and I convinced Craig to use the women's toilet. Finally done with this seemingly-endless excursion, we gathered up our belongings and continued on the 2 hour hike across more "undulating terrain" to Refugio Los Cuernos.
The hike to the refugio also had tremendous views as we continued up and down the slopes and darting in and out of the trees. The skies cleared up a bit although it still seemed quite cloudy in the mountains overhead and the wind was still quite strong at times. There was one very steep downhill section and we felt glad to be going in this direction. It would have been a little late in the day to be expending this much energy in such a short stretch. Right before arriving at the refugio, we popped out at a rocky beach along Lake Nordenskjold. The beach was made up of nothing but white and black rocks about the size of golf balls. It was very interesting to see since it was a perfect combination of the two main types of stone we saw everywhere around us. The cuernos themselves are huge white stone pillars with a layer of black on top and now we were sitting on a beach created by the remains from these. As we sat on the shoreline we had a few snacks. It was very windy and there were whitecaps on the lake. It almost looked like ocean water. Cristian told us there were kayaks that you can usually rent but I would guess there would be nobody kayaking on the lake today. We sat on the beach for a while and I tried writing in the journal, but the wind was whipping my pages around and I gave up. So we continued on to the refugio. As we approached the area there were various tents peppered throughout the small trees where many folks choose to sleep rather than going inside the lodge itself. We arrived at 4:15 to a very quaint setting, as the lodge is nestled in the trees in the foothills sort of sitting at the base of Cuernos del Paine. It was all very picturesque and very welcoming after another long day of hiking.
As we arrived, we started to understand Cristian's complaints about last night's lodge. Although it had been fine, we could immediately tell that Los Cuernos had a lot more character. After all, it was only accessible by foot or by horse, so everyone who was there had come in on a trail. Last night's lodge had been accessible by road and by boat. We had to leave our boots on pegs outside the front door and enter in our stocking feet. We would have brought our sandals if we had known this, but we had left them in our big packs which were in transit to the Ecocamp, where we would meet up with them the next day. As we entered the dining room of the refugio, a wave of heat enveloped us. After hiking in the late afternoon sunshine, this was a bit warmer than we wanted to be. It felt as though a wood stove was on full blast. But it turned out to be totally greenhouse effect solar heat. The sun was shining so brightly through the windows that it made the place almost unbearably hot. Along one wall of the dining room there was a little store where you could buy munchies and drinks, and there was a kitchen where the staff made food to order. Two other walls were almost all glass. They were not large picture windows, as the wind would likely flex the pane so far it would pop out of the frames. Instead they were made up of many smaller panes covering almost the entire wall, floor to vaulted ceiling. In the corner between the two glass walls was a nice Christmas tree which really added a nice touch to the room. Although some folks were getting food, and it smelled so good, we didn't get anything to eat, as dinner was included in our stay. The porters had already delivered our toiletry bags, so we each decided to take a shower right away.
We couldn't believe how nice the showers were. Once again we were impressed at the level of facilities. Even at the refugio where a multi-hour hike is required to get here we were greeted with hot clean showers, porcelain toilets and fully functioning sinks. After what seemed like a lengthy mission we were both clean and ready to have something to drink. After going back to our room and putting on clean clothes, we headed into the warm dining room and sat at a table as far away from the sunshine as possible. Although it was warm it wasn't too bad if you avoided the direct sunlight. Being near the doorway we were blessed with the cold draft blowing in when folks came and went. We went up to the little serving window to see what our options were. There didn't seem to be any refrigerated drinks. They had beer and various other cans of soda just sitting in a little display case at room temperature. We joked that room temperature around here could be drastic if we weren't careful. Craig got an Austral beer (with a penguin holding a beer on the side of the can!) and I got a Fanta. Although room-temperature, they were cool enough and quite refreshing. In no time Craig was ready for another one. While I wrote in the journal Craig just was just watching, thinking, and looking at the things on the walls. Often he was listening to other travellers telling stories about other trips they have done. A few of the guests had just finished a few years in the Peace Corps and were talking about their time spent in Uruguay and other travels they had done in Nicaragua and other interesting places. While hanging around we saw Jane, Richard, Leta, and Nell, and their guide Juan. Juan had a very retro look with large pork chop sideburns and big black glasses. He was hilarious though. He added a lot of joking to the evening and it was nice having him there. The rest of their group had hiked up to British Camp with their assistant guide Rodrigo, and had not yet arrived at the refugio. At this point we were glad with our decision to turn around at the viewpoint as we were all clean, comfortable, and sipping drinks waiting for dinner rather than still being out on the trail with the sun sinking in the sky. Some people were getting very hot with the sun beaming into the place and asked the attendants if they could pin up a large tablecloth over the most offending window. Of course this had the dual effect of cutting off the incredible view as well, but we agreed that something needed to be done about the direct sunlight streaming into the already toasty dining room.
Juan told us that our two groups would be eating together tonight, so we pulled up chairs to a large table. Juan and Cristian served pisco sour cocktails and snacks of cheese, meats, and crackers. We all got to know one another and were having a great time and nice conversation. Shortly before dinner, the rest of their group arrived, including Kate (Jane and Richard's daughter), Evan and Megan from California, Steve from London, and Kimberly from California. Now we definitely felt better about our decision to turn around on the trail when we did. As much as Craig wished we had hiked further, I know he enjoyed the hot shower, beers and pisco sours that we had been enjoying for the past three hours. Dinner was served at 7:30, and we all ate together. We took the tablecloth off the window and although the sun was shining right into our faces for a short time, it was worth it for the view as the sun set over the mountainous horizon. Our dinner consisted of lentil soup, salmon, mashed potatoes, and fruit cocktail. With dinner we had a few bottles of red wine. When the wine ran out we moved on to a few more beers while we sat around enjoying each other's company. We had a lot of laughs and really left as though we were getting along with this group nicely. Lights-out time was 11, so that was when we went to bed. Juan, Rodrigo, Steven, and another couple we kept seeing along the trail shared our room. Craig and I had each staked out bottom bunks earlier in the day, which was good because the bunks were three high in this room. Earlier in the evening Cristian offered to sleep outside in a tent because the refugio was too full and they were going to have to turn away one of the guests.