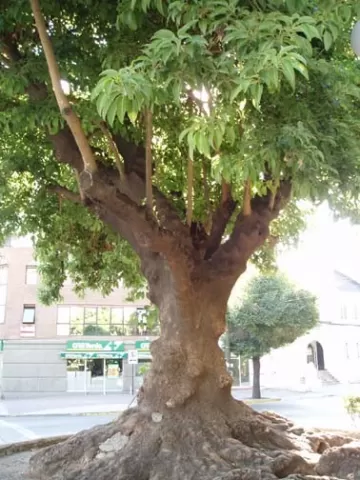 As we had a relatively short 4 hour hike today, we got to sleep in a bit. We woke up at around 8, got our stuff together, and headed to the main dining room. Our toiletry duffel bags were to be carried by a porter to the Ecocamp, where we would then meet up with our big backpacks. Although we could have used our sandals we managed just fine and would be reunited with them soon. We sat with the group to have some nice hot coffee. Once again, "coffee" really means hot water with Nescafe packets, but at times like this it all seems really tasty. At 9:00, breakfast was served: crepes in orange sauce, scrambled eggs, toast, coffee, hot chocolate, and an orange juice box. After breakfast Juan, Rodrigo, and Cristian set up the lunch fixings on one of the dining room tables, and we all packed our lunches. The lunch consisted of a variety of meats, cheeses, and tuna as well as tomatoes, lettuce, and avocado. The bowl of tuna was a big hit and was all gone before we were able to make our sandwiches, but there were plenty of other things to make sure we had plenty of food to eat on our hike. Once again one of our favorite treats was the Costanuss chocolate bars. We squirreled a few of those away because they always come in handy while hiking.
We finally ended up leaving the refugio at 9:45. The sky was very gray and there were occasional sprinkles falling from above, but the weather was cool and quite nice for hiking. Immediately the trail led uphill and quickly we thought about the nice full bellies we had when setting out. Soon the trail flattened out somewhat. At one point Cristian asked us if we wanted to go to one of his favorite lookouts. Of course we knew this would mean a bit of off-trail bushwhacking but we did want to see it. As we left the trail we started heading straight up the side of a large hump. It was rather steep and there was no trail at all, but overall it wasn't very high and just took a matter of a few minutes to get there. As we continued up the slope I noticed many grouping of ants being disturbed by our feet passing. They probably weren't too used to people stomping along up here. Occasionally one would find its way up our pant legs where we would brush them off. After a short time we were standing on the top of a very high cliff. Looking down at Lake Nordenskjold below we realized that we had actually been going uphill for longer than we had suspected. Cristian said it was sometimes possible to see condors from up there. We didn't see any, but there was a condor feather on the ground. Looking back towards the trail we could see a long rock "dike", or strip of rock cutting through the mountainside. This rock was forced upwards during volcanic activity and now stands much higher than the rocks around it like a row of teeth protruding from a pair of gums. The view from up here was magnificent and we could see quite a long distance in every direction. Not only where we were going, but where we had come from too. It was a great feeling being so far from everyday concerns and worries, where it was all about the moment and the nature that surrounded us. After a short break we descended the hill and found our way back to the main trail below. Once again we were aware of various ants that we were disturbing but soon after we left they were back to their routine. Once on the main trail, in the distance, we could see a man and a few horses working toward us. Cristian says that locals still use this land and many of the trails are used by both humans and horses. In no time at all they had approached us and were on their way again.
There were various places where small streams ran across the trail and we were able to fill our water bottles and drink the fresh cold water. About two hours into the hike we took a break to eat lunch. We stopped in a small clearing just to the side of a large rocky area with a stream running through it. There were two women who also stopped for a snack. They were asking us how much further to the refugio and we had to tell them they were just about half way there. We chatted with them while we all ate our food and snacks but soon we were ready to move along once more. The weather was very nice although it was a bit windy. We were wearing long underwear and our travel shirts and pants and were quite comfortable. Every once in a while it would start to rain a little bit, sometimes with the sun still shining. But it wasn't even really worth putting on rain jackets, as we would get too hot immediately. As we continued through the varied landscapes there were many small lakes as well as hanging valleys in the mountains above. There were a few places where you could really see where glaciers used to grind their way through the mountains. Long since melted, they left behind huge stone piles at the end of the valley they created. Glacial moraine was everywhere and it really left you with an appreciation of how powerful a river of ice can be when flowing out of the mountains above. Mountains were ground into stone fragments and strewn all over the landscape. Because this section of trail is mostly just a conduit for hikers getting from place to place it seemed very remote. Although we passed many folks it was always a brief encounter that was soon forgotten. We could sense that we were not too far away from our destination. After a few days of hiking you start to just be able to sense the trail and feel what is to come. As we came around a bend we could see the tops of small building in the distance and Cristian told us they were part of the lodges and camps where we were headed. He told us the Ecocamp is actually a short distance beyond the visible Hosteria los Torres but we were only about 30 minutes away. Cristian dug out his radio and called ahead to let them know we would be arriving soon. Craig joked that they should clean up and hide all the beer because we were on our way. Cristian found that quite funny and referred to it a few times as we continued on.
Off to the left of the trail was a place where there was a nice waterfall hidden in the brush. We left the trail and went over to enjoy the view. Very soon we would be dealing with "civilization" again and we thought this area would be a good place for us to take it all in. As we continued across the fields of brush Cristian pointed out various plants that were very helpful if stranded out here freezing. He pointed to a rather large shrub that was very easliy ignited by fire. He said that it is very thick and although alive, was very dry. In an emergency the central leaves are always dry and easy to use when starting a fire. Craig also thought it might not be too difficult to hide between some of the large clumps to protect oneself from the wind and weather if needed. As we continued along this area we saw three ibis flying nearby and squawking away. We tried getting a photo but they always maintained enough distance to make a nice photo impossible with our camera. It was a nice little finale where we became aware of just how little wildlife there seems to be in Patagonia. It just feels as though there isn't as much wildlife as you would expect in an area that is really pristine. Closer to home this land would be cherished and filled with a large variety of animals both large and small. Finally approaching the last stage of the hike, we rounded a corner and were faced with a crossroads. To the left headed up into the mountains and to the right headed more towards the camps. We continued to the right across the plain until we came to a small river running out of the valley above. Cristian pointed to the trail merging on the left and told us that is where we would be hiking tomorrow. We crossed our final bridge of the day: a nice wooden bridge made of very heavy cable and large wood planks across a rather large river that clearly could carry a lot more water than was currently flowing. In the riverbed below you could see the remains of bridges long since destroyed as yet another reminder for how unforgiving the weather can be in Patagonia. Once again we felt lucky that we have only had occasional mist, never even enough to keep a rainjacket on for more than a few minutes at a time. On the other side of the river we climbed over a fence and past a few old vehicles including a very old firetruck. Suddenly we were in the parking lot of a large hosteria and people seemed to be everywhere. We knew we were staying at the Ecocamp, but where was it? This all seemed a bit overwhelming with many different people and buildings with people taking care of the grounds and such. A rather large outdoor Christmas tree was adorned with ornaments and it was all feeling rather crowded suddenly. Fortunately we walked straight through the property only stopping quickly at a small store outbuilding. A few drivers asked if we needed a ride and Craig and I wondered if we did; we had no idea where we were going at this point. We continued on through the paddocks where Cristian seemed to know everyone and waved hello. Finally Cristian told us it was another 10 minute walk to the Ecocamp. We continued past a small campground where many tents looked like they had been sitting there for months. After crossing one final stream we were suddenly at the Ecocamp, our home for the next two nights. Immediately we felt like we were home.
We met the hostess, Paulina. She showed us to our "domo" (ecologically friendly geodesic dome shaped tent), which was #7. The Ecocamp consists of a grouping of white domed tents scattered around the grounds. Each domo sits on top of raised decking and there are walkways between all of them. There is a large domo off to one side where there is a dining room, living room and a kitchen. In the center is a wooden structure where the bathrooms reside. As we entered our domo we realized how thick the walls to the tent are. They are not simple canvas walls but rather multiple layers consisting of at least one thick layer of insulation. There were a few windows in each tent looking out onto the grounds as well as one looking toward the sky. The tent contained two fully made up twin beds, each stocked with very warm blankets. There was also a small table on which was a booklet describing the workings of the Ecocamp. There was no electricity in the individual tents although a battery lamp was available if you asked for it. We each had our headlamps and felt we would be fine using those. Although we were ready for a nice shower we realized our big packs had not arrived yet, and neither had our toiletry duffels. We decided to take a walk around the grounds and get a feel for what the bathrooms were like. Soon afterwards our bags arrived and we headed off to the bathrooms to take showers. It was nice removing our hiking boots and getting into our sandals again.
The bathrooms were very nice, with composting toilets, two showers, and two sinks. The walls were tastefully decorated with Patagonian artwork and photographs. There was even biodegrabable soap at the sink and in the shower as well as incense available in case it was wanted. There was plenty of hot water although we wanted to make it quick since the whole point of the Ecocamp is to use minimal resources and yet still provide a very comfortable place to stay. After our refreshing showers, we headed to the refugio next door so that Craig could buy a grande bottle of Austral beer, and I could buy a grande bottle of Fanta. We took our drinks and headed back to Ecocamp. We went into the living/dining tent. It was a large tent with dining tables and chairs, couches, and a wood stove. The kitchen was there as well. As the tents were called "domos", and this one was much larger than the rest, we took to calling it the "majordomo", a play on the name of email listservers. We're such geeks. We wanted to sit on the comfy couches, but it was too hot to sit near the wood stove, so we sat at one of the dining tables instead. One of the tables in front of the kitchen area had hot water for tea and coffee, as well as cookies. We ended up eating quite a few cookies and just when we were starting to feel guilty about not leaving many for the rest of the gang, a new plate appeared. While we ate some cookies, I wrote in the journal and Craig looked through some maps and brochures. Various people from the other group arrived, wandered in, chatted, and sat for a while. The heat from the wood stove got to be too much, even though we weren't sitting right next to it. Paulina opened the door flap. Occasionally a breeze blew through, but all in all it was much more comfortable. Juan, Jane, and Richard arrived after having seen a puma on the hiking trail. They were justifiably very excited. It turns out that the puma seems to have been hanging out near the trail right in the area where we went to climb the small hill to see Cristian's lookout. We wondered if we were closer to the puma than we ever imagined. This led Craig and I to reflect on the fact that we hadn't really seen much wildlife at all. We had of course seen the ñandús and penguins in Punta Arenas, but here in Torres del Paine, we had seen a few birds and a couple of hares.
While relaxing we talked to Kate about Tom Waits for a while. We had just gone to see him in Vancouver and again in Berlin and Kate was pretty knowledgable about Tom and wanted to hear a little about the show. Then Cristian, Rodrigo, and Juan had us all sit in the couch area as they served us pisco sours and some appetizers (salami, some other salami-like meat which the package claimed was called "Boston salami", guacamole, crackers, and turkey. We laughed at the Boston salami. It reminded us of our trip to New Zealand two years ago when we saw a "Boston bun" in the grocery store, and it was like nothing we had ever seen in Boston. Juan kept refilling everyone's pisco sours. I think that all in all I had at least 3, maybe 4. We talked about various things while the drinks flowed, the laughter started, and the munchies were consumed. We even talked politics for a while. Then Rodrigo and Juan showed us tomorrow's itinerary on the map and explained what was in store for us. The hike would be in three segments. The first third would be uphill getting into the valley. The second third would basically be following that valley through some wooded areas. The final third would be a steep hike up the moraine. The destination was a lookout point at which you could see the Torres across a lake. Rodrigo had a great postcard that showed the final stage of the hike and it really gave us a feel for our destination. It looked rather difficult but it also looked like it was going to be an amazing day, and we were all pretty excited about it.
Dinner was served around 8:00. At first we wondered why we hadn't been seated with the other group. While they were at a very large table, Craig and I were seated off at a smaller table with Cristian. We found out that this would be our last dinner with Cristian. He would be leaving soon after tomorrow's hike because he had to help his family brand cattle at their estancia. So we were happy to have him to ourselves for our last meal. We were served a chicken-based soup as an appetizer. Then we were served chicken which was carefully balanced on a mound of rice. It looked very professional, and I took a picture of it with my camera, trying out the fancy new "cuisine" setting. For dessert we had banana "torres" with a caramel tasting substance, possibly peanut butter, raisins, etc. We had red wine and Cristian kept filling our glasses. The group was all very chatty and we all were having a great time and enjoying the beautiful Ecocamp. The quality of the meal seemed perfect at this place. We were surrounded by nature, and yet the food was far from basic. It turned out that today was Steven's 40th birthday, and the chef brought a birthday cake to the big table. We all sang happy birthday and I got some pictures of Steve blowing out the candle. The chef cut the cake into exactly enough pieces for the large group. Oh well, we were hoping to join in as we had all become one large group but Leta, Kate, and Nell shared some of their pieces with us, which was very nice of them. The cake was more like an apple pie than a cake, actually. It had been baked in a loaf pan and was served garnished with wildflowers.
After dinner we sat on the couches chatting by candlelight. The sun didn't really go down until about 10:00 or so and it was still somewhat light when we went to bed at around 11. We could have easily stayed awake later but we knew tomorrow would be a big day and we should force ourselves into bed to get some sleep. Although it was a little chilly when we first got into our domo by flashlight, we were soon very warm and secure in our twin beds. There were fleece sheets, heavy wool blankets, and a sheepskin at the foot of the bed. The weight of the blankets was very pleasant and we felt like we were back in the womb. We started getting a bit giggly as we were falling asleep making jokes about our womb beds and then, the windmills. As you would expect at an ecocamp there were windmills that helped generate power. The thing is, every once in a while the very strong gusts of wind would cause them to howl. We could hear them sporadically throughout the night, sounding like a T Rex. It was quite startling in the very quiet Patagonian night.