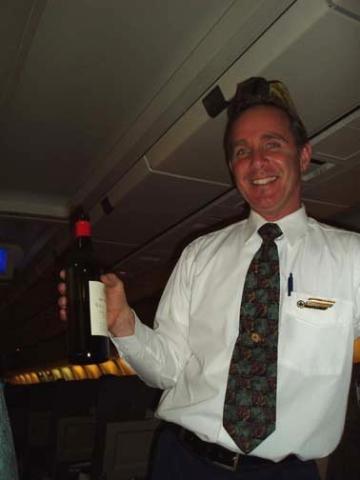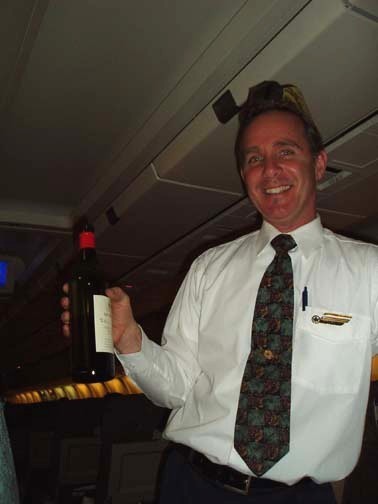 As we have been very happy with our previous trips to Peru, Guatemala, and Belize through Adventure Life, we decided to book some trips to Chile through them. After much planning, and deciding what we both really wanted to see and what we would have to forego, we decided on three distinct trips strung together. The first would be their Pure Patagonia trip, which involves hiking the so-called "W-Circuit" in Torres del Paine National Park. We would head to the Lakes District to do a sea kayaking and horse trek extension. Then it would be off to Easter Island. These three trips seemed to fit together to give us a good overview of Chile yet left plenty of opportunity to come back and see more someday.
Prior to departure, we went to the Lahey Travel and Tropical Medicine Clinic. It turned out that all of our immunizations were still valid, and neither Chile nor Easter Island was a danger zone for malaria. We were given a TB test (as we hadn't had one since returning from Guatemala and Belize) and were issued some antibiotics to take with us, just in case.
Today was New Year's Eve, and Craig and I both had the day off from work. We had been up until about midnight last night preparing for the trip, and we still had some additional packing to do. So we woke up at 7:00 am and got right to work. We ordered pizza for lunch, and while we were eating, our friends Tom and Karen stopped in to say goodbye. It was pretty warm (in the 40's) and the snow was melting like crazy. Steve drove us to the airport, and we left the house at around 3:00. The airport was pretty quiet when we got there. We checked in at the Air Canada desk and got our seat assignments. The clerk told us that the flight wasn't very full (which would turn out to be an understatement). We went to our gate (the same one we had been at on our last flight to Toronto) and waited. We bought some water and juice. Suddenly Craig realized he had left a banana on the counter at home. He had meant to dispose of it properly but got sidetracked. The thought of coming home to a house full of fruit flies was just too much so we called Steve and asked him to do something with it. He laughed and said he would. The flight was almost ready to board and there were very few people waiting at the gate. Everyone seemed to be on their cell phones making plans for the evening when, at a little after 6:00, our flight started boarding. We were the first coach people to board the plane, and we were in row 28, the second to last row. The nearest people were three rows in front of us. We had an aisle and a window seat with noone in between. The flight attendant asked about our trip. We had a nice conversation and she seemed very interested in our plans. The flight took off on time, and we were served our favorite Air Canada snack: Clodhoppers (little chunks of graham cracker covered in white chocolate) and cranberry juice. We watched a bit of the English language news and since the flight was only an hour and a half, we were there in no time at all. There were probably only about 50 passengers on the flight, so service and deplaning happened very quickly. This had us thinking about the total amount of time we would be spending in airports over the next three weeks. With a total of 12 different flights in 5 different countries we would spend over 3 days on a plane not even counting airport wait time. This short hop proved to be a lot more overhead but the next flight would surely make up for that.
We arrived at Terminal 2 in Toronto. There was a light rain but the weather was well above freezing. This was fortunate as delays in Canada could throw off everything. We were initially a bit concerned about planning a flight through Canada in winter. We went through customs and had our passports stamped. The airport was empty and there are very few signs telling you where to go. Fortunately we had just been to this airport on our Vancouver trip, so we went upstairs and outside to catch the bus to Terminal 1. We went through security there and then outside to catch another bus to the "infield" gates. It was a rather amusing drive across the airport grounds. More than once we needed to yield to planes getting towed by. When we got to the infield terminals, we found a currency exchange booth. We wanted to have a little bit of local currency when we arrived so we exchanged some U.S. money for Chilean pesos (at a very poor exchange rate, might I add), and then headed to gate 531. I took out my journal and then realized that my unopened water bottle was missing! Craig said he thought he knew where I left it, so he went back to the currency exchange and found it - still sealed. Hooray! We had a lot of time to kill so we took some pictures at the gate of Craig sprawled out on the seats relaxing. Unlike Logan Airport in Boston, there were no pesky armrests, so you could fully lay down across seats. While waiting, a whole group of airline personnel came along chatting up a storm. They were telling some rather funny stories about their families and some of the incidents that had occured over Christmas. It seems any time families gather there are always funny stories to be heard and this kept us entertained. Meanwhile a small boy, maybe 7 years old, was playing with a whoopie-cushion and having a great time. We could only hope this was a temporary thing and not one that would persist for the 14 hour flight to come. We boarded the flight at about 10:30 pm and took our seats, again in the second to last row. The plane finally took off at a little after 11:00. We had a spastic toddler seated in front of us and a lady who insisted she NEEDED three seats to lay down to our right. She went on and on about how she made that clear to the woman at check-in, and that they have to let her have three seats so she could lay down. She NEEDED them, afterall. Her husband, who also had three seats in front of her, also needed to lay down. Of course it turned out that she was sprawled across the seats used by the crew. After a bit of shuffling, she was able to get her much needed seats in another row. Meanwhile, Craig and I were making the most of our single seats but found that our overhead reading lights kept turning on automatically. We noticed this was true with everyone else's on the plane. Good luck if you were trying to sleep. We found it particularly entertaining as the lights kept shining right on the woman's face as she tried to sleep. This only lasted for a few minutes and then straightened out for the remainder of the flight. Craig immediately noticed something about this plane that concerned him. What has happened to the individual air controls? It seems many planes no longer allow you to control the air blowing on you which means you are at the mercy of the old folks that are always too cold on the plane. Craig likes the cool air blowing on him as the air is always so stagnant on airplanes. As midnight approached, we wondered if there would be any acknowledgement of the arrival of 2005 on the flight.