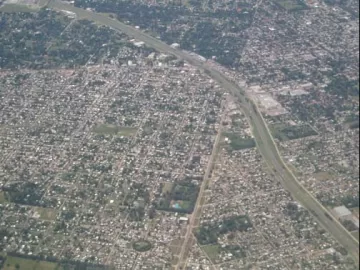 We woke up at 4:30 am and took nice hot showers with excellent water pressure. We wondered if this might be our last great shower for a few days. At 5:15 we headed downstairs and were met at the curb by Enrique, our Cascada Services representative who would provide our transfer to the airport. It was still quite dark and trees on our street were lit up with Christmas lights. Enrique pointed out a lot of sights on the way as we drove down Bernardo O'Higgins. We saw the national library, the Central Station designed by Eiffel and made of steel, and the President's house. There were many young adults out in the streets after a night of dancing. The streets were more packed with people at 5:30 in the morning than they had been in broad daylight yesterday. We saw one guy throw a punch at another in the street as we were stopped at a red light, but when the light changed his friends pulled him back to the curb. It wasn't a scary sight and actually seemed more comical than anything. Enrique made a comment on how this happens all the time after a night of dancing. He said that he was sure a woman was involved. We arrived at the airport shortly before 6:00, right as the sun was starting to rise. We checked in for our LanChile flight to Punta Arenas via Puerto Montt. There was a round atrium area which housed baggage claim, and in it was a huge statue made of suitcases piled on top of one another. This piece of art towered two stories high but the lighting was such that we couldn't get a photo of it. Maybe next time we came through the airport we'd have a better chance. We were so early that the security checkpoint wasn't even open yet. There was a Dunkin Donuts located just outside the checkpoint entrance and we coveted a cup of coffee. But it wasn't open yet either. After a short wait, security opened and we headed through. To our delight there was a Dunkin Donuts right at our gate. We watched as doughnut deliveries were made and they prepared to open. I could also use a doughnut, since our entire food experience in Santiago had consisted of a single ice cream and we had to leave the hotel before the free breakfast was served. I went to the counter but the Dunkies did not open prior to our 7 am boarding time. We were completely dumbfounded by this since we saw the doughnuts delivered. What else was needed? Why wouldn't they be open for more than 30 minutes? This was only a small counter yet we saw a dozen potential customers asking if they were open yet. So we boarded the plane without coffee, and boy did it show. I had apparently dropped my tourist card when boarding. The flight attendant was working her way down the aisle asking people if the card belonged to them. Craig was watching the woman getting frustrated not finding the owner so he finally asked whose name is on the card. She replied "Stephanie" and, seeing the look on my face, handed it to me. That wouldn't have been good to lose that on the first day! I guess I really needed some caffeine afterall. This time we were in the third to the last row. We were getting used to the backs of planes. It was a short flight, and I slept until food was delivered. We got warm ham and cheese sandwiches, fruit cup (peaches, pears, and pineapples), bread with jelly, coffee, and orange juice. It really hit the spot. At around 9 o'clock we landed in Puerto Montt. The sky was cloudy and there was some light rain falling. This was the first rain we saw in Chile and since we were just flying we wondered where it had come from. Just 2 minutes ago it was nice and sunny with a clear view of the farmland below. Hopefully this wasn't going to be a sign of the weather to come. The weather in southern Chile and Patagonia itself is notoriously fickle and we would be doing lots of hiking so we were hoping for the best.
Passengers in transit stayed on the plane while it refueled. It was interesting watching the crew at the small airport. First the attendant set up the fuel truck, pulled out the fire extinguishers, and placed them in the proper position. Everything was very deliberate and clearly safety was the concern. The luggage attendants also approached the plane and swapped luggage on and off the plane accordingly. We noticed the daily newspapers making their way from the big city to the smaller destinations using the only reasonable transportation in such a long country. Some people got off the plane and a few others got on, including about 7 or 8 young men in military fatigues who sat behind us. After the plane finished refueling, we were on our way. Soon after leaving Puerto Montt the sky was clear again and the clouds and rain were history. Before we knew it, we were served another meal (cold chicken, potato salad, tomato, olives, bread and butter, a raspberry tart with whipped cream, coffee, and orange juice). By now we we were stuffed. We couldn't believe how often we were fed on these flights. In no time at all, our military neighbors were all fast asleep in their seats. I guess they will get sleep any chance they can. We watched a Discovery Travel Channel show on the world's best beaches. The segment on Phuket was sad in wake of the recent tsunami which devastated the area. Just before we left home the terrible tragedy struck and we had been thinking of the people that live there not even knowing just how widespread the damage had been. Before we knew it, we were landing in Punta Arenas, region 12, the southernmost region in Chile. The flight path overshot the city and we found ourselves completely over the Straits of Magellan before the pilot turned around and brought us in. The military folks were in a rush to get off the plane, so we ended up pretty much the last ones to disembark.
By the time we got to the baggage carousel, our bags were already there waiting for us. We collected them and headed toward the exit where we saw a man holding a sign that said "Adventure Life, Smith". He turned out to be our guide, Cristian. We said hello and he led us to a waiting car. The driver loaded our bags into the trunk and we set off into Punta Arenas for lunch. Cristian asked what kind of food we would like and we replied something typically Chilean. He immediately responded, "Salmon", and told the driver our destination. Punta Arenas was a very quaint town that had the feeling of a frontier outpost. We passed the Magellenic Straits and could see Tierra del Fuego off in the distance. The town has colorful small buildings with corrugated tin roofs. It is right on the sea and had a very Alaska or Catlins area of New Zealand feel to it. You can tell which way the predominant winds blow by looking at the foliage, which is windswept in a particular direction. But the weather today was gorgeous, totally sunny and around 60 degrees. We had the windows down in the car. The driver dropped us and our bags at the Puerto Viejo restaurant. We stowed our luggage in a corner and took a table near a window. Craig and I got pisco sours and explained that we had had them in Peru. We told Cristian that we knew there was a rivalry between Peru and Chile when it comes to claiming responsibility for the Pisco sour. Cristian, with a giant smile, conceded that pisco originated in Peru, but said that Chile has the best grapes, so it is, by rights, theirs. Craig and Cristian each got grilled pejerrey (a type of fish). Craig got mashed potatoes with onion. I got ostiones a la parmesan (scallops in parmesan cheese sauce) that were deliciously fresh and tender. We chatted with Cristian, learning that he is 31 years old, lives in Puerto Natales, guides for most of the year, and works on his family's farm during the winter. We told him about our experiences in Santiago the day before, and that we had had some amazing ice cream. "At Bravissimo?" he asked. He laughed and said that it is a very famous ice cream place with several locations throughout Chile. As the meal was winding down, Cristian called the next driver, who showed up in a Mercedes. We paid the bill, collected our luggage, and headed out to the car.
We were now off to Seno Otway (Otway Sound) Penguin Reserve. It was about an hour drive down a dusty dirt road. We passed some ñandús, which are ostrich-like birds. First we passed two adults. Then later on we saw a bunch of babies, one of which was significantly bigger than the others. Cristian told us some facts about the ñandús,. The males incubate the eggs and rear the children. When they encounter another family with a bigger offspring, they appropriate (kidnap) one to help them babysit their own young.We passed some sheep which were huddling in the shade of the undercut earth. Then we passed the Pecket Harbor coal mine, which is right next to the penguin reserve. There were railroad tracks running out to a small dock from which coal is loaded directly onto ships. The penguin reserve is on private land, and the people who run it do a fantastic job. They charge a small entrance fee (U.S. $5), and there are many signs telling people what to do and what not to do in both English and Spanish. There are boardwalks, bridges, small towers, and blinds for observing the penguins. A sign warns you not to stop on a certain bridge because your presence would interfere with penguins bringing food to their nests from the ocean. Sure enough, a penguin path cut through the vegetation right below the bridge, and we saw penguins there. The reserve was gorgeous - there were green fields, oceans, and mountains in the distance. It seemed to be a popular activity for parents and children to experience together. When a census was taken in 2000 and 2001, there were 10,729 penguins in the Seno Otway colony. As we walked along the boardwalk, we ran into more and more penguins. Though some were by themselves in the grass, most were in groups, including some juveniles. The juveniles were almost as large as the adults but they had grey fluffy feathers. We saw some penguins at very close range. We reached a blind where we could watch the adults giving swimming lessons to the juveniles (according to Cristian, this was a new skill the juveniles had begun acquiring in the past week). We got a great view of them playing in the ocean surf. A sign informed us that the average diving depth for the penguins is 14.9 meters, with a maximum depth of 77.9 meters. They can dive at a rate of two meters per second. Adults were grooming the babies, teaching them how to pull out their pre-feathers so that the real ones can grow in. We continued down the boardwalk. At one point we watched a penguin trying to hop down off the bluff into the water below. Even though it was only about an eight inch drop he kept pacing back and forth looking for the best way to get there. After a few minutes of looking, prodding, and testing the way he finally fell into the water. It was quite funny seeing this as he was trying so hard to be cautious. We then arrived at some small observation towers. Three people could stand there at once and look down on the penguins making their way from the sea to the shore and back again. We heard them braying and saw some of their burrows in the ground. All told, we spent about an hour wandering around the reserve. We went into their little cafeteria to view an exhibit on the history of the reserve. Then we visited their little souvenir stand where they sold penguin-related paraphernelia at very reasonable prices. After buying a couple of things for our nephews, we got back into the car and were driven back to Punta Arenas to the bus station.
We wandered into a little bodega with Cristian. It was a really cute little store having an odd mix of everything the locals might need but we didn't buy anything. I didn't have time to use the bathroom as it was nearing our 5:00 departure time. We got onto the bus and found our seats. The bus was nice, but it was sweltering. We were in the sun so we immediately had to close the curtains. This limited our view to the windshield and the right hand side of the bus, where Cristian was seated next to a man and his 4 or 5 year old son. Cristian managed to fall asleep while wearing his fleece. Craig and I were peeling off as many layers as we could and the heat was still unbearable. We really couldn't believe how hot the sun was and even the smallest beam of light coming from between the curtains felt like a laser beam trying to eat through your skin. Eventually we had to just resign ourselves to the temperature in the bus and avoid any movement that could easily raise the body temperature further. Why couldn't my inability to stay awake on long drives strike today when it would be most helpful? It would have been so much more convenient to sleep through this drive for a change. The scenery wasn't even very interesting. It seemed like a endless drive through nondescript grasslands with barely any signs of life beyond the main road. After stopping for a broken down bus at one point, and picking up and dropping off passengers at various stops, we arrived at the Puerto Natales bus station at a little past 8:00. The sun was still high in the sky. By this time I was pretty desperate for a bathroom, so I used the one at the bus station while Craig gathered the backpacks. We got to our taxi, stashed our bags, and drove away only to discover that our hotel was only two blocks away. I should have waited to use the bathroom, but who's to know these things? We felt a bit ridiculous having a taxi for the ride. We were about to hike for four days on rough terrain yet we couldn't carry our bags for two blocks down the sidewalk?
Our hotel was a chalet-style building called the Lady Florence Dixie Hotel. The rooms were all in a nice little courtyard area off the back of the main building. We were brought up to room 9. As we entered the room we were immediately hit with a wave of heat. After the heat of the bus ride we were thinking we would lose another dozen pounds or so trying to sleep here. Fortunately the woman who showed us the room felt the same way and quickly showed us the radiators, and the knob to adjust them. She turned them both off and opened a window. Craig also opened the door and the cool air was already changing the room temperature back to reasonable. On our way back to the lobby we came across the owners' kitty. It was so cute and being really playful with us. At one point it was poking through the porch railing and we had to get a photo. Once back to the lobby, Cristian showed us a map of Patagonia and we went over the itinerary for the next few days. He then recommended the Black Sheep restaurant for bbq lamb. Cristian then went home. Craig and I went to the room and chatted about what clothes would be necessary for the next few days.
We set out into the town at 9:15. The sun was so bright you still needed sunglasses at that hour. We walked to the Plaza de Armas which had some interesting shrubbery and an old locomotive engine. We passed the Black Sheep and it only had one customer inside. We weren't really ready to eat yet, so we walked down to the shore. There was a playground there and children of all ages and parents were playing on swings, see-saws, etc. Everyone was so happy, and we enjoyed watching parents teaching little kids how to swing, how to use the see-saw, etc. It really seems that Chilean families love their kids and also really enjoy the time they spend teaching them new things. It was also a little refreshing to see all the dangers in a small park like this in action. At home everyone is so overprotective of their children wheras here it seemed that children were allowed to enjoy themselves and even occasionally get a minor scrape or other injury. Here it is viewed as a learning experience instead of fodder for a lawsuit. Somehow the kids all survived and still managed to enjoy themselves anyway. We sat on a park bench and watched the sun set behind a mountain. Craig and I had laughed recalling the time we were in Alaska and the park was full of small children on swings at 10:00 at night. Once again, this time in the extreme southern hemisphere, people take advantage of the daylight when they have it.
Once the sun set we were trying to decide if we really wanted anything to eat. One restaurant on the waterfront caught our eye and we decided to look at the menu. It seemed that all the meals were more involved than what we were looking for so we walked around some more. Arriving back at the Plaza we noticed that the Black Sheep was closed. We ended up at El Living, a funky little coffee shop/pub/restaurant that had comfortable couches, tables, and music playing on the stereo. Craig got a Maracaibo Malta Polar beer and I got a pisco sour. During the day they serve vegetarian meals, but at this hour they were only serving dessert. We split a white chocolate mud cake while sitting at a table. Then some couches freed up, and we moved over to one of them. Craig got another beer. I got our itinerary out of my purse and we discussed the upcoming trip. Having sweated out most of my fluids on the bus and having had no dinner, I got a bit tipsy on my first drink. We had fun discussing what the trip would have in store for us, and we left at around 11:30. It still wasn't completely dark yet. When we arrived at the hotel room there was a baby crying two rooms away. I wrote in the journal and we went to bed at midnight, very happy that we had remembered to bring earplugs. Unfortunately, even with earplugs, we both kept waking up to the sound of a baby crying all night long. It was a horrible night's sleep. I know sometimes it is best to let your child cry himself to sleep, but in a small hotel, and literally all night long?