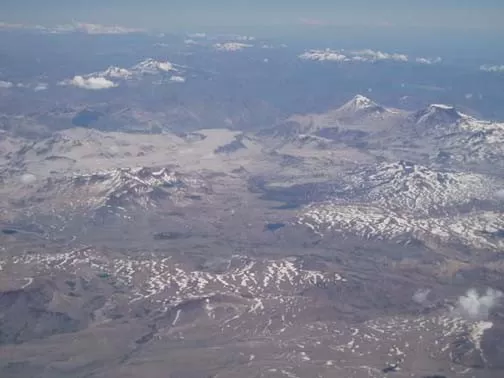 At midnight they announced the New Year and someone blew a party horn over the intercom. It was very sudden and loud causing quite a few sleeping passengers to jump in their seats. It was pretty funny as I don't think they expected it to be that loud through the intercom. One brave flight attendant donned a party hat, and the others soon followed suit. They gave out wine for a toast, and then the meal arrived. It was a cold plate of beef, potato salad, and shredded carrots in mayo. We also had fruit, bread, cheese, and crackers. They handed out free headphones and we started to watch "Shark Tale". It was pretty cute, but it was hard to see all of the sight gags on the small screen and we both started getting rather drowsy. At around 1 o'clock we both fell asleep. Craig woke up in the middle of the night and watched part of a National Geographic "Amazing Race"-style show without headphones. I woke up at 5:30 to go to the bathroom. We then napped a bit more. They served us a weird little cucumber, cheese, tomato, and mayo sandwich. Next the hot towels were passed out. How refreshing! Then breakfast was served. Craig got eggs and I got cinnamon French toast. We had croissants, bread, fruit, and yogurt. While we were eating, the woman in front of us changed her spastic toddler's diaper in the seat. She didn't think to use the changing table in the bathroom. No, she simply used the table that the rest of us normally use to eat. We were both rather disgusted by this behavior and we will never again think of airplane seat-back trays as generally clean. Needless to say this did wonders for our appetite. Next thing we knew, she was walking around aimlessly trying to find a place to dispose of her diaper. After breakfast we watched a funny episode of "The Flintstones", "The Tycoon", where Fred changes personas with a business man. It was pretty funny. They told Fred that there are only three phrases he needs to use in business meetings: "Whose baby is that?", "What's your angle?" and "I'll buy that." It was funny how well it worked.
Argentina, in its summer, is two hours ahead of Eastern Standard Time. Our flight was continuing to Santiago, but we had to deplane in Buenos Aires and go through (very loose) internal security. Anyone who set off the metal detector (including myself, I assume because of my boots) wasn't screened further. We hope they were a little more thorough with passengers not already inside the system. I went to the bathroom and by the time I got back to the gate it was time to reboard the same plane. We got settled in our same seats and immediately took our shoes off. We were served cold roast beef with potato salad, cheese and crackers, bread and butter, fruit, and a Cabsha chocolate (product of Argentina). It had a chocolate shell and the interior seemed to be mint, caramel, and gooey chocolate. We watched a $40/day show on Food Network where a woman named Rachael was travelling around, but we couldn't tell where she was since we weren't listening to the sound. The woman who needed three seats to lay down (who was still next to me) tapped me on the shoulder and pointed out the Andes out the left window of the plane (which was our side). We saw snow-capped peaks and what was clearly a volcano topped with a crater full of snow. Unfortunately the trip across the Andes came and went suddenly as we would have enjoyed viewing more.
We finally arrived in Santiago at around 3:30 pm. We had to pay U.S. $100 apiece as part of a visa reciprocity fee. They stamped our passport as a receipt and stapled a receipt to the back page. We then got our passports stamped again and got our visitor's card stamped. We picked up our bags and went through customs with nothing to declare. They scanned our bags and the strap of my pocketbook got caught in the conveyor belt. One guy kept pulling on it and called out for someone to hit the emergency kill switch. Meanwhile he was trying to prevent it from being sucked in and torn apart but the strap was beginning to fray and soon there was a clump of thread forming on the roller. It was a good thing that it wasn't a real emergency, because it took them a good long time to stop it. Once they stopped it, they had to crank it by hand and finally got the strap out. Although it had seen better days it was pretty durable and handled this injury better than a human body part might have. Even though my pocketbook hadn't yet made it through the scanner, the man handed it back to me and said "Phew!" As we exited the airport we were approached by a gentleman who asked if we needed a cab. He said that he would take us to Hotel Orly for 12,000 pesos. (One U.S. dollar was around 580 pesos). We agreed and got into the car. As we exited the airport, we noticed that there were mountains in the distance in every direction, but that Santiago itself, situated in the valley, was pretty flat. Chile is broken up into 13 different regions, each with a name and a number. Region I is in the north and region XIII is at the southernmost tip. Santiago is located in the middle and is the only region without a Roman numeral attached to it. Santiago is centrally located between region V and region VI, between the Andes and the Pacific Ocean.
Today was a holiday (New Year's Day) and we noticed that a lot of businesses were closed. We also noticed a lot of trash on the streets and assumed it must just be left over from last night's New Year's Eve festivities. We saw some teenagers breaking down what had apparently been a stage. It was pretty hot out. After a little more than half an hour later, we arrived at Hotel Orly and checked in. It was a nice boutique hotel. We went up to room 25, which was small but quite clean and comfortable. We relaxed in the room for a while and flipped channels on the TV, enjoying watching some subtitled shows. There were a lot of cable channels, some in English and some in Spanish. After a while we were both ready and we headed out.
Our street (Pedro de Valdivia) was nice and lined with trees. We took a right turn onto the main road, Providencia. The streets were relatively empty, and most restaurants and shops were closed. This was clearly the business district of Santiago and by the look of the buildings the city is doing rather well. This was not the same as other large South or Central American cities we were used to. This entire city felt more like being in Europe and not South America. We noticed a crowd of people on one section of the sidewalk and eagerly walked by to see what all the fuss was about. It turned out to be a gelato shop called Bravissimo Gelateria. People were sitting on benches eating ice cream, people were sitting in their cars eating ice cream, people were inside the shop eating ice cream...it was obviously the place to be. The place was absolutely packed with lines extending onto the sidewalk. Since almost everything around us was empty, and this was such a big hit, we clearly had to try some for ourselves. We felt a little bit intimidated by the crowds and feeling suddenly thrust into another world, we weren't quite ready to settle down yet. We made a mental note of the place and continued our walk. After walking a bit further along we stopped at a very interesting tree growing out of the sidewalk. We sat for a little while on the stone wall surrounding the trunk. A little further down the road we came across another ice cream place. This store wasn't nearly as crowded. That was it, we decided that on our way back we would have to stop at Bravissimo Gelateria. When we arrived there, it was obvious that there was some kind of protocol to which we were not privy. There were various lines which each seemed to have their own purpose. We had no idea how to proceed. We decided to take a risk though, and observed how people seemed to line up at the cashier, pay, and then proceed to a line at the ice cream counters. So we did the same, and in Spanish ordered two single scoop cones. We paid and received our receipt, which we then brought to the ice cream counter and exchanged for the actual ice cream. After looking through all the different flavors available to us, Craig decided on frutos del bosque and I got frambruesa (raspberry). Both were very fresh and made with real berries. They were served in cups with upside-down cones on top. We were proud of ourselves for tackling the unknown and successfully obtaining ice cream without incident. We sat out at the sidewalk eating our refreshing treat in the late afternoon heat. It was suddenly summer after all.
After that we walked some more, and passed a Dunkin Donuts a block up from our hotel. We noted that if we got tired of instant Nescafe (the staple coffee in South America) we could always stop in here for a taste of home. It really is a shame that all the good coffee seems to be set aside for export. Instant coffee is the norm everywhere we have travelled south of the United States. We walked through some shopping courtyards and passed some restaurants, but noticed that pretty much everything except for U.S. franchises was closed. We weren't really looking for dinner as we were getting tired and had already been awake for what seemed like two full days. We were about to stop in a Mexican restaurant for a drink and an appetizer when suddenly a woman wielding a menu approached us trying to coax us into the very cafe we were about to enter. Feeling like prey that had been spotted by circling vultures, we quickly said "no thanks" and decided we didn't really want food or drink anyway.
We crossed the street to a park which contained a bridge over a canal. The canal is actually the Mapocho river but due to flooding risks a concrete walled canal was built to keep it under control. The canal's muddy water was running very fast, to the point of being whitewater. There were nice mountain vistas in the background. We walked through a cultural park and saw some interesting artwork. This was our first experience seeing how the Chilean people publicly display affection. Couples were cuddling, kissing and gently stroking each other every direction you looked. It was all very innocent yet it made us a little uncomfortable walking by while looking at the pieces of art. At around 8:00, we headed back to the Hotel Orly and noticed that a theater (Teatro Oriente) and a couple of restaurants and pubs (though they were not open today) were right next door. These might come in handy since we are coming back to this hotel two more times before this trip is over. We headed back to the room and put on the TV while we got our things prepared for tomorrow. We found an Elton John concert on TV and watched that while I journaled and we organized luggage. It started to finally get dark at about 9:15. We watched a bit of "Tony Bennett Unplugged" and finally went to bed at 10:00 and fell fast asleep.