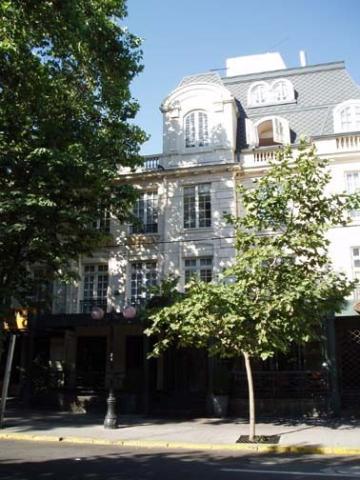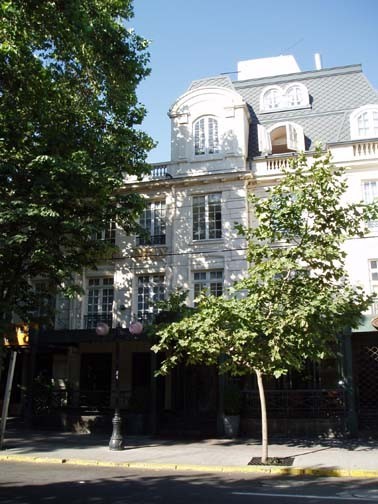 We declared ourselves "done trying to sleep" at 5:30 am, showered, repacked our bags, and headed down to breakfast at 6:45. We had a nice corner table and they quickly served us hot water to make instant coffee. They made us scrambled eggs as we helped ourselves to the buffet (which consisted of fresh rolls and butter, jam, cereal, yogurt, orange juice, and a dessert-like cake filled with a decadent carmelized milk called manjar and topped with coconut flakes). We noticed that the yogurt in Chile was very thin but also very yummy. They had both plain as well as a blueberry varieties. We decided to pour some over a bowl of granola but noticed a few others that were drinking it straight from a glass. We were just finishing our breakfast, and deciding whether or not to have one last trip to the buffet table, when we first spied the family that we would name the "Sick Family Robinson". One of the daughters looked just about ready to pass out, and she sneezed right into the fruit cocktail on the buffet. At that point we declared ourselves done with breakfast. Cristian arrived at around 7:10, we brought our bags outside, and soon our transfer arrived. We noticed a family had just come down to breakfast with a small child. His face was very red and he looked terrible, as if he hadn't slept a wink all night long. I'm sure I know what room he was in last night! We prayed he wouldn't be making the day trip with us. We loaded our big packs into a trailer and kept our smaller packs with us in the van. Not really knowing where we were heading for our final destination in the van, we made several stops at other hotels on various blocks to pick up more people. In the end we only went down to the docks, a few blocks from the hotel. We laughed because this was our second very short ride in Puerto Natales where we would have simply walked had we known where we were going. A nice walk through town would have been nice had we only known.
Today was a boat ride through Ultima Esperanza Fjord (Last Hope Fjord). The boat (Nueva Galicia) had a viewing deck on top, but at first we headed downstairs to drop our bags and to take a seat toward the back of the boat. The interior was very nice varnished wood with windows all around. There were also spacious and well-appointed bathrooms at the front of the boat. The boat left dock promptly for our 4 hour boat ride at 8:00. Soon they brought us a snack of bologna and cheese sandwiches and small colorful mugs of very sweet coffee. We had our snack and then headed upstairs to the observation deck. It was a bit breezy, but the weather was sunny and clear and the water surface was like glass. We were so lucky to have such a beautiful day. After a while we got a little chilly and went back inside to warm up a bit. One of the Sick Family Robinson's daughters was sprawled out on the cushioned bench looking like she was about to die. Everyone else on the boat seemed to be suffering from some sort of illness as well. There was sneezing, nose-blowing, red watery eyes and people taking various cough syrups and tablets. This was the last thing we needed at the beginning of our 3 week trip, so we donned some long underwear and headed back outside to the fresh air. With the long underwear, we were quite comfortable wearing just a fleece, travel shirt, and travel pants. On deck we noticed that the water was still like a mirror and Cristian said it is never this smooth, but he didn't want to talk much about it as he was afraid of jinxing it. We saw dozens of cormorants perched on the rocks which lined the shore off on the left hand side of the sound and a tall waterfall over on the right hand side. After a few hours on the boat we were finally getting close enough to really be able to see the Balmaceda Glacier and we could see Torres del Paine off in the distance. On board we met a family from New York City with whom we would be spending a lot of time during the rest of the trip: Jane and Richard and their three daughters (Leta, Kate, and Nell). They hadn't taken a family vacation for years and decided to all convene in Chile for this portion of the vacation. Jane and Richard were on extended holiday but the kids were only able to join them for a short time, including Patagonia. Cristian spent a lot of time talking to an Argentinian family and drinking mate and eating cookies with them. Mate is a type of bitter herbal tea that is shared. People drink it out of a special type of cup with a metal straw, and pass it from one table to the next. We noticed that the ritual surrounding mate drinking is very similar to the ritual which surrounds pot smoking in the United States. We have really wanted to try mate and this could possibly be our best opportunity. Unfortunately we were never offered and didn't want to invite ourselves into the circle. In a way were were relieved as the family wasn't all in the best health and Cristian in particular has been battling a cough and sniffle since we first met him.
The boat pulled up in front of Balmaceda Glacier. We saw a small avalanche from the glacier. The boat's crew told us that 25 years ago, the glacier used to meet the sea. It didn't even come close now, which is evidence that the glaciers are receding. After a short delay giving plenty of time for photos, the boat turned to the right and proceeded upriver. At around noon, the boat docked at Serrano Glacier at Bernardo O'Higgins National Park. It was nice to get off the boat and stretch our legs for a little while. We hiked a short trail that hugged the shore and then rose steeply into the trees. Suddenly we were staring at a lake formed at the base of the glacier. The water was full of icebergs of all sizes. Some were a glacial blue color. Others had boulders balanced on them. All of them were sculpted into amazing surreal shapes. It was all very beautiful to see. There was a guy taking people on 20 minute zodiac rides for U.S. $17 each. It looked pretty fun but noone took him up on it as the price was so steep and it would take up the whole time of our visit. We still had a long day ahead of us. The little hike was pleasant and we wound up at the foot of the Serrano Glacier. After a brief stop we walked back to the boat. The sun was so deadly. We were fully covered on the boat but now that we were hiking around, more skin was exposed and we needed to get sunblock on quickly. The sun is nothing to laugh at here. The sun is so strong and since the ozone layer has been damaged so badly in this region, people can sustain much worse that simple sunburns. Most of the passengers would be reboarding the boat and going back to Puerto Natales. This is a typical day trip for many people, but we (and nine others, including the NYC family) would be continuing upriver in a zodiac. We put on our life jackets and boarded the zodiac, sitting in the back. We met Javier, our driver. When the weather is worse, they provide everyone with raincoats and rainpants. But the weather was so gorgeous today that we didn't even consider it. We started off at 1 o'clock waving our goodbyes to those folks boarding the Nueva Galicia for the return trip across the fjord. Heading up the Serrano River Cristian asked me if I wanted to steer the zodiac for a while. I agreed, but I am never really comfortable driving boats, and Javier helped me out. The river is pretty deep overall but there are enough places where there are submerged trees and sandbars and I didn't want to be responsible for any troubles that could occur. The weather was really beautiful and clear. At one point we saw a condor circling overhead but it was far enough away that we couldn't see it very well.
About half an hour into the very enjoyable ride we stopped at a small island for lunch. We pulled up, tied up the boat, and headed for a small group of little tables. Javier and Cristian then appeared with styrofoam lunch boxes containing a meal of fried chicken breast with rice and vegetables and a chocolate bar. We also got juice boxes (Craig had orange and I had peach). We sat with a couple from the UK and had a very enjoyable conversation over lunch. They had been hiking in Patagonia already but the weather wasn't very good and one of them became very sick and couldn't finish hiking. They felt that a boat trip was something they could handle and it would allow them to see parts of the park that they hadn't been able to see previously. Once again Craig and I hoped this illness, whatever it was, wouldn't get the best of us, especially when trying to hike for four days.
After lunch we met a man who had lived on the island for 12 years and never ventures into town. He lives in a shelter made of corrugated metal and logs that are all leaned together in sort of an A-frame. He raises animals and had a bull skull hanging in one of the trees. We really wished our Spanish skills were better as we wanted to talk to him more than we could. We wanted to get some photos of him and his house but decided against it as we didn't want to make a spectacle of him or his lifestyle. Maybe if we were alone it would have been different but with a group of 11 people having 5 cameras between them, we felt it would be inappropriate. After about half an hour on the island, we boarded the zodiac. We all felt sort of envious of the man living there. We were daydreaming about doing such a thing when Cristian reminded us that they have only a few days a year with weather as nice as our day. He said it pretty much always is rainy and cold there and that lunch stop is usually required to allow folks to warm up. After going a bit further up the river we came across a small waterfall of about 6 feet in height but rushing wildly. We stopped the boat along the rocky edge, did a short hike, and transferred to another zodiac on the other side of the drop. A few minutes later two guys in a small zodiac arrived with tanks of gasoline. Javier siphoned the gas into our new boat, and then we took off again. This whole experience was fascinating and just sitting back taking it all in was something special. Once again we were very thankful that the weather was so beautiful because when cruising along the wind was pretty spectacular. We could only imagine how cold it must normally be on this trip. We raced the gas crew's zodiac to the entrance of Torres del Paine National Park. At one point we came across the convergence of the Grey River and the Serrano River. It was quite interesting to see as one river was full of silt and very muddy looking, the other was shimmering blue. The result was an actual line of demarcation visible for quite a distance. After a little more than three hours on zodiacs we were at the official entrance to Torres del Paine National Park. Here a car was waiting with our luggage that we had left behind earlier this morning. We filled out forms to enter the park and grabbed our luggage. This whole stop was very confusing to us and we weren't exactly sure what was happening. It seemed everyone had various needs of Cristian and we just felt a bit frazzled about our lack of understanding of the events to follow. At 4:00, Cristian dropped us at the boat dock for the Hosteria Tyndall and said that we would be taken care of. Suddenly we realized that only Craig and I were going here. Everyone else, including Cristian, proceeded to leave by car to the Ecocamp. We had no idea Cristian was leaving us at this point and we felt a bit abandoned. We never even got to say our goodbyes to anyone that we had just spent the past 8 hours with. If we had known this was happening we might have chosen to continue on to the Ecocamp instead but we felt a bit abandoned suddenly and although this was where we were supposed to stay for the night, we felt a bit dumped.
Hosteria Tyndall is located across a river from the park entrance where we checked in, and the hotel operates a boat which shuttles people the short distance back and forth. Craig and I got onto the aluminum boat and loaded our luggage. Suddenly there were two crew and just the two of us. It felt like a terrible culture shock compared to just minutes ago being in a zodiacs. The boat drifted downstream before they could get the motors going, and crashed into the walking bridge. This wasn't a good start and did nothing to raise our sinking spirits. The crew hopped into the water, hauled it back upstream with a rope, it hit the dock, and they tried again and finally got it started. We crossed the river to the Hosteria Tyndall. As we were heading to the main office the woman informed us that we would not be able to go horseback riding as the staff had been sent home today. Considering Craig and I were thinking that might be a nice thing to do after we arrived, or maybe after dinner, this was another letdown. Arriving at the office we tried to check in. There was a bit of confusion about our reservation. They had no record of us coming. They didn't have either of our names, didn't have Cristian's name, didn't have the name of Adventure Life or even Cascada. Realizing that we didn't even know how to contact Cristian, we started getting a bit nervous as they informed us that they didn't even have a single room available for us. Craig asked to look at the list of reservations and realized that there was a reservation for us. It was hiding under "Pure Patagonia" (the fancy name of the trip, but not the name of the tour company). After a sigh of relief we got it straightened out and checked into room 208 which had two twin beds. There are usually all sorts of activities but none were available for this evening. We were told that there was a nice walk that we could do on our own, and since there is such a gorgeous view of the Torres del Paine from the hotel grounds, we decided to do that. We tried to find the signposts that would guide us along the walking trail, but every trail seemed to lead to someone's horse or bull corral or private property. Eventually we decided that as the hike would only take us back to where the two rivers merged (a place we had already been to today), we would just stay put and enjoy our surroundings. We settled down on a little hill which had a phenomenal view of the Torres. Craig rested staring into the sky and landscape while I wrote in the journal. After a while the wind picked up, clouds came in, and it got chillier, so we headed back to the room at 6:30. Dinner started at 7:30, and we headed down the hall to the nice dining room right on time. There was a buffet with soup, bread and butter, broccoli and beef, beef with garlic, turkey breast, mashed potatoes, al dente rice, raspberry mousse, and a fruit torte. We had hefty appetites, and it was delicious although not everything was as hot as we would have liked. We had a nice table between the wood stove and the window. We watched outside as employees getting off work flirted with each other, played with dogs, etc. It was a nice spot for people watching. We noticed that one dog in particular was shunned. We couldn't understand why. Everyone seemed to give all their love to one dog and ignored, or sent away, the other one. I'm sure there was a reason but these are the things you begin to notice when you haven't a real care in the world and just watch your surroundings passing by. At 9:30, as we finished dinner, the sun came out again, and was shining beautifully on the Torres. We headed outside to get some pictures. As the light and shadows shifted, the view grew more amazing each moment. The light hitting the formations grew more and more orange. After taking some photos, we headed inside to the second floor lounge area. We sat near the wood stove and the Christmas tree, looking out the window as the light continued to change. Craig drank a Polar Imperial beer, and I had a Fanta. We went back to our room, reorganized our packs for tomorrow, and went to bed around midnight.