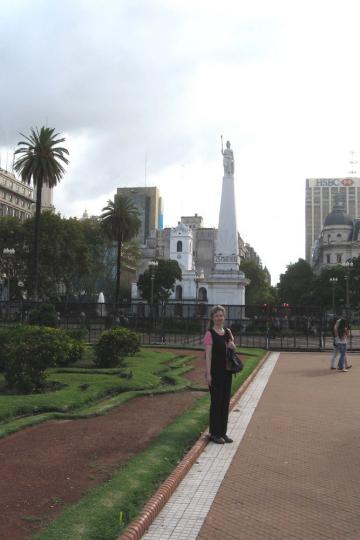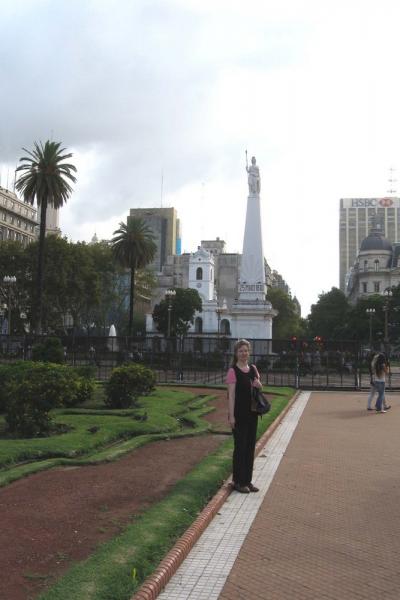 Fuzzy-headed morning arrival, not a lot of sleep to be had in Sardine Class. Following the advice of our guidebook (the Rough Guide to Buenos Aires), we ignored the various Cambios in the arrival hall and headed to the small branch of Banco Nacion just outside the meeting point to change some money. Tried to make mental adjustment: Argentine pesos are 3.7 to the US dollar, AND prices in pesos are nonetheless labeled with a dollar sign. (The dollar sign label is also true of Chilean pesos, which we will soon have to deal with as well, but those are 585 to the US dollar; did I remember to bring a calculator??).
The guidebook said to book a taxi to downtown using the booths inside arrivals and NOT to respond to solicitations from people beyond that area…but we had passed by the booths in question on the way to change money. Ooops, it did not look like we'd be able to go back into that cordoned-off area with the booths. Warily accepted one of the clamoring offers for a cab ride to town…our first dumb tourist slip-up? However he was with Yellow Cab, and took us to a booth outside arrivals and gave us a paper with the price, 97 pesos (about what we'd been told to expect), clearly written out and told us that was the full total price, and to pay the driver on arrival at our destination. He then called on his cell phone, and a taxi pulled up. Jose, the driver, turned out to be very friendly and polite, trying hard to converse with us in limited English while I tried hard to converse in broken Spanish. He was more than happy with the fare and tip we paid, and we felt we had been warmly welcomed to Argentina.
Adventure Life Tours had booked us at the Reino del Plata, which turned out to be a clean and very comfortable hotel located on a small (if a little bit grungy) side street in the busy center of Buenos Aires. The staff was exceptionally friendly and helpful, speaking excellent English (a relief since my linguistic abilities as well as my IQ hover in the basement when I've been on an overnight flight). Our room was ready despite our early arrival, and we were able to drag our sleepy, sweaty selves into a welcome shower and have a nap in a very comfortable bed.