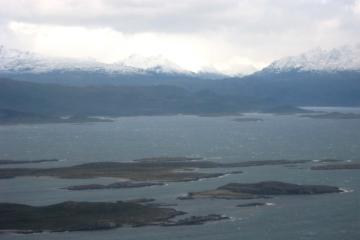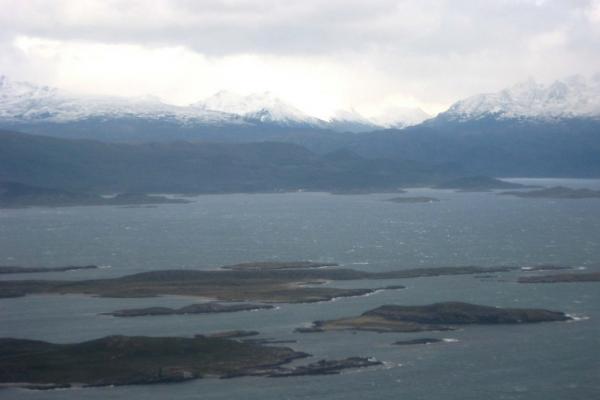 This was Cape Horn day, and we had to be up early for disembarkation instructions in order to ride the Zodiac boats to Cape Horn…the last stop before Antarctica, if one was going that far! It was windy and choppy, but just barely within allowable conditions for loading and landing, so at 7am we headed in to shore. Crewmembers expertly handed us onto the Zodiac boats and just as expertly guided us off at the pier. Two in wetsuits had to stand in the choppy water and hold the boats steady at the landing spot…it wouldn't do for any tourists to fall in! A boardwalk led to the Cape Horn Memorial and to the lighthouse, where the lighthouse keeper lived with his wife and two small daughters…if not for the twice weekly stops by the two Australis cruise boats which run on mirror image routes through this region, it would be a remote life on that windy point. Oddly, it seems that Chile and Argentina had fought over ownership of remote and desolate Cape Horn, and land mines left by Chile are still found on the lonely hillsides…they didn't have to remind us to stay on the boardwalk!
Back on board we had breakfast and lunch, interspersed with short lectures, including one on the aborigines of Patagonia…or the aborigines who once lived in Patagonia. They wore very little (while we shivered in our fleece and Gore-Tex when we stepped out) and (understandably) kept their fires burning as much as possible, even taking them in their canoes. The many aboriginal fires observed by the early explorers resulted in the name Tierra del Fuego (land of fire). After thousands of years of flourishing life in this remote spot, when Europeans arrived, nearly complete extinction (some by disease, the rest deliberate) of the aboriginal tribes was accomplished in less than 100 years. We were told that one Yamana Indian is still alive, a very elderly woman…but she is the last. This makes this part of South America quite different from, say, Peru, where the original bloodlines run strong in the populace and native cultures are still to be found.
Next stop, Wulaia Bay, a few hours up the Murray Channel from Cape Horn. Much calmer water when we disembarked at 5pm in a pretty bay. One group of us took a 45 min walk to the top of a hill with lovely views of the bay, and a good look at the kind of forests the Yamana Indians and other tribes once populated. After our hike we returned to the shore to find the crew had a station with hot chocolate and whiskey to re-energize us after our exertions (we were beginning to feel spoiled…).