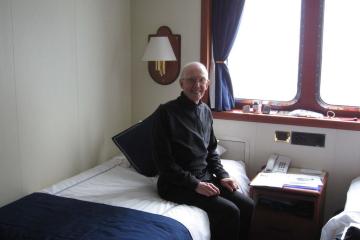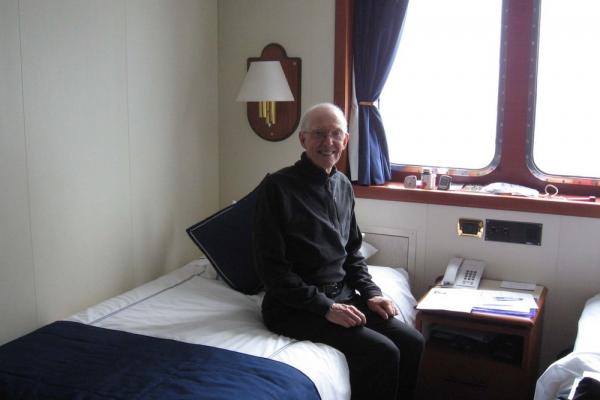 Off to visit Grey Glacier and other local sights in the park. Couldn't help but notice, the drivers had two tendencies, one, to drive on the left as long as there is no center line in the road (and no one coming), and two, to deal with potholes and washboard roads apparently on the thought that it's better to drive as fast as possible to minimize the time spent in the bottom of each pothole or washboard dip. The left side driving preference was puzzling since Latin American countries have officially been driving on the right since 1945; these drivers were not old enough to have been driving before then!
The trip to Grey Glacier was via a small ship anchored near a little hotel and restaurant at the end of Laguna Grey. This little hamlet was at the opposite end of the lake from the glacier. The small ship apparently runs regular shuttles down the lake to pick up and drop off hikers who are doing one of the major treks in the park. The day was windy and rainy, apparently a common state of affairs, and clearly this boat's captain didn't have the Via Australis' concerns about loading and unloading passengers in inclement conditions. We put on our life jackets and off we went!
After about a half hour journey down the lake (passing a big blue iceberg on the way) we dropped off and picked up trekkers not far from the glacier itself, and then sailed along in front the glacier's edge. Amazing blue color, often striped, just didn't seem real! Then on the way back down the lake, the crew came around with a tray and (guess what) Pisco Sours for all.
Back in the bus we headed back to make a stop at a waterfall (the Salto Grande, "big waterfall"). It was not so impressive for the view of the falls as it really wasn't very high, although it was dramatic for the quantity of water that was pounding down, but rather for the incredible amount of wind that was blowing by that time. Little mini-twisters of rain and mist could be seen forming all along the river and the lake and then dashing themselves into oblivion on the rocks. It was a challenge to keep walking upright, and I was very glad to be wearing full length raingear!