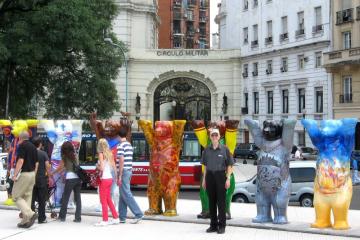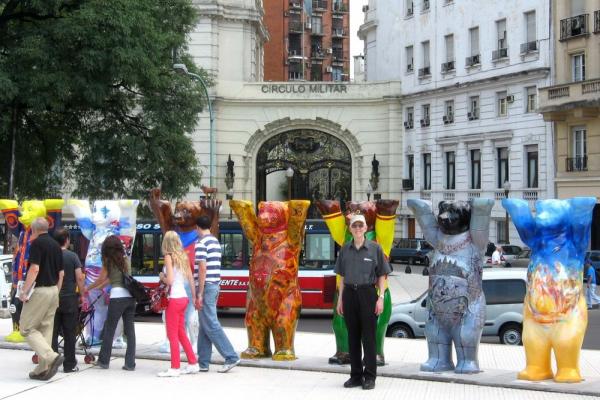 The rest of that day and the next we wandered around downtown Buenos Aires. Wasn't sure what to expect, but found it to have a European feel (not such a surprise when you realize this is a country with relatively young European roots). Outside the centro, it's not really a pretty city, despite many green parks…too many uninspired standard rectangular concrete buildings in various stages of decay, and side streets with crumbling sidewalks. However constructions projects everywhere are apparently part of upgrades for next year's bicentennial celebration. The old port area has already been given a complete makeover and taxi driver and hotel staff both pointed it out with pride, a clean and attractive place for a stroll (complete with Upscale Tourist Area hotels, and prices). The shopping area along Calle Florida looks like any downtown shopping area of any major city in the world. Apparently even London's Harrods once had a store here (now closed). We walked for hours, visiting a major "peace bear" exhibition of painted bear sculptures (one per country) at Plaza San Martin, and circling the Casa Rosada (watching for any dignitaries on the Evita-famous balcony) and the Plaza de Mayo area. In the latter area we saw frequent groups of police, including some equipped with riot gear, although we never saw any protests in action. There was a table or two with protest signs and a person or two handing out fliers, just like you might see in front of our White House.
We also meandered down Calle Defensa into the San Telmo area (the old town), which on the surface seems worn and dirty, and gives you the feeling you'd best not be there after dark. However, we found that restaurants there, which are clearly the ones the locals go to rather than primarily existing for tourists, are half the price of those in the Puerto Madero area, and have excellent food (grilled meats a specialty). At a restaurant called Rosalia the famous Argentina beef was a bit chewy but had wonderful flavor, and at Viejo Gomez my husband had some ribs which were just incredible. The bill for a nice dinner with wine, at first a shock when on reading a number on the order of $90 (remember even peso prices get labeled with a $), got very reasonable when divided by 3.7!
Some of the narrow San Telmo streets were populated with antique stores carrying everything from old silver, crystal and furniture, to yellowed original newspapers proclaiming Evita's demise. A small artisan's cooperative on Calle Defensa turned out to have quality souvenir items at good prices, much better than the touristy souvenir stores along Calle Florida. If someone wanted a decorated mate gourd, or piece of rhodochrosite jewelry, (rhodochrosite is a pink banded translucent gemstone mined in Argentina), that was clearly the place to buy it! Many local crafters also set out their wares (leather items, jewelry, and mate gourds predominating) on blankets in the plazas and along part of the pedestrian-only section of Calle Florida, and here and there someone would play CDs of almost-melancholy tango music. One could spend a long time just shopping in Buenos Aires!