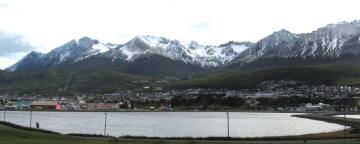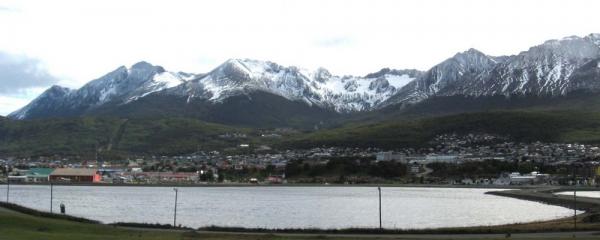 Everyone up early to disembark in Zodiac boats at Magdalena Island! We all wanted to walk among the cute "penguinos" before being off-loaded at our final destination, Punta Arenas. Unfortunately the wind was 40 knots and the adventure was cancelled. (Groans of dismay by passengers do not trump the captain's decisions.) Even though it's near the end of the nesting season when the penguins inhabit the island in droves (nesting season is followed by months at sea), we were tantalized by the distant sight of a few groups standing on the shore and a speckling of the birds across the island. Darn!
Arrival at Punta Arenas, Chile. Not as far south as Ushuaia in Argentina, but still the most southern Chilean city. Time to leave the salt water and head into the Andes. Expected to pay the $130 (US dollars) per person "Chilean visa reciprocity fee" Adventure Travel had warned us to have at hand, but we were never asked to provide it. We did get shuffled by a long table where customs officials went through all our bags looking for contraband and fruit, and I was sorry to see my carefully assembled bag of premium hiker's trailmix (roasted pecans and sunflower seeds, dried cherries and chocolate coated raisins, yum) be confiscated…the official just was not sure that the roasted, shelled nuts might not grow!
We were met by a guide with a sign listing our names, and along with the two other couples from the U.S., were taken to the Plaza Hotel, just off the main square. Punta Arenas was a city, certainly larger than Ushuaia, but still had some of that frontier feel. It apparently was once quite an important city for ships heading around the end of South America, until the Panama Canal created a shortcut for east-west shipping traffic. Now it is known as the Argentine jumping-off point for journeys to Antarctica, and for its airport which brings tourists in to access to the long road to Chile's famous Torres del Paine (Tor-res del PIE-nay) park, our next destination. Punta Arenas is also known for the nearby Seno Otway penguin colony (our last hope to visit los penguinos), but the guide told us that unfortunately at this time of year those penguins had already departed for the open ocean…no point in going. A fellow traveller noted that in some parts of the world they'd have signed us up to go and taken our money anyway, but here they really did not want us to make a pointless trip.
Found an ATM to get some Chlean pesos (panicking at first when the choices were to withdraw 10,000, 40,000 or 100,000 pesos…that seemed like so much money, until we remembered to divide by 585). Our guide suggested several places we might enjoy for lunch or dinner…we had an excellent lunch at one of the suggested places, Café Luna, a modest spot on a nondescript side street. Had some time to kill and visited a maritime museum that was nearby. In the back of the museum a video on Shackleton's expedition to the Antarctic was playing (in English) and we caught the last half of that. Found a local grocery store on a side street off the main square, and bought a few things to eat in our room for dinner (including wine, we are getting way too used to that!), and then we called it a day and got some sleep.