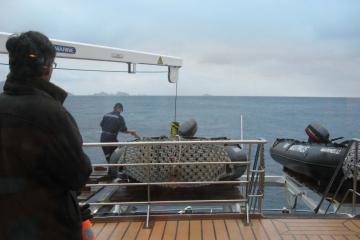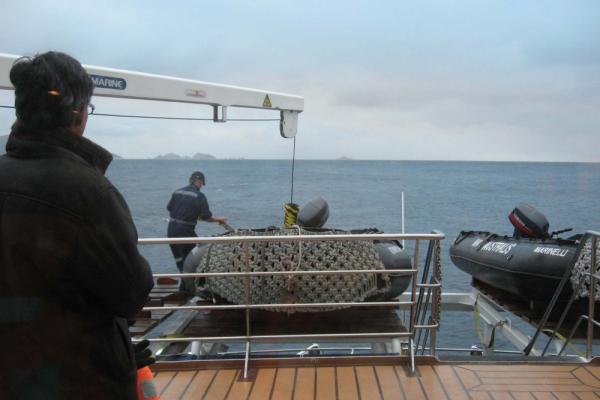 Up and ready in our trekking clothes, armed with a box lunch prepared by the hosteria. Our taxi arrived…turns out a hiker intending to head up the Rio Blanco valley trail was being delivered, so our ride was the return trip. The driver was a very friendly young woman, a kindergarden teacher, who carried on a lively conversation with us in a mixture of English, Spanish, with much handwaving. She deposited us in El Chalten at NYCA Adventure's tiny office, where wiry Pedro was waiting for us, eager to be getting us on our way (a 25 km RT hike, plus ice climbing!). Pedro gave our attire and boots a careful visual inspection and pronounced us ready, so off we went. We had our park entrance fee ready (this time in Argentine pesos, as we'd be directed, for the Argentine Parque Nacional Los Glaciares) but once again, never had a chance to pay it, as Pedro simply led us through El Chalten and up the trail from the back part of a small residential neighborhood. (So once again a park entrance fee got folded into the tip that went to the guide at the end of the day.) The initial part of the trail was a short uphill as we climbed to a view over the town, but then leveled off with a lovely view up the long valley of the Fitz Roy river, with a peak called Cerro Solo visible at the end (and at its feet, our destination, Glacier Grande). After that there were minor ups and downs in a trail that really didn't gain much altitude overall. We scurried right along, stopping only when I insisted I HAD to take a photo. We got a good look at Mt Fitz Roy, which is also the reason for the name El Chalten...in a local indian language it meant smoking mountain. Mt Fitz Roy is another of those steep snow-dusted spires, and upward flowing wind gusts blow the powder snow UP off the top in long streamers, giving a very realistic smoking-mountain look.
The trail finally dipped down to the valley floor and then angled off into the trees (trees with names like lenga and nirre) to a campsite maintained by the various guide companies in El Chalten. There we collected our gear for the glacier part of the trek: crampons, ropes, harnesses. Pedro commented that he'd been told to expect tourists "with big feet" (we had warned Adventure Life about that, and indeed they had dutifully passed the information on) so he was prepared with crampons which would fit Hayes' size 14 boots and my 10s. Off we went again, fighting an intense wind as we crossed a large moraine at the foot of the big lake called Laguna Torre. At the far side we came to the Fitz Roy river which runs out of Laguna Torre in a grey cold torrent…with a pair of zip lines connecting two large boulders on either side. Pedro clipped himself onto one with carabiners and pulled himself across, then returned with two pulleys (a bit easier for us, although clearly for himself alone he would not bother). He connected our harnesses to the zip lines, checking the connection and adding a safety line. Hayes loved it; but I could not stop thinking about that that river rushing under me as I pulled my dead weight along the line! Fortunately it was over quickly. The guidebook I had said this about that crossing: "do not attempt to cross the river without the necessary experience; people have died attempting this."
From the river crossing we had one long grim uphill slog on the steep hillside above the lake, to get to where we could descend back down to the glacier itself. Pedro stopped and studied the glacier from a vantage point for a bit, clearly a mother hen considering where best to lead his charges. Once finally on the glacier, it was time for crampons. We learned to STOMP STOMP STOMP to make the spikes of the crampons penetrate the ice, and to trust our crampons on slopes where we thought sure we'd slip (there are places in glaciers you do NOT want to slide into!). I then settled down to watch while Pedro and Hayes had Fun with Ice Climbing. They went over climbing and belaying techniques, and played with ropes and ice screws on a part of the glacier that looked like a gigantic blue gumdrop, as well as investigating a blue hole that seemed to be bottomless.
At this point at the end of a late summer season, the glacier had lots of ups, downs, wrinkles and outright holes (fortunately not covered by fresh snow, which can be a hazard in other seasons). The plunging blue holes are called millwells, and are formed by meltwater finding its way to bottom of the glacier, melting a larger and larger tunnel the longer it runs. We could hear the water far below, a substantial river gurgling away under the glacier. This was more than a little spooky.
The glacier crust was quite hard, and Pedro provided lessons in how to go up and down the slopes on our crampons, with and without ice tools. One descending method, the "banister," involved placing the ice ax so its handle was like a handrail, parallel to the slope, and then going down in a low squat (remembering to STOMP STOMP the crampons in with each step). This brought to mind Russian kick dancing, and certain of us had leg muscles that flatly refused to do this maneuver.
All in all, it turned out that Hayes was delighted that he was denied participation in the Perito Moreno glacier trip that was part of the regular Adventure Life package. We would have missed out on a spectacular day of adventure on Glacier Grande, with a guide all to ourselves, not to mention no tour groups to spoil the view. We made a note to think about private guide options for any future trips...it sounds a bit yuppie, but if you're coming that far and doing that much it can be worth it!
It got toward 4 in the afternoon, clearly time to head back…we still had the lovely river crossing, needed to return the glacier gear to the guide's camp, and then get back down the trail to El Chalten and to our hosteria up the valley. The slog back up the hillside beside the glacier was a bit more brutal the second time, and the wind was stronger yet on the moraine at the river crossing. Back in the guide's camp Pedro insisted on taking time to make us some hot chocolate (what, no Pisco Sours?) while we ate our (late) lunches. Then we headed out at a brisk walk, hoping to be back before it got dark. Usually I find that trails back are shorter than trails going…but the return trail, although still not strenuous even after the long day, somehow went on and on, and on. Approaching El Chalten there seemed to be one little ridge after another, each one seeming to be the last one and then revealing yet one more! Finally just as it got dark enough that I turned on my flashlight, no longer trusting my eyes to see trip hazards in the dusk, we crested a truly final ridge and descended to the lights of the village. I consider 7-8 miles a good days' hike in my relaxed way of doing things, but we had done twice that. Pedro clearly could have kept a much quicker pace (wiry as he is, he probably routinely trots down the trail), but he did comment that he'd had "younger clients who went more slowly" than we did (thank you Pedro, I THINK…!).
Back at the El Pilar Hosteria it was past the dinner hour, but they knew we had to come back some time, and brought us dinner anyway. We were glad to have it, finishing the bottle of very nice red wine we had started on the first night. Bed felt very good indeed….