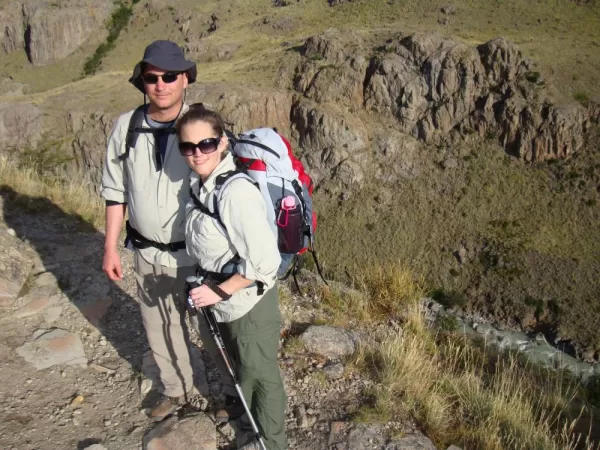 The original plan for the day had us trekking to a view point, but a combination of an overcast sky and Karen's knee had us modify the plan slightly.
We trekked to the clearing point at the top of the forest and had another experience of Patagonia wind -- although David reminded us that on a truly windy day, we wouldn't be standing there!
It was a peaceful, shortened hike that offered one more day in the beautiful environment.
We returned in time for a late lunch at our new favorite Pizza spot and then spent an hour or so waiting for our driver to take us to the bus stop and the trip back to Calafate.
One minor travel *experience* as part of getting to the bus station. Our driver dropped us off at the bus station and to my surprise there are actually 3 or 4 bus companies that do trips to Calafate and we had no idea which company we were supposed to use. Quickly looking through our paper work, we identified the correct company based upon the departure time. My horrible Spanish skills once again caused a few moments of anxiety as the bus company indicated the bus was completely full. The man was asking for our vouchers and we didn't have any. Finally, I had him show the manifest and noticed that there were spots on the bus for Tom and Karen and then everything went smoothly.
It was roughly 2h commute and a driver meet us at the Calafate bus station and took us to our hotel.